At UNGA, Sushma Swaraj hauls Pakistan over the coals for sponsoring terror
Catch Team
| Updated on: 27 September 2016, 12:44 IST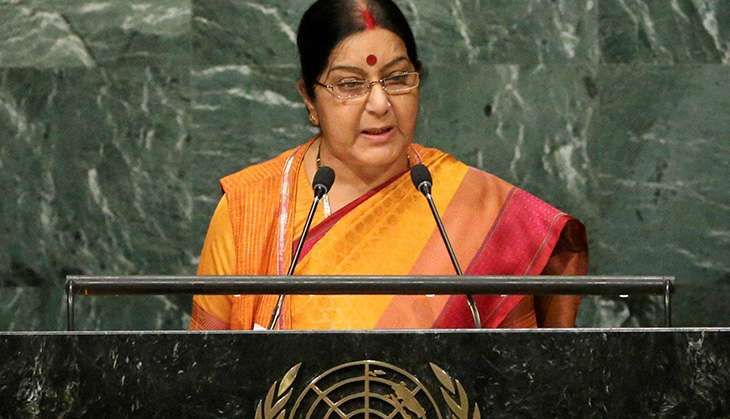 In her much awaited address to the United Nations General Assembly, Sushma Swaraj on Monday launched a scathing attack on Pakistan for sponsoring terrorism. "We must acknowledge that terrorism is undoubtedly the biggest violation of human rights. It targets the innocent and kills," the foreign minister said.
Ramping the rhetoric up another notch, Swaraj added, "Brutality against the Baloch people is the worst form of state oppression." She sought to put terror and its sponsorship on the global agenda when she mentioned how the Afghan vice president Sarwar Danish had raised similar concerns during his address to the UNGA.
Also Read: BJP national executive: True to form, Modi's Kozhikode speech was all bluster
"The world has been battling this scourge for long," she said, bringing up terrorist strikes in Kabul and Dhaka, Istanbul and Mogadishu, Brussels and Bangkok, Paris and Pathankot, and, of course, Uri. "As well as daily barbaric tragedies in Syria and Iraq", which "remind us that these malevolent forces are yet to be defeated".
Kashmir came in just once in her address when she forcefully said, "Let me state unequivocally that Jammu and Kashmir is an integral part of India and will always remain so."
Referring to the arrest of Lashkar-e-Tayyiba terrorist Bahadur Ali, who has told Indian interrogators about the Pakistani army's role in supporting terror camps and helping in infiltration, the minister said India has "living proof" of Pakistan's complicity in cross-border terrorism, and asked it to abandon its dream of obtaining Kashmir through terror.
Continuing with the Narendra Modi regime's offensive to diplomatically isolate Pakistan, Swaraj demanded that countries in which UN designated terrorists roam freely "should have no place in the comity of nations". In a message to countries that support Pakistan - an apparent reference to the US and China - Swaraj said fighting terrorism calls for unity, and discarding old alliances and forgetting past favours.
Swaraj was measured, though emotive, in her crisp address, delivered in Hindi, unlike Pakistani Prime Minister Nawaz Sharif. She covered issues ranging from Beti Bachao and Swach Bharat Abhiyan schemes to India's commitment to achieving the sustainable development goals and countering climate change, even explaining how yoga encourages sustainable lifestyle.
Singing different tunes
On the other hand, Nawaz Sharif's 20-minute address, a major portion of which was dedicated to Kashmir, was meant for his domestic audience and, in particular as a former Pakistani diplomat pointed out, to the generals in Rawalpindi and the Jihadi groups. His message? No action will be taken against them.
Also Read: Will Pakistan really launch a nuclear war if attacked? Strategic experts are divided
Swaraj may have disappointed those in India expecting fireworks in New York and a forceful critique of Sharif's address. It was, however, in keeping with the Modi' regime general policy of restraint. Indeed, the prime minister himself had resisted the temptation to opt for a knee-jerk retaliation after the Uri attack even as chorus to go to war grew, including from members of his own cabinet and the ruling BJP.
No wonder Modi was all praise for Swaraj's effort. "Congrats to EAM @SushmaSwaraj for a firm, effective & fine articulation of a wide range of global issues at #UNGA," he tweeted.
However, some experts saw this confusion as a result of the absence of a coherent policy on Pakistan. The government seems to be going back and forth on Pakistan, especially after high profile bilateral meeting, including Modi's surprise stop in Lahore.
In his address, Sharif had said Pakistan was ready for dialogue on all issues, including Kashmir, and accused India of imposing impossible conditions on talks. Swaraj responded: "What preconditions? Did we impose precondition before extending invitation for the oath-taking ceremony of our government? Did we impose any precondition when I went to Islamabad for the Heart of Asia conference and agreed to begin the Comprehensive Bilateral Dialogue? Did we impose any precondition when Prime Minister Modi travelled from Kabul to Lahore? What preconditions?" she asked.
She added for good measure, "What did we get in return? Pathankot, Bahadur Ali and Uri. Bahadur Ali is a terrorist in our custody, whose confession is the living proof of Pakistan's complicity in cross-border terror."
Reacting to Swaraj's speech, a spokesman for Pakistan's foreign ministry said her reference to Balochistan "is a violation of UN principles and international law" as well as a continuous admission by India of its involvement in subversive activities in Pakistan".
On Swaraj's reference to Kashmir, the spokesman said, "India is trying to divert world attention from its atrocities on defenceless Kashmiris in IOK [India Occupied Kashmir] but the efforts will not succeed."
Also Read: Uri terror attack: what India may do to retaliate