Asaram gets life imprisonment for raping minor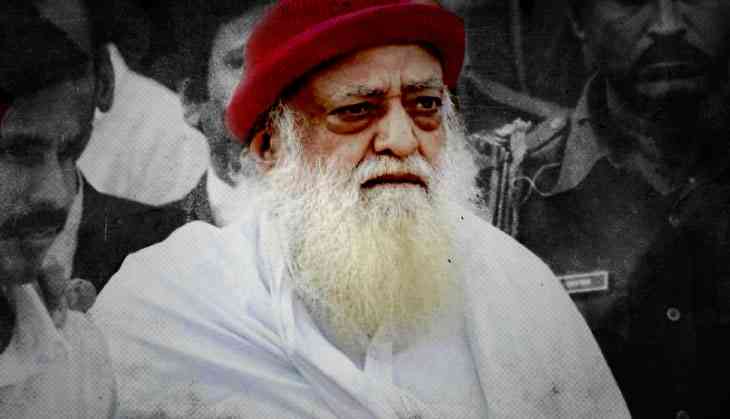 Self-proclaimed god man Asaram and two of his aides were convicted for raping a minor girl by a court in Jodhpur Wednesday amid tight security as authorities expected violence. He was sentenced to life imprisonment by Madhusudan Sharma, special judge for cases regarding scheduled castes and scheduled tribes, inside Jodhpur Central Jail.
Asaram, 77, was convicted under relevant sections of rape, under the Indian Penal Code (IPC) as well as the Prevention of Children from Sexual Offences (POCSO) Act, among other offenses. His aides Sanchita alias Shilpi Gupta, Sharad Chandra alias Sharat Chandra were also convicted. Two other aides, Prakash and Shiva alias Sava Ram Hethvadiya, named in the charge sheet were acquitted.
The father of the rape survivor expressed satisfaction at the verdict. "We have been living in constant fear. The way witnesses have been killed and others attacked we were really worried whether we will be alive to see this day. We had complete faith in the judiciary and are happy that we got justice," he said.
Refusing to agree with the verdict, Asaram's spokesperson Neelam Dubey said his followers would challenge it at a higher court.
National Commission for Protection of Child Rights (NCPCR) member Yashwant Jain said the verdict was a lesson to people who think they can get away by committing sexual offences against children. "I would like to appreciate the girl and her family for fighting against the culprits," he added.
Asaram raped the 16-year-old on the pretext of exorcising her in 2013. Her parents, long-time followers of the sexual predator, were told that the girl was possessed by "evil spirits" and needed to be alone with Asaram in his ashram in Mani village near Jodhpur for exorcism. During the stay Asaram confined and raped the girl.
The survivor, hailing from Shahjahanpur in Uttar Pradesh, later revealed her ordeal to her parents who subsequently filed a police complaint.
Asaram was arrested by Jodhpur Police in September 2013 from Indore and has been in jail since then. Repeated bail pleas were rejected by various courts, including the Rajasthan High Court and the Supreme Court.
Asaram along with his son Narayan Sai, face another rape case. Two Surat-based sisters filed separate complaints of repeated rape and illegal confinement during their stay at his ashram in Gujarat between 1997 and 2006.
Witnesses attacked, killed
A host of key witnesses, judges and those involved in investigating the cases against Asaram have been attacked and threatened. At least three have been killed.
Amrut Prajapati, a former aide of Asaram was shot dead in July 2014. An Ayurvedic doctor, Prajapati had turned against the godman following the mysterious death of two students at an ashram in Ahmedabad.
Another aide Akhil Gupta, who too had testified against him, was killed in January 2015. Another key witness against Asaram, Kripal Singh was killed in 2015 in Uttar Pradesh.
Manoj Kumar Vyas, a judge at the Jodhpur sessions court, hearing Asaram's bail plea, was threatened by his followers.
Rajasthan Police also charged Asaram and three of his followers for threatening to kill a police officer involved in investigating the charges against him.
He is also accused of forgery after he submitted a fake medical report while seeking bail on health grounds.
Endorsements from political bigwigs
Asaram was born as Asumal Sirumalan in 1941 in Sindh province of Pakistan and moved to Ahmadabad in Gujarat after Partition. With over 400 ashrams across the country and the world, he controls an empire valued in excess of Rs 10,000 crore.
He has countless followers across the country and even enjoys endorsements of prominent political leaders, including Prime Minister Narendra Modi.
Asaram's official website carries endorsements from Modi and BJP patriarch LK Advani among others.
A video of Modi's "bonding" with the now convicted rapist has also been doing the rounds in social media with Opposition Congress' official Twitter handle sharing it.
"A man is known by the company he keeps" - Aesop's fables #AsaramVerdict pic.twitter.com/CTOQ8HKJ1O

— Congress (@INCIndia) April 25, 2018
Akhil Bharatiya Akhara Parishad (ABAP), the apex body of Hindu saints, last year released a list of fake seers, which included Asaram and another rape convict Gurmeet Ram Rahim Singh.