Amitabh Thakur in a tell-all: his war with Mulayam and mistakes he's made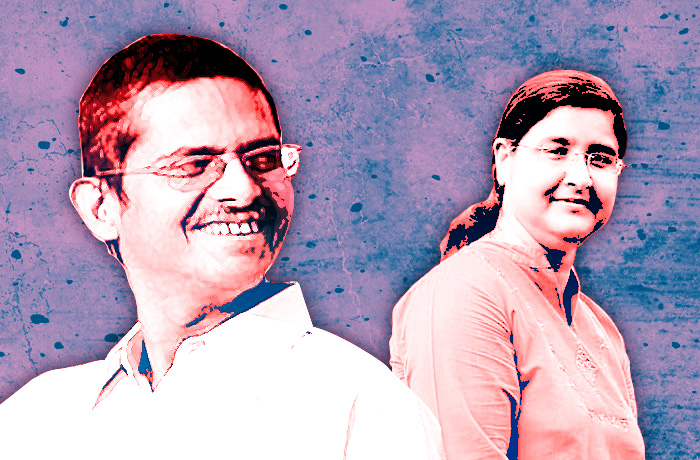 The story so far
UP Inspector General (Civil Defence) Amitabh Thakur and his wife Nutan are activist-officers
They have filed numerous PILs about a variety of issues, drawing the ire of the Allahabad HC
They have taken on the SP govt with allegations of illegal wealth against minister, GP Prajapati
A case of rape has been registered against Amitabh
Amitabh has released an audio recording of SP supremo Mulayam Singh Yadav threatening him
The two had a fall-out previously owing to Amitabh\'s altercation with Mulayam\'s relative in 2006
The UP govt suspended the top cop on 13 July on the counts of \'indiscipline\' and \'anti-govt stance\'
The reaction
Amitabh dismisses current CM Akhilesh Yadav\'s claim that his father was \'advising\' him
Alleges the SP is after him due to PILs against other leaders like Azam Khan
Says the High Court came down on him and his wife after they took on judicial corruption
Believes the rape case filed against him is politically motivated, wife Nutan backs him
Admits he has 11 properties in Lucknow himself, as well as a farmhouse in Barabanki. But denies allegations of corruption and disproportionate wealth
Admits that some allegations against him are true, like backing an encroacher who built a temple
Politics is always complicated business. In Uttar Pradesh, it is doubly so.
Police officer Amitabh Thakur is paying a high price for taking on the might of the establishment. The Samajwadi Party government in Uttar Pradesh suspended the Inspector General (Civil Defence) on 13 July, even while Thakur was in Delhi asking the Centre for protection.
The government found him "guilty of arbitrariness, indiscipline, anti-government stance, ignoring instructions of the High Court, ignorance to obligations and duties associated with his post".
In a sense, this was written on the wall. Thakur had released a voice recording of SP supremo Mulayam Singh Yadav on 11 July, in which the former UP CM is heard threatening the officer.
"Sudhar jaiye (reform yourself)," he says, warning Thakur of consequences worse than what happened in Jasrana. "Jasrana mein jo hua tha bhool gaye? (Have you forgotten what happened in Jasrana?)"
Hours later, in a move that, at least on the surface, smacked of political vendetta, a rape case was registered against Thakur by the Lucknow police, based on a complaint filed by a woman more than six months ago. Thakur alleges the timing of the FIR proves that this, in fact, is a "return gift" from the government in response to his activism.
Earlier this year, his wife Nutan, also a well-known activist, had filed a complaint against state mining and minerals minister Gayatri Prasad Prajapati, and the massive illegal property he had allegedly hoarded.
The couple had clearly stirred a hornet's nest with their search for accountability.
However, other administrative officers in the state allege not everything is kosher in the Thakurs' corner either.
A 1992 batch UP cadre IPS officer, Amitabh, who hails from Sitamarhi in Bihar, is an IITian who joined the civil service. Fairly early in his career, he began to take up a range of causes and metamorphosed into an "officer-activist".
Along with his wife and fellow RTI activist Nutan, Amitabh wrought havoc in the politico-bureaucratic nexus by bombarding the system with RTIs and PILs, which led to the Allahabad HC - perhaps unfairly - declaring the couple to be "chronic petitioners".
The Thakurs also started the National RTI Forum, which has instituted several gallantry awards for RTI activists who brave great adversity to expose and challenge the system.
Much of this would explain the antagonism the couple is facing.
However, there are a few allegations against the Thakurs too - of having 11 properties in Lucknow, disproportionate to the income of serving officers, drawing a teacher's salary but not going to teach and misdirecting MLA funds, among other things.
Catch reached the couple amidst a frenzy of media activity on 13 July, hours before the news of Amitabh's suspension broke.
Nutan, her leg recently fractured, was stationed in a corner of the bed in their South Delhi hotel room.
"Today, a group of policemen tried to forcefully enter our house in Lucknow with the alleged rape victim, to do an assessment of the alleged crime scene. We have no security back home. Our young children are alone in the house," said Nutan.
Amitabh, who had talked himself hoarse, seemed calm, even mildly amused at times.
In a tell-all conversation, the couple revealed the various vigilante issues they have raised in the past, the infamous Jasrana incident, why the rape charges against Amitabh don't add up, and why they're called the 'Bunty and Babli' of activism in Uttar Pradesh.
What made you an activist-officer? What was the trigger?
I would say that, possibly, the seed of activism was in me for a very long time. But it became concrete only after 2006, when the Jasrana incident occurred.
We have been activists by nature. So, from issues of our neighbourhood to those of high-profile scams in the government, we raise our voice against all.
We're simple people, we don't have an agenda. Sometimes, we don't realise who or what we're messing with. Since our purpose is not to extort money or work for any kind of vested interests, we've been involved in all kinds of matters, small and big. Some have worked, most haven't. I would say we have an 80% failure ratio.
Sometimes, we're wrong too. At other times, we have discarded a cause mid-way. To sum it up, our purpose is to truly intervene in the issues concerning public life and society at large.
What happened when you were deployed as an SP in Jasrana? What prompted you to take action against Mulayam Singh's relative and local MLA Ram Veer Singh? Was there a physical brawl between you?
In 2006, I was posted as an SP in Firozabad. The local MLA, Ram Veer Singh, had threatened and criminally assaulted me during this time.
My relationship with him had soured after I failed to acknowledge his demands to post some dubious people in the district. He was asking for personal favours in official matters. He wanted me to twist the rules to accommodate his people.
Once, when I was in his house discussing these matters, the situation escalated and became quite violent. There were some armed men in his house and I was attacked there. They took hold of my collar, demanding I stay within my limits.
In my view, doing this to the SP of a district is beneath the dignity of my office and beyond any justification. When I came back, I called the then-CM Mulayam Singh and made him aware of my intent to file an FIR against Singh, who is his wife's relative, to which he said I shouldn't go ahead with this at any cost.
But I went ahead with it in any case, soon after which, I was relieved from the post of SP. As things turned out, I never shied away at making my voice heard against corrupt practices in the system. My wife joined me in this cause. She became an activist and I, an officer-activist.
What is the genesis of the grouse with Mulayam Singh Yadav?
I cannot say that I have a grouse with Mulayam Singh. My position and his are poles apart - he's a big leader and I'm just an ordinary IPS officer. There's nothing personal in my fight against him or the SP. My 'fault' is that when he issued threats and intimidated me, I didn't keep quiet.
What has your personal and professional relationship with Mulayam Singh been? In Uttar Pradesh, intimidation and even direct action by politicians against rebellious officers is not unusual. But CM Akhilesh Yadav said his father was giving you advice over the phone, not issuing a threat.
Firstly, Mulayam Singh is not the present chief minister of the state. Secondly, the conversation happened outside my official capacity of IG of police - it was about my wife's work in activism and mine. The threat element is quite clear in the conversation - when he says if you keep at this, you will be served worse than what happened to you in Jasrana - that is a threat.
Also, his claim of saving me during the Jasrana incident is completely baseless. Mulayam, in fact, had threatened me against filing an FIR against his in-laws. Where is the question of saving me?
But sure, we've known each other for long - in his official capacity as the CM of Uttar Pradesh and my official capacity as a police officer deployed there. I've visited him quite a few times. But after the Jasrana incident of 2006, our connection was almost entirely severed. Mulayam's ultimatum of demanding that I leave activism or will be hauled with dire consequences is a clear threat.
During both Mayawati's and Mulayam's tenures, you were transferred a considerable number of times and your promotions were stalled. Why is that?
In my 20 years of service, I've been transferred 30 times. In Uttar Pradesh, according to an RTI filed by Nutan, it was found that on an average, officers are transferred twice in a year. One officer was transferred 62 times during his tenure!
I was among those officers who faced problems during both Mayawati's and Mulayam's tenures. During Mayawati's tenure, my promotion was stalled. During Mulayam's time, it is only after I went to CAD that my promotion finally happened, that too after a long wait.
I faced considerable amount of trouble under both of their governments. But with time, because I changed my goal towards activism, my rank and place of posting didn't matter to me anymore. My job provides me security and the means to run a family and also a platform to do other social work. I'm happy.
What are some of the high-profile cases you have fought for in the past that may have antagonised those in power?
Both me and my wife are fondly called the 'Bunty and Babli' of activism. We're together in our work and, strangely, we're that rare couple that according to some, rapes women together.
Among the high-profile cases, one of them has been the case of Azam Khan. My wife had filed a complaint with the Lokayukta in Lucknow against the state government, over the allocation of a building to the minister's trust.
The UP government had allotted the building that houses the Jauhar Research Institute to Azam's trust on a lease of Rs 100 per annum, for 33 years.
Mulayam's ultimatum that I leave activism or will be hauled with dire consequences is a clear threat
Nutan: After Azam celebrated Mulayam's birthday with the money from the education department of the state, Mulayam declared that the land is given as a "return gift" to him.
The PIL I filed after this is still going on.
Lately, the Yadav Singh issue became quite big. The Allahabad High Court heard the case on the PIL I had filed , seeking a CBI probe about the illegally-amassed assets of Noida chief engineer Yadav Singh.
Yadav was floating false companies for siphoning off illegitimate money. Many big names, including that of Mayawati's brother, have been attached to the scam.
The state government did not want a CBI probe in the matter and thus constituted a judicial inquiry. Account numbers of such companies had also been given, where money had gone directly from Noida authority.
When the SP government came to power, the same man was made the chief of Greater Noida, Yamuna Expressway and Noida Authority and was reconstituted into government office with greater power.
That PIL too is still under process.
I had also filed a complaint against Raj Thackeray for the regional and religious verbal assaults he is infamous for making regarding Muslims and non-Maharashtrians.
The Allahabad HC had come down strongly on the "tsunami" of PILs filed by you. In a strange development, it ordered you to deposit Rs 25,000 before filing any further petitions. You've been called "chronic petitioners" by the court. What's your stand?
We raised issues of corruption in the various aspects of the politico-bureaucratic nexus. But not much had been done regarding the issues of judicial corruption. I wouldn't like to comment on the decision of the HC.
Nutan did not face many issues around the various PILs she filed along the course, but when she raised a finger on the functioning of the judges, she was hauled up. I feel it was only after we raised the matter of corruption within the judiciary that we were called "chronic petitioners" and were slapped with a notice for paying Rs 25,000 for every PIL filed.
Nutan: We raised the question of strikes by advocates which go on for months, causing the public much grievance. Also, there were some cases which the judiciary did not feel important enough to take up, so they didn't. Maybe, along the way, they also felt burdened by so many PILs.
Have you faced any other consequences for criticising the state from within and outside the state machinery?
See, when the HC charged us with the Rs 25,000 fine, I believe that is an abrogation of our constitutional rights. We will take the matter to the SC when we can.
Prior to the Prajapati case, the issue of facing consequences or threats had never really come up in such a grave manner.
Nutan: People have, in fact, asked how we have managed to remain above the water. We never felt that because we're doing activism, we should live in fear. It is only after the Lokayukta case that this fear became quite real for us.
What is the story behind your confrontation with state mining and minerals minister Gayatri Prasad Prajapati? Where did it all start?
Nutan: Om Shankar Dwivedi was the first complainant to have raised the issue of Prajapati's massive illegal property, which was under the name of his servant, his 12-year-old son and so on. Prajapati is a Below Poverty Line card holder.
This complaint was filed a few days before I went to the Lokayukta with Prajapati's case. In the second hearing, Dwivedi said he wanted to retract his allegations against Prajapati but the Lokayukta rejected this plea. After all, this was such a huge allegation involving millions of rupees and blatant misuse of government authority.
It was then that I filed my charge, adding that the inquiry against Prajapati cannot be complete if the situation of illegal mining around the state of Uttar Pradesh is not looked into. I had a suspicion that the source of Prajapati's wealth might be the illegal mining happening around the state. All I did was to point the Lokayukta in that direction, adding that I would act as an informant if I get further information on this case.
I filed the complaint on 26 December 2014. The Lokayukta called me on 2 January this year, when I met some local people who confirmed that Prajapati had illegally encroached upon their land.
The first threat came in around 3 January. My husband received a call from a purported "journalist" from Delhi saying that he wanted to talk to me about the complaint. I helped him with all the information I could give about Prajapati.
Later, this person called me up saying that he had been to the field and done his research after which he found that the minister in question was a very clean man. He asked me to withdraw my complaint against the minister.
All I said was, "let the Lokayukta complete their investigation and we would know for sure whether this is a case of corruption or not".
But, surprisingly, this journalist called me up repeatedly for the next few days - trying to convince me that I must withdraw my case at any cost. I smelled a rat here. My husband called up the head office of the media house in Delhi, only to find there was no such journalist working there.
I then filed an FIR asking the police to investigate who was behind this. Initially, the police declined to issue an FIR and did so only after the issue blew up in the media - that too under non-cognisable offences. That matter ended there. When we tried to reach that number hence, it was switched off.
Did you ever speak directly with the minister? When did you receive the next threat?
Nutan: We never spoke to the minister directly. We did not receive a threat post that. But on 14 January, the rape case you're hearing about was filed with the Women's Commission.
I'll tell you what the complaint was about. The complainant said: "I'm a very poor woman residing in Ghaziabad. Nutan Thakur came to Ghaziabad once during which time I met her through a minister. She called me to Lucknow at the behest of offering me a job.
"Once I went to Lucknow, she made me meet her husband, her husband raped me, I kept yelling and crying, but he did not listen. When I told Nutan Thakur about the incident, she told me that she would get me thrown behind bars. She is a very crafty woman and an inquiry should be lodged against her."
This, in gist, is the content of the complaint.
Do you recall meeting this woman? Can you sum up the key points of your defence in this alleged rape case?
Nutan: Honestly speaking, I have never met any woman in Ghaziabad. I rarely come to Ghaziabad or Delhi for that matter. My husband came to Ghaziabad once, but unlike other routine visits by officers, this visit was widely covered in the media.
He came in the month of October, the reason being that he is posted in civil defence, and the visit was in that regard. It was in the papers as well.
The woman has claimed she met me through a minister. I do not know any minister, I'm not in touch with any ministers. We found out about this charge on 17 January, and, a few days later, on the 21st, we were told that another complaint had been lodged by a girl from Etah.
This girl claimed that she found out about a woman in Lucknow (me) who runs an NGO, and gets people jobs. So she came to my address looking for a job and I told her "sahab ko khush karna padega (you'll have to please the sahib)."
And then she met my husband, who asked her to give him an oil massage, and while she was massaging him, he tried to rape her and she ran for her life etc.
Her claim was similar to the first one's - that "Nutan Thakur is a crafty woman, and she supplies girls to influential people and that, an inquiry should be lodged against her."
If it is rape, the woman should have some evidence to prove it. We have enough to prove that she is wrong
Ever since these complaints have come to our knowledge, we have been asking for an inquiry into the matter. We first went to the DGP, then to the police station and finally to the governor of UP, who escalated the matter and brought it to the chief minister's attention.
The complaint that was filed on the 14th and the one that was circulated in the media were both acquired from the Women's Commission, as it bore the seal of their internal communication.
It had been faxed to the SSP as well. When we enquired at the SSP's office, they said the fax that had been sent had been missed on the 16th or the 18th. If the fax had been sent on the 14th, it should have been received the next day and not later.
So we felt that it was a deliberate leak, like it has been done in the past. I do not know either of them. I have never met them. Nor do I deal in helping people acquire jobs.
In fact, the police even went to the woman in Ghaziabad because she was in constant touch with the Women's Commission and tried to enquire about the case. The woman refused to speak about the matter. She kept saying that whatever she has to add, she has put in her complaint and will now speak only to the High Court.
We still maintained that when they found out on the 17th, they should've carried out a test on the 18th, but nothing happened. My husband should also have been tested, post which, we would have no defence, if found guilty.
The police did not act on my complaint nor on the summons issued by the Women's Commission.
I submitted to the Women's Commission that as an official of the Women's Commission, one should have some 'common prudence', since there is no clarity on the date and only my husband and I have been named.
On the same day, about the same person, complaint no. 1501 and 1502 were received. It is clearly not a matter of coincidence since the nature of both complaints is the same.
So your argument is that this is too much of a coincidence?
Nutan: One other coincidence is that the same person received the complaints. That person's husband is an inspector in Ghaziabad.
We requested that both parties should be allowed to present their sides of the story. I am also a woman and no one has the right to malign anybody.
When we found out all the information about the forged documents being prepared, we found via RTI that there is a mismatch in the signatures of one of the women.
Amitabh: There are different signatures on different documents. The facts are also different. We do not know till date what is being said. We are not even sure whether Mujbir Singh, the woman's husband, is actually her husband or not. We do not know anything. It is said that he is also a Samajwadi Party leader.
The woman clearly stated in front of the Women's Commission that she was raped but she did not remember the date. Secondly, she said that she did not go to the police station after she was raped. She filed a petition in the High Court and the CJM court, something or the other kept happening and we had no clue about all of this.
She was not making any demands of a standard rape allegation and only insisted that she wanted to go on with her life peacefully.
Our only bone of contention here is the fact that we have observed that all her lawyers are linked in one way or the other to Prajapati. Both complainants have common lawyers.
Our other complaint is the fact that that woman has not come forward and since the time we have brought up Mulayam Singh's matter, the woman has been receiving VIP treatment.
I recently saw a short video clip of her where her face was covered and she did not even know my name properly.
Her story, too, is completely unbelievable. The first time she said that she met Nutan through a minister in Ghaziabad, and that she had been called under the garb of finding her a job and then raped. I have a very small house and both my children, who are law students, were at home that day. How is it possible for my wife to send someone to my room and how is it possible for me to rape them?
We have enough evidence with us. The other person who is making the allegation should also have some evidence. If it is rape, then she should probably have some evidence to prove it, but she does not have any and we have enough evidence to prove that she is wrong.
There are several allegations against you as well. Apparently, wherever you were posted in Uttar Pradesh, you bought land. You have 10 properties in prime locations of Lucknow and a farmhouse in Barabanki, which was recently sold. How true is this?
AT: It's true that we have these properties. One is under my name and the others under Nutan's. As government servants, we have to show property returns annually. We have never been clandestine about this.
One officer had demanded a vigilance inquiry into my properties, and I had said then and I say now - I'm open to any kind of vigilance or CBI inquiry into my holdings. To hold property is not a crime.
Of course it is not a crime to have properties, but isn't having 11 properties in Lucknow disproportionate to a serving officer's salary?
As I said, we are happy to have even a CBI inquiry. Some of these properties are ancestral.
Nutan, in turn, it has been alleged that you were employed as a primary teacher in a school in Barabanki. You drew a government salary but never visited that school to teach? You had to be pressured to resign but never returned the salary you drew. That seems a bit odd coming from an activist.
Nutan: Actually, all these issues are being dug up on social media after the Prajapati incident happened.
Amitabh: To cut it short, there's no doubt that my wife was facing problems travelling to teach in that school in Barabanki. She formally resigned from her post within a year, after which she stopped visiting the school.
There has been another allegation that you received Rs 10 lakh from MLA Ranjit Singh's fund to build a school. But this was used for opening up an 'Ashirwaad Marriage Lawn'.
This is wrong. The society that gave us the funds, we severed our ties with them. The funds were not given to us; it was given to a society called IRDA that we were associated with. When we started fighting for transparency and accountability, we moved away from IRDA.
In Devaria, a 'Swatantrata Senani Park' on Civil Lines Road was encroached by a priest, who illegally constructed a temple there. You apparently supported him in this, even when the residents were opposing the illegal construction of the temple. What's your stand?
This is true. In retrospect, I believe this was foolishness on my part. I went to the park at night and couldn't take in the situation on ground very well. In a hurry and an error of judgment, I supported the priest. Later, after the entire feedback, I realised I had blundered. There was no bad intent, just foolishness on my part.
I believe a person should come clean about himself. Like all common people, there are many controversies around me. Some have taken shape owing to my foolishness, some because of my mistakes and some which are baseless. Let me add that I am extremely apologetic about some of these incidents.
There was a time when I didn't want to antagonise any leader or minister. I want to make these public.
In Gonda, during an election, I couldn't take strict action against some political leaders even when they were indulging in malpractices, because I did not have the courage back then to take a stand.
In another incident, in Basti, minister Raj Kishore Singh's brother was charged with booth capturing during the elections. Like most officers, I turned a blind eye towards this, along with the District Magistrate. Retrospectively, it disturbs me extremely.
It is true that I too am in a process of evolution. I'm constantly churning myself - like many others. And still, there is much more to be done in that regard.