Amid unrest in Nagaland, women's fight for political relevance gets hijacked
Catch Team
| Updated on: 11 February 2017, 5:42 IST
Lanusunep Imsong, 42, a government servant based in Dimapur, is a doting father to a little girl. He works hard to educate her and dreams of her joining the civil services. He wants to see her become the chief secretary of Nagaland.
"In Naga society, there is no discrimination against women, like there is in many parts of India," says Imsong.
But Imsong's views on 33% reservation for women in civic polls are different from the ones on women's liberation. He feels Naga society is still not ready to hand over political power to women.
What led to the unrest?
A group of women went to court to demand reservation for women in the political sphere, and the court ruled in their favour. But it is yet to materialise into a full victory.
The Nagaland government allowed civic body polls to go ahead with 33% reservation for women. But this move has caused widespread unrest in the state, and the polls have since been annulled due to public anger.
The principal concern expressed by people opposing the move is that the Nagaland Municipal Act, 2015, which allows women's reservation, dilutes Article 371A of the Indian Constitution, which safeguards Naga traditions and customary laws.
In fact, the Naga insurgency was rooted in a fight to preserve this distinct identity.
What do Naga traditions and customs say?
Chuba Ozukum, president of the Naga Hoho, an important umbrella organisation of various tribes, said customary laws vested power in men to lead the tribal organisations.
"It should be understood that what may be right for rest of India is not right for the Naga society, owing to its uniqueness. We are not ready yet," said Ozukum.
The Naga Hoho leader argued that women in Naga society have not been discriminated against, and with changes in society, women have joined the ranks of the hundreds of government servants and in various other professions. More changes would take time, according to him.
True, Nagaland even had a brilliant woman chief secretary in recent years. But sharing of power apparently has to stop here. When it comes to major decision making or positions of power, it has to be men, according to Naga traditions, said Ozukum.
"We are not against women's participation. Women can be nominated members (in civic bodies) with voting rights, but we do not want reservation in elections," he said.
Protesters' deaths pinned on Zeliang's head
It is on this sentiment that anger spilled out on the streets this week in Dimapur and Kohima, and ended in police firing and loss of lives.
The casualties weren't just government buildings. Bodies of two young protesters lay in the heart of capital Kohima, as the town burned on Thursday night. The burials took place on Friday.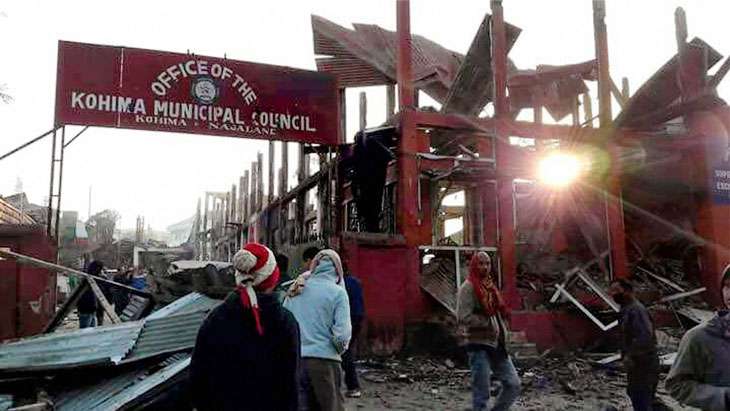 Protesters damaged a government building in Kohima. (PTI photo)
Chief Minister TR Zeliang, and the BJP, which supports his Nagaland People's Front, are in a spot for being unable to prevent the loss of life and property.
Protesters supported by various tribal groups that form the backbone of Naga society have demanded the resignation of the entire cabinet.
For once, a large number of people, including tribal bodies, seem to prefer President's Rule to an elected government - that too, led by a regional party.
Calls to disband Naga Mothers' Association
The deaths and the ensuing violence have threatened the six-year-long debate on women's reservation in Nagaland. Many Naga traditional bodies have extended support to the anti-reservation stir.
The big casualty here is the widely respected women's group, the Naga Mothers' Association or NMA, which tribal bodies have now said should be disbanded. After all, it was NMA members who spearheaded the movement for women's reservation.
Various tribal hohos have asked their women's organisations to dissociate with the NMA.
The NMA was formed in 1984 by a small group of spirited women to take up women's issues in Naga society. "It is a group that was not based on tribal lines but by Naga women, so there is no way it can be disbanded," said Rosemary Dzuvichu, a professor at the Nagaland University, and one of the protagonists in the fight for reservation for women.
Dzuvichu is shocked by the recent developments, and feels it's unbelievable that in today's world, events should have turned so ugly. "In a Christian society like the Nagas, that brute force should have prevailed is so unfortunate," said Dzuvichu.
The educator-activist said notwithstanding all the opposition to Zeliang, he is the first CM who has stood up for women's rights and not played to the gallery.
NMA president Abeiu Meru is disappointed but doesn't sound defeated. Meru said Nagas can't afford going back to the days of hunting, and need to think and move ahead. "Importantly, some men are against us; not all men are against us," said Meru.
Somewhere in the high decibel protests and violence, however, the issue of women's rights has been lost. The loudest voices are now for the resignation of Zeliang and his cabinet, because protesters were killed in police firing.
State women's commission chairperson, Prof. Temsula Ao feels that somewhere, there is a "sinister design" to topple the current government while sidelining the women's issue.
On granting women's reservation, however, Ao says there is some more discussion needed in order to convince the men folk to give in to the demand.
Disappointed by the demand to disband the NMA, Ao says women's bodies of some tribes have been forced to dissociate by the tribal bodies headed by men. The NMA should be strengthened, not disbanded, and its contributions to Naga society recognised, she says.
Back to square one
Reservation for women in civic polls was apparently meant to be a test case for more sharing of power between men and women in Nagaland.
That test, however, is proving to be a tough one in a society steeped in tradition and sacrosanct customs.
"But then, customary laws are never static, for our forefathers were wise and respected women," says Dzuvichu.
The next step for the women is to begin a dialogue with the male-dominated tribal bodies all over again.
Edited by Shreyas Sharma