Ambedkar University sets 100% cut-off for non-Delhi students in some courses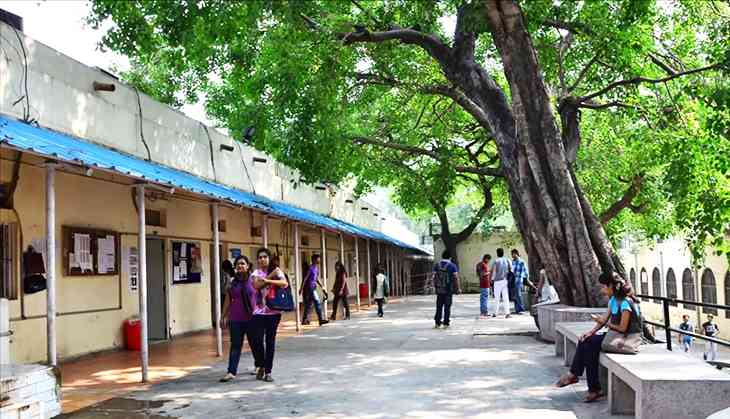 It's not just University of Delhi colleges that are releasing high cut-offs this admission season, even the Delhi government-run Ambedkar University Delhi (AUD) is no different.
In a few undergraduate courses, its cut-off has touched a shocking 100% for a section of students.
Being a state government university, AUD reserves 85% seats for students from the National Capital Territory. This leaves students from outside competing for a handful of seats, making the cut-offs shoot upwards for that section.
Then there is the factor that it is an arts and social science university and naturally students from these streams are given preference. So if you are a science or commerce student from outside Delhi, it is nearly impossible for you to get through AUD.
The cut-offs
For BA Psychology (Hons) a non-NCT student from a commerce background would need 100% marks. For Science and Arts students, it is 99.5% and 95.5% respectively. For NCT candidates the cut off is 98.25%, 97.25%, and 93.25% for Commerce, Science, and Arts stream students respectively. Psychology is known to be one of the most popular courses in the University.
Non-NCT students from Commerce and Science streams would need 100% marks for BA Sociology (Hons). Arts students will need 96.75%. For NCT students wanting to do sociology, the cut off for Commerce, Science, and Arts is 98.5%, 97.5%, and 93.5% respectively.
In BA Economics (Hons), the cut off for non-NCT students from Commerce stream is 97.25% and for NCT candidates, it is 93.75%. For those from the Science stream, the cut off is 96.25% for non-NCT candidates and 92.75% for NCT candidates. For Arts stream students, the cut off is 92.25% for non-NCT candidates and 88.75% for NCT candidates.
In case of BA English (Hons) the cut off for outside candidates is 98.5%, 97.5%, and 93.5% for Commerce, Science, and Arts stream students respectively. For NCT candidates, the cut off is 97%, 96%, and 92% respectively.
This is the second year in a row where the university's released a cut-off of 100% in the first list for commerce and science students applying for sociology and history.
It is expected that the cut-offs will drop in the second and third lists.
Explaining the high cut-offs in the first list, AUD's Assistant Registrar Anshu Singh said, "100% cut off for non Delhi students is based on the percentage obtained by the applicants in their best 4 subjects. This is a normal move. Based on the school examination results, hundreds of students will still be eligible to secure a seat in the university courses, both Delhi students and those from outside. And no, it was not done to have Delhi admissions first. There is no discrimination."
Singh informed that as of now no non-Delhi student seeking admissions in any of the courses have made the cut. She said, "No non-NCT student has been admitted in the courses as of now.. The second cut off is likely to see a fall in percentages which is the usual case. How much of a fall in percentage are we going to see in the second cut off, we are not in a position to predict at this moment."
Admissions on the basis of the first cut-offs will take place from 6-8 July.
The reasons.
The situation in AUD is no different from the trend in DU, where both top and lesser know colleges have maintained very high cut offs. It is also believed that higher first cut-offs tend to help colleges get a higher rank.
In DU the highest cut-off was witnessed by SGTB Khalsa college where students need 99.6% marks to get through BSc electronics.
AUD offers seven undergraduate courses – History, Psychology, Sociology, Economics, English, Maths, and Social Science and Humanities. Students from Arts background are at a clear advantage especially those from NCT as cut-offs for them are 4% less than that for Science background, and 5% lower than that Commerce backgrounds, across all subjects.
AUD will release its second list on July 10.