Amartya Sen report: 80% Bengal Muslims live on less than Rs 5,000 a month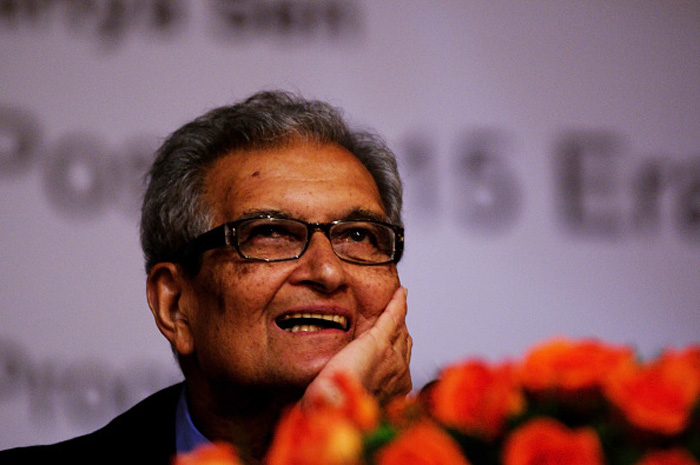 UPDATE: Mamata Banerjee's dream of bagging Muslim votes in the state may hit a roadblock as Peerzada of Furfuria Sharif, Toha Siddiqui criticised the government on Sunday.
"Bengali Muslims in the state are disheartened by the government in the past five years. Chief Minister had claimed that 99% of her promises to the community have been fulfilled. But this is a lie.", said Toha.
"Deserving Muslims should get jobs, not bicycles or benefits of Kanyasree. I would plead to the people to vote for MLAs who have done good work and to throw out MLAs who did not perform", he added.
TMC leaders Mukul Roy and Firhad Hakim tried to salvage the situation by claiming the usual - Toha's words have been distorted and he had said that the previous government had done nothing.
But reality shows that Toha is right.
------
As many as 80% of rural Muslim households in West Bengal earn no more than Rs 5,000 a month - the designated poverty line for a family of five. Of these, 38.3% earn Rs 2,500 or less.
These are among the shocking findings of the report "Living Realities of Muslims in West Bengal", prepared jointly by Pratichi Trust, founded by Amartya Sen, Guidance Guild and the Association SNAP. The report will be released in the next few hours in Kolkata by Amartya Sen.
Read: Amartya Sen slams 295 A. Says right to free speech greater than religious sentiments
Catch got a look at the excerpts of the report. It reveals that the Mamata Banerjee government has failed to live up to the expectations of the state's minorities.
The report is based on a survey conducted in 325 villages and 73 urban wards with substantial Muslim population. It analysed changes in the indicators of literacy, economic development, health and education among the Muslims since Mamata came to power.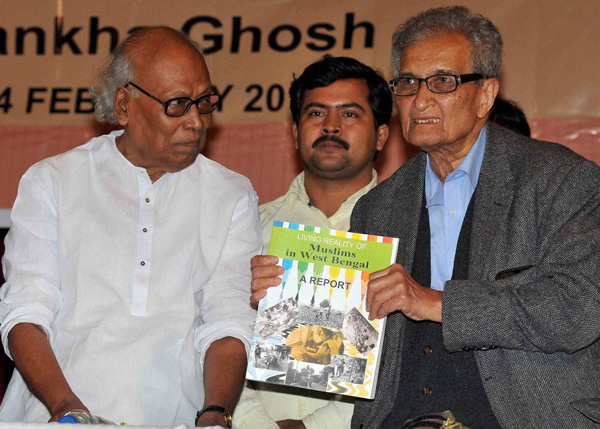 Here are some other findings of the report:
Only 1.5% of rural Muslims in West Bengal have a regular salaried job in private sector.

In the public sector, the share of Muslims with regular salaried jobs is much less at 1%.

At least 13.2% of Muslim adults do not even have a voter card.

12.2% of Muslim households have drainage facility as against 31.3% in the state.

The level of urbanisation - their shift towards cities, that is - among Muslims is 19%. The state average is 32%.

At least 15% of Muslim children aged 6-14 years are out of school. A third of them suffer from lack of motivation and "see no future benefits" in getting an education. Of the 15% children who are out of school, 9.1% never enrolled while 5.4% dropped out.

There are 10.6 secondary and higher secondary schools for every 100,000 people in West Bengal, but in the three Muslim-dominated districts of Murshidabad, Malda and North Dinajpur, this rate is 7.2, 8.5 and 6.2 respectively.

Some 82.1% of Muslims in the state source their information from the "local informed person" and political people. The culture of gathering information from radio, newspaper, television is absent.
15% of Bengal's Muslim children aged 6-14 are out of school - 9.1% never enrolled, 5.4% dropped out
The timing of the report is surely going to cause discomfort to Mamata, as the assembly election is knocking on her door. She has often been accused of using state doles only to bolster her minority votebank rather than for their social mobility. This has invited sustained criticism from opposition parties, some Muslim leaders and the civil society.
Also read- Danger games: Muslims & Mamata's communal play in Bengal
Indeed, just this last Friday, Mamata announced many sops for the Muslim community after her Trinamool Congress forged a new alliance with the All India United Democratic Front.
The report indicates that such sops may not really have helped the state's Muslims.
Edited by Mehraj D. Lone
More in Catch:
Malda riot: Mamata's Muslim appeasement is coming back to haunt her
Cop out: why are policemen fleeing to join militants in Kashmir?
Nobody has been as aggressive as us: Manish Sisodia on#EkSaalKejriwal
Heart Attack: inside the crazy, colossal $19 billion Valentine's Day industry