Alt focus: How Kashmir's women view the youth taking to guns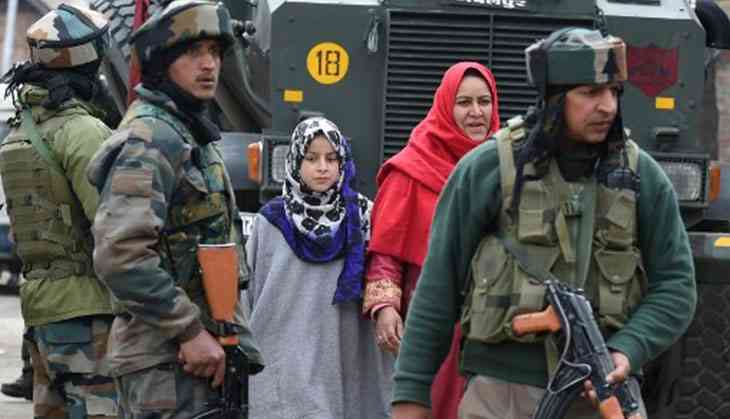 In times of war, they say, truth becomes the first casualty.
To say that women become the second-biggest casualty in a conflict zone like Kashmir will be an understatement. Catch looks at the many ways in which the conflict is impacting the lives of women in the restive Valley since 1989 on a daily basis.
More often than not, the narrative of victimhood remains the main contention in restive regions. The sufferings of women cannot be underestimated by any stretch of the imagination.
In Kashmir, though, many women have also stood up to make a conscious choice not to let the raging conflict come in between their path of success and heroic feat.
How then the conflict impacts gender in Kashmir?
Nighat Sahiba, an award-winning poet from south Kashmir, uses her pen to raise issues of gender inequality.
Born in 1983, this young poetess from Anantnag district began writing about resistance, rebellion, romance, conflict, feminism, existentialism and pain from a young age. She writes in Kashmiri, her mother tongue, and also in Urdu.
On the issue of enforced custodial disappearances in Kashmir at the hands of government forces and renegades since the eruption of the armed struggle in 1989, Nighat wrote this:
Tarakh royei ase'i shaman hawith tim koat gayi
anni gatei shahras dil toamblawith tim koat gayi
poshan hindie anhaar agar tim aangan tschay
yaadan hyeund barood bichawith tim koat gayi
goliv yim niey tim qabran maenz moujoodei
maajan yeim aeis lari tal sawith tim koat gayi
(Revealing their star-faces, to us by the evenings — Where did they go?
Dazzling the hearts of this light-starved city — Where did they go?
Those snatched by the bullets, are safe in their graves
Sleeping those were, by their mother's side — Where did they go?)
For Nighat her poetry is an effective medium to narrate the many shades of the Kashmir story.
There are other Kashmiri women who believe that the conflict has hindered growth and evolution of the society and devastated many lives, especially of women, in many ways.
Rabia, a Srinagar-based school teacher, says "the adverse impact of the ongoing conflict has led to psychological disorders, mental health issues, and issues related to fertility, especially among young girls, and also the menace of drugs."
She is not off the mark in her assessment.
Before 1989, not many people would pay visits to Kashmir's only psychiatric hospital.
"There were hardly any reported PTSD (post-traumatic stress disorder) cases in Kashmir until 1989," says a leading psychiatrist Dr Arshad Hussain.
Not long ago, Doctors Without Borders (MSF) released a report [PDF] on mental health situation in Kashmir. According to the report, half of all residents of the valley have "mental health problems".
The report found that nearly 1.8 million adults – nearly 45 per cent of Kashmir's adult population – suffer from some form of mental distress. It further said that 50 per cent of women and 37 per cent of men are likely to suffer from depression; 36 per cent of women and 21 per cent of men have a probable anxiety disorder; and 22 per cent of women and 18 per cent of men suffer from PTSD.
A Kashmiri woman entrepreneur based out of Delhi tells Catch that "women have borne the brunt of conflict in Kashmir and have often found themselves, unexpectedly, as the sole manager of household, sole parent and sole caretaker of elderly relatives.
"Sexual violence against women, especially rape, has added its own brand of shame," she adds.
Mantasha Binti Rashid, who is a Kashmir Administrative Service (KAS) woman officer and also a gender rights activist, argues that the conflict "in every possible manner impacts women".
"First, there is a clear institutionalised violence — violence by the state, violence by war, violence of insurgents. Second, there is the existing community violence based in culture and family (as in other societies) but in conflict it is hushed up mostly and talking about it is either not seen as priority or is suspected to be a diversion (from the dominant aspiration for a political resolution)," Mantasha says.
Hence conflict, she adds, creates new violence(s) and exacerbates the existing ones against women.
Hina, a young poetess and translator from Kashmir, adds a new dimension.
She argues that women have grown "very weak emotionally and mentally with a constant fear looming over their heads, the fear of losing men to deadly conflict makes women vulnerable."
In our conservative set-up, she says, "we have been taught from the very beginning that men are our guardians and that, our existence, is vulnerable without them (men) in our lives. This fear doubles the dependence apart from the love and attachment we have for them already."
A Kashmiri woman scribe based in Delhi tells Catch that the conflict has emotional, physical and psychological impact on working women like her. "To me, personally, it affects my daily routine, daily life, my relationships, and sometimes my work as well," she says.
The diverse voices and perspectives of Kashmiri women are important for they are hardly heard because of the ongoing political and military conflict that continues to consume lives on a daily basis.
Faakirah Suraiya Irfan, a law student and woman activist based in Srinagar, is of the view that "a woman living in a conflict faces double patriarchy. She is forced to bow down to the forces of the state where her body just doesn't become her body; it becomes the honour of her homeland. In myriad ways, she loses her freedom and identity, both."
There are also women like Parveena Ahangar who despite losing her son Javed in the early 1990s to enforced custodial disappearance at the hands of government forces chose to fight for all women with similar stories.
She is currently spearheading a campaign for those who have been made to disappear in custody by government forces since 1990.
As chairperson of the Association of Persons of Disappeared Persons (APDP), she holds a peaceful sit-in every month to impress upon the authorities to declare the whereabouts of an estimated 8,000 Kashmiri men who are believed to have been enforced to custodial disappearance.
Safia from Rajbagh Srinagar was a mother of a 6-month old baby when her husband went missing in 1993. "Where is my husband? Where has he vanished?" she asks.
"No one will ever understand my struggles. No one knows what I have endured all these years," she says, adding that "I have worked as a daily wager, labourer, maid and domestic help to raise my child."
In Kashmir, women like Safia are described as 'half-widows' for they have no clue regarding the whereabouts of their disappeared husbands.
Half-widow is an expression that has become part of Kashmir's narrative and lexicon post-1989.
The APDP and other human rights bodies in the Kashmir Valley allege that over 8,000 youth have gone missing after the eruption of a popular armed rebellion in 1989. On its part, the Jammu and Kashmir Government believes that over 4,000 militants and 'missing' people from J&K are still in Pakistan and Pakistan-administered Kashmir (PaK).
The government has not declared those listed as disappeared as deceased.
Despite many a challenge, many Kashmiri women have chosen writing, poetry, art, music, journalism, medicine, civil service, teaching, academia, business and banking etc as their profession.
Many successful examples like that of London-based novelist and academic Nitasha Kaul (author of Residue), Saba Shafi Makhdoomi (author of Leaves from Kashmir), Rumana Makhdoomi (author of White Man in Dark), Mona Bhan, C Zutshi, Insha Malik, Uzma Falak, Samreen Mustaq, Natasha Rather, Essar Batool, Nighat Sahiba and many others are showing the path to other fellow Kashmir women.