Agrarian crisis in Punjab: low returns lead to falling lease rents on farmland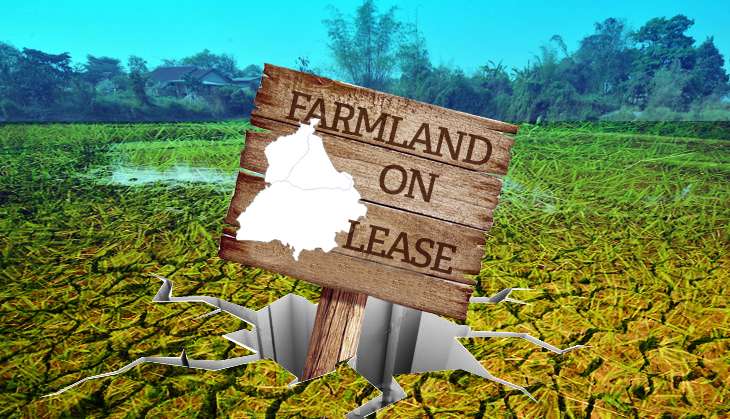 What\'s happening in Punjab
Lease rentals of farmlands in Punjab have dropped by almost 40 per cent
Farmers are no longer willing to risk planting crops not covered by the MSP mechanism
Why is it happening?
Low yields followed by lower returns has lead to the drop in lease rentals
Farmers are also not willing to change the crops they grow
More in the story
What do the experts think?
Is there a solution to this fall in lease rentals?
The continuing crisis keeps turning a new leaf in Punjab at regular intervals. This time around, the new indicator happens to be a considerable drop in the lease rentals on farmland.
Farmers are no longer willing to risk planting crops not covered under the Minimum Support Price (MSP) mechanism and are returning to the traditional paddy for the season. There is also a reported decline in cotton sowing areas. The phenomenon is prevalent across the state and the lease rentals, barring a few exceptions, have witnessed a fall of almost 40 per cent.
Experts point out that the crashing prices of Basmati 1121 variety and potato over the last two years is the main reason behind the falling of lease rentals.
"These crops are not covered under MSP and the farmers who were cultivating them have incurred heavy losses and were unable to even recover their input costs. With no market closure and the real income going down, this is the result for all to see," says Professor Gian Singh, an expert on agricultural economics from Punjabi University in Patiala.
Reports point out that the Pusa-1121 Basmati variety gave a return of only Rs 1,600 to 1,800 per quintal last year as compared to the levels of Rs 3,000 to 3,300 and Rs 5,000 to Rs 5,100 in the preceding couple of years.
Gian Singh points out that the lease rentals in areas like the Malwa belt that had stood close to Rs 70,000 per acre have come down to Rs 30,000 to Rs 45,000. In Shivalik foothills the lease rentals are as low as Rs 2,000 to Rs 5,000 per acre.
He also pointed out at exceptions saying, "Earlier this year while during a survey we found that the lease rentals remained around Rs 60,000 per acre in Rampura Phull. This was because the farmers said that they had earned well by growing potatoes and were willing to continue with it."
Pattern changes
Sher Singh Sangwan, another expert on agricultural economics from the Centre for Rural Research and Industrial Development (CRRID) in Chandigarh points out that high lease rent in Punjab and Haryana had its genesis in reverse tenancy and changing cropping pattern during the recent years.
In reverse tenancy, ownership of machinery by middle-sized farmers enables them to utilise the same for leased land by spending on additional diesel only.
The reversed tenancy started in mid-eighties but the competition for leasing in land increased due to unemployment among small farmers who did not feel confident enough to work under MNREGA or as labourers elsewhere.
Pointing that 85 per cent cropped area continues to be under wheat and paddy in Punjab and Haryana, a further look into the cropping pattern shows how general paddy was replaced by the Pusa-1121 Basmati variety that was introduced by Indian Council for Agriculture Research in 2003.
This became popular because it is photo-insensitive, requires less water, matures early and yields 19 to 20 quintals of paddy per acre against 9 to 10 quintals of traditional tall Basmati.
Sangwan says that its prices are linked directly to exports and have fluctuated between Rs 1,000 to Rs 4,500 per quintal on year to year basis since 2006.
Sangwan points out that with returns of Rs 4,500 per quintal in 2013-14, the lease rent had shot up to Rs 60,000 per acre in some parts.
Also Read: Cotton farmer suicides: Punjab has been here before and not learnt
But with the prices crashing, a farmer leasing 10 acres was set to incur a net debt of Rs 3 lakh which could be more as banks do not give loan for lease rent and the same is taken from money lenders at a higher rate of interest.
Sangwan says, "The exorbitant rent on lease land is more calamitous than the weather god."
Both these experts are of the view that only land reforms can help the farmers. "The prices need to be remunerative and not supportive and the land should be with the actual cultivator," said Gian Singh.
But experts like Professor HS Shergill of Institute of Development and Communication have a difference of opinion.
He feels that falling of farmland lease rates is a marginal phenomenon as the major chunk of land that is taken on lease for agriculture is still used to grow wheat and paddy where the fluctuations in yield and prices are minor.
Also Read: Battle Field Punjab: how the state's farmers are suddenly being wooed
"It is only in case of the other minor chunk of leased land where there are sharp fluctuations in yield as well as the price. The area under lease also varies in this case. The practice of leasing of agricultural land in Punjab is highly developed and around 25 per cent of agricultural land is routinely being leased on the modern pattern of fixed cash rent leasing," Shergill said.
He believes except for this small chunk where crops are not covered under the MSP, the lease market is developing more with archaic laws being the only shortcoming.
"If laws become modern all big land owners will leave agriculture and start leasing their lands. The farming tenant in Punjab is the most dynamic and enterprising one in the village. He pays a rent of Rs 50,000 per acre and yet earns for himself," he said.
Market speak
Talking about the Pusa-1121 Basmati crisis Shergill said that it has been proven in the agricultural history that crops not covered under MSP face repeated crash in markets and there is no cure for this phenomenon in a free market. "Even wheat and paddy are covered under MSP because of food security," he said. He holds the herd mentality of farmers to undertake cultivation of crops responsible for the crisis resulting from a crash in the markets.
Another interesting facet related to the coming down of the farm lease rates is highlighted by agriculture expert Professor RS Ghuman of CRRID.
"It is pertinent to note that the area under cultivation of Basmati had increased 2.5 times in 2015 in comparison to its previous year. This had led to an increased supply. With the exports plummeting, the prices crashed and the farmers incurred losses."
He further stated that the cotton crop in Malwa region being destroyed by white flies for two successive years has also contributed to this phenomenon. Ghuman has an interesting solution for this malady.
"A reasonable MSP needs to be fixed for such varieties which even the private traders must pay. There is also a need to activate the market intelligence units to guide the farmers. Experts in the agriculture department, universities and farmers' commission must come forward to help the farmers. It is the insensitivity and inefficiency of government that gets reflected in such developments. They have to think about planning," he told Catch.
Edited by Jhinuk Sen
Also Read: Punjab's Dalits are fighting for land rights, and they are winning