After BJP V-P's murder, Nitish can't sit quietly and let 'jungle raj' return
N Kumar
| Updated on: 14 February 2017, 5:45 IST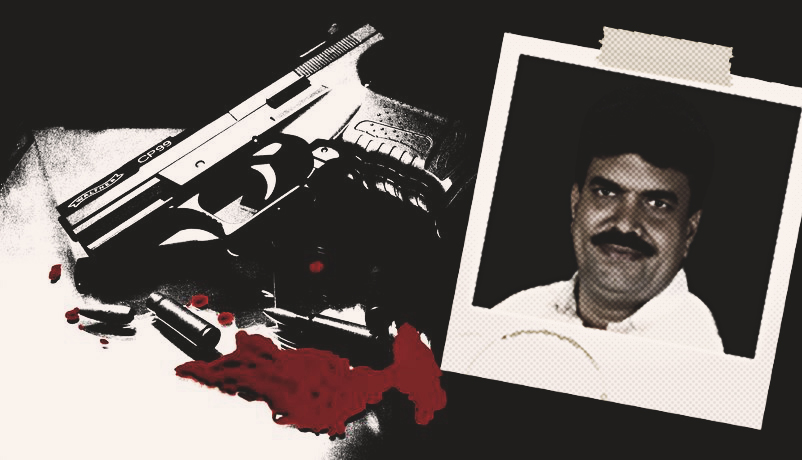 The murder
Bihar BJP vice-president Visheshwar Ojha was shot dead on 12 February by unidentified gunmen in Bhojpur
Ojha had built a political career based on crime
The consequences
This has given the Opposition a chance to attack the Nitish govt, calling it the return of jungle raj
Nitish has issued a stern warning to police officials, but his past warnings haven\'t changed much
More in the story
Have crime rates actually gone up in Bihar since the grand alliance came to power?
Why Nitish can\'t afford to sit quietly while fear grips the public of Bihar
Every time Nitish Kumar wants to showcase his grand plans for the state of Bihar, the 'jungle raj' jinx seems to thwart his plans.
About two months ago, he was about to make some big announcements after a series of meetings with administrative officials. But two engineers were murdered in Darbhanga, putting paid to his planned announcement.
Then, on 12 February, the Chief Minister was scheduled to address the media after presiding over a meeting to review the law-and-order situation in the state. And before he could proclaim that all was well, news came through that the BJP's state vice-president, Visheshwar Ojha, had been shot dead in the Bhojpur district.
Bihar BJP vice-president Visheshwar Ojha was shot dead in Bhojpur district on 12 February
Nitish had managed to evade journalists for two days after the Darbhanga killings. But this time, he had to answer some stinging questions from the media about the return of the dreaded 'jungle raj'. Nitish, visibly perturbed, threatened non-performing state police officials with consequences.
But he had issued similar warnings after the Darbhanga incident too. Those seemed to have little effect on the ground.
Political career built on crime
Ojha was attacked by unidentified gunmen at the Sonbarsa market under Karnamepur police outpost while he was returning from a marriage ceremony at Parsaura village. The region falls under the Shahpur Assembly constituency, from where he had unsuccessfully contested on a BJP ticket in 2015.
Also read: Here's why Lalu-Rabri era is known as jungle-raj in Bihar
The locals were quick to point fingers at the sons of one Shivajit Mishra after the incident. Mishra, who is currently lodged in Arrah jail, is a notorious history-sheeter from the area. He had reportedly campaigned for RJD in the Assembly elections. Ojha and Mishra were known to be long-time rivals.
Hardly anyone familiar with Ojha's past was surprised about the incident. Just a decade ago, the Bihar Police had put a bounty of Rs 25,000 on his head. He was nabbed by the Delhi Police in 2006 and lodged in Tihar Jail.
Also read: Yes Lalu is back. But let's not worry about jungle raj
Ojha began to intervene in local politics soon after he was shifted from Tihar to the prison at Arrah.
It would not be wrong to assume that Ojha used crime to build his political career. He tested political waters by fielding relatives in local body elections, and later, he ensured a BJP ticket for his younger brother's wife Munni Devi in the 2010 Assembly elections. Ojha's writ ran large in Bhojpur district after Munni Devi's victory.
The BJP put its money directly on Ojha in the 2015 election, but he was beaten by RJD's Rahul Tiwari, son of senior party leader Shivanand Tiwari.
Echoes beyond Bhojpur
Bhojpur has stood witness to many bloodbaths perpetrated by Ojha and his henchmen. However, the sound of gunshots that resonated through Sonbarsa on the evening of 12 February have fuelled much speculation from Arrah to Buxar.
Many people fear Ojha's killing might unleash a new wave of violence in Bhojpur district. These apprehensions are not entirely baseless.
This region has suffered some of the worst incidents of crime in recent years. In October 2014, six Dalit women were raped in Kurmuri village, allegedly by upper caste men. A Dalit child was burnt alive in the same district last year.
The ramifications of Ojha's murder are unlikely to remain confined to Bhojpur. The Opposition is already claiming the return of 'jungle raj' under Lalu and Nitish's grand alliance.
A section of political observers point out that such incidents occurred even when JD(U) was in power with the BJP, but they were not highlighted.
The Opposition is already claiming the return of 'jungle raj' under Lalu and Nitish's grand alliance
Still, the government cannot escape some tough questions over the apparent resurgence of crime in Bihar. The Chief Minister and the administration is the same, so why is violent crime rearing its ugly head again?
Criminals not afraid
Recent incidents indicate criminals are increasingly losing fear of law enforcement agencies.
The Darbhanga killings were followed by an audacious attack on the residence of a doctor in Samastipur. The ransacking of the Baisi police station in Purnia and communal tensions in Vaishali district over a temple dispute has further tarnished the image of the Nitish government.
Also read: Yes, law-and-order is a worry. But it's not jungle raj in Bihar: analysts
In January, the state police had to face embarrassment after a mob allegedly comprising JD(U) leaders and supporters freed muscleman Awadhesh Mandal from Maranga police station in Purnea. He is the husband of JD(U) MLA and former minister Bima Bharti.
Mandal is a notorious criminal of the Kosi belt, and has 46 criminal cases against him. The police had arrested him for threatening a Dalit family. Though Mandal was re-arrested two days later, the incident left the state government red-faced.
This controversy had not even subsided when some miscreants poured acid over a group of Dalits in Araria.
The emboldened criminals have not even spared the state capital. A 45-year-old jeweller was shot dead in broad daylight in Patna's Rajapur locality in January. Family members of the victim alleged he had been receiving extortion calls for some time. Barely a week later, a girl from Indore was shot dead in one of the city's busiest localities.
Also read: Nitish's clock is ticking: has Jungle Raj returned to Bihar?
As if this was not enough, local LJP leader Baijnathi Singh was gunned down in Deputy CM Tejaswi Yadav's constituency of Raghopur. Singh had contested the last Assembly election against Yadav.
Singh, who had several criminal cases against him, was a known political adversary of Lalu's family.
Increase in crime or not?
Such sensational crime stories have started to hit the headlines in Bihar after a long time, and 'jungle raj' is increasingly becoming a rant in the political discourse again.
However, senior journalist Gyaneshwar cites data to point out that there is no dramatic increase in the crime rate. He puts the blame on the obsolete policing system of the state, which is failing to tackle a new generation of criminals.
Data points out there is no dramatic increase in the crime rate. But Nitish can't hide behind this
"The petty criminals might turn into dreaded gang lords in the future, if stringent action is not taken at this stage," he says.
Also read: The Nitish Brand: Why India Inc. is not afraid of 'Jungle Raj' in Bihar
However, the Nitish government does not have the luxury of using this line of argument as its defence. The Chief Minister cannot say that things are same as before, and do nothing about the fear gripping the people of the state.
The BJP, on the other hand, senses political opportunity in the prevailing situation. It is reminding people of 'jungle raj' after every such incident of crime.
Meanwhile, RJD leaders have maintained a studied silence so far.
Translated by Deepak Sharma
Edited by Shreyas Sharma
More in Catch - Rajasthan govt approves new quotas: will caste cauldron boil again?
Modi's 'jumla' nailed: how BJP tampered with reservations in the past
The real reason for the Patel mess: RSS's mission to abolish reservation