50 years since its birth, Haryana continues to struggle to come out of Punjab's shadow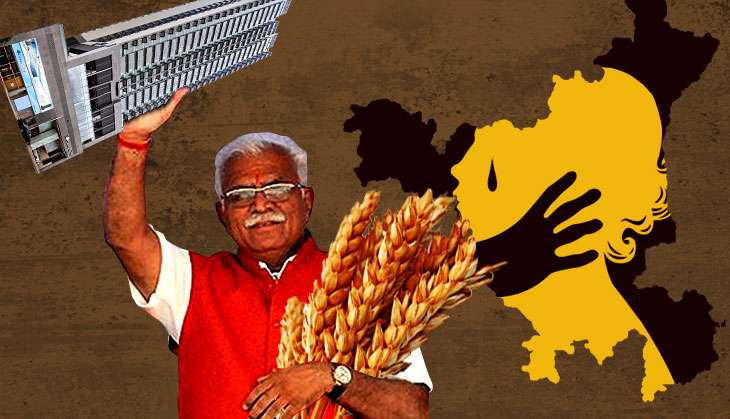 The small state of Haryana as started its golden jubilee celebrations. Despite having made significant strides in development over the last 50 years of its existence, the state still continues to live under the shadow of Punjab from which it was carved.
Though it has set records of sorts for itself, in being among the states with top per capita income, yet it continues to fare poorly on certain social indicators like crimes against women and high rate of female foeticide.
Experts are of the opinion that Haryana's growth story has been skewed and the state has squandered the opportunity of being among the most sought after industrial destinations of the country.
Haryana's industrial development had taken off with the establishment of Maruti Udyog Limited in Gurgaon. Despite the controversial beginnings of this project, that was known as Congress politician Sanjay Gandhi's dream project, it came to define industrial growth in the state.
More industrial units followed in Manesar and Faridabad besides other small ancillary units coming up in Rohtak and Sonepat.
Troubled times
But over the last few years, industrial unrest has taken its toll with Maruti deciding to move to Gujarat. The large-scale violence that marked the Jat reservation stir earlier this year too left its scar on Haryana's industrial saga.
The question being asked is that - despite the present government claiming to be attracting investment, who would come and put in money in the interiors of the state.
Gurgaon and Faridabad will continue to be the preferred destinations but the investment envisaged for places like Jind, Rohtak, and Sirsa will take a long time to materialise and that too is possible only if there is peace in the days to come.
It is being pointed out that Haryana has failed to capitalise in on industry fleeing the neighbouring state of Punjab. Because of an unfriendly tax regime, high power costs, red tapism and tax holidays in hill states of Himachal Pradesh and Uttarakhand along with deteriorating law and order, Punjab's industry has moved out, but it has not moved to Haryana.
Despite its problems, places like Ludhiana and Mandi Gobindgarh retain their place on the industrial map of India.
Not enough expansion
Secondly, despite having made a head start in the Information Technology (IT) industry in Gurgaon, Haryana has failed to expand its IT base to other districts.
Gurgaon remains an IT-island like Hyderabad, Bangalore and Pune. But still its basic infrastructure is still not in place - as it was for all to witness during the last monsoons.
The present state government under Manohar Lal Khattar has come out with a new IT policy and plans to set up an IT cluster near Kundli-Manesar-Palwal Expressway. But the project is yet to take off.
Dr SS Sangwan who heads the SBI Chair at Centre for Research in Rural and Industrial Development (CRRID) in Chandigarh points out that law and order situation remains an important aspect for enabling investment and attracting high value residents in the state.
Sangwan said that despite the state government claiming that its rank in doing business has improved from 14th place to fourth, the law and order remains an issue of concern.
"There is a hardly any resident above rank of colonel or an equivalent civilian in cities like Rohtak which is connected by six national highways and railway lines (including the to-be-formed Hansi platform) and is situated just 70 km from the Delhi international airport. Absences of quality of life, law and order, and influential residents may be one of reasons why incidents like arson happened in February 2016 during the Jat agitation. Improvements in security measures for women and general law and order situation is still awaited," Sangwan said.
He also pointed out that Haryana has failed to utilise the advantage of being right next to the National Capital for achieving the optimum industrial development.
He told Catch, "One fails to understand why all the top police officers are posted in Panchkula and Chandigarh. Why not post them in the ranges and districts?"
Banking on things
Mentioning the unbalanced growth story of Haryana, Sangwan said that even when it comes to bank deposits, 60% of the accumulations stand in districts like Gurgaon, Faridabad and Panchkula.
He pointed out that the state is being administered from one corner of Chandigarh and Panchkula and this has a negative impact as there is hardly any participation from the southern and central districts.
Agriculture is the other sector where Haryana has made important strides. Over the last 50 years it has achieved 90% irrigation. It has managed to achieve this feat with lift irrigation techniques which was initially thought to be unfeasible.
Punjab on the other hand has 100% irrigation and has diversified far more in agriculture. The Green Revolution after the ' 60s took agriculture to a new level in Punjab. Despite facing a decade-and-a-half long reign of militancy, Punjab has remained the dominant producer of both wheat and rice.
But Haryana too made major advancements as it has turned from a food deficit state to one that produces 163 lakh tonnes of food grains per year. Reports say that in the early 1980s, Punjab produced nearly 2.2 times the wheat that Haryana did. Now it is down to 1.4 times.
Money matters
One sector where Haryana has done well is the management of its finances. Reports say that its per capita income (PCI) as per 2014-15 stand at Rs 1.5 lakh which is at par with Punjab.
But Sangwan pointed out that this is also highly skewed as Gurgaon, Panipat, Faridabad, Panchkula, Rewari and Ambala have an income that is much above the state average while Mewat, Mahendragarh, Bhiwani, Kaithal and Jind are at the bottom.
An interesting aspect is that Haryana's plan outlay for 2015-16, that stood at 24,871 crore, was more than Punjab which had a figure of Rs 21,174 crore for the same period.
But the major concern for Haryana remains its skewed social indicators. According to reports, it achieved a literacy level of 77 in 2011, which was at par with Punjab, but the high rates of crime against women continue to make national headlines on almost a daily basis. The state remains notorious for having one of the most skewed sex ratios which stood at 879 in 2011.
Half a century after its inception, Haryana continues to struggle to come out from the shadows of big brother Punjab. The two states also have certain unresolved issues. Primary among them is the issue of Chandigarh, the joint capital.
Punjab politicians continue to raise it time and again while the Haryana counterparts play it to their gallery as well.
The other major issue of contention remains the sharing of Punjab's river waters and the construction of Satluj Yamuna Link (SYL) canal being fought out between the two neighbours in the Supreme Court.
A new issue of contention that got added to the list is the nomenclature of the Chandigarh international airport.
Edited by Jhinuk Sen