2 dead as fire engulfs high rise in Mumbai's Cuffe Parade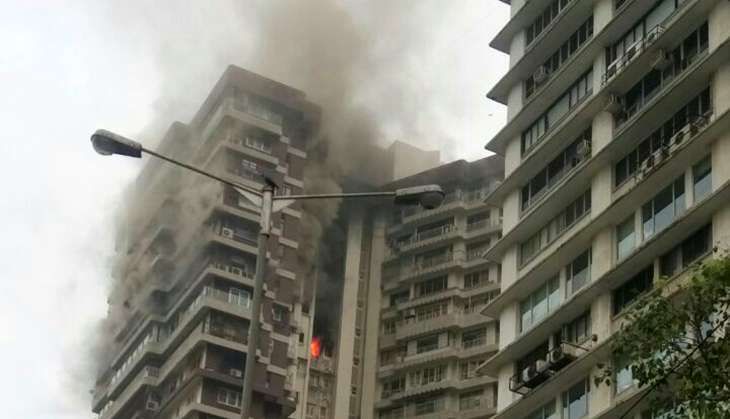 The early morning fire that broke at Maker Chambers, Cuffe Parade in South Bombay on 18 October, claimed two lives and property worth lakhs. The flat belonged to industrialist Shekhar Bajaj, Managing Director of Bajaj Electricals. Though none from the Bajaj family were injured, two house helps lost their lives, apparently trying to keep the Bajaj family safe.
The first call was received at 6.37 am, according to a fire brigade official. "It was a Level 3 call from Maker Chamber, TL Vaswani Marg, Cuffe Parade. The fire broke at 20th floor in A Wing of the building," an official from the Fire Control Room said. "Immediately after we got the call, eight fire engines, six Jumbo Tankers, one Areal Lift Platform, one High Pressure Van and one Breathing Apparatus Van were rushed to the spot. The fire was brought under control within one hour".
The fire broke at 20th floor flat belonging to Shekhar Bajaj and escalated to 21st floor and engulfed two flats admeasuring 6000 sq ft in no time. "It is a duplex flat owned by Shekhar Bajaj. The fire was confined to these two flats and the household articles such as furniture, false ceiling, electric wiring gutted in the fire. Seven persons trapped in the fire were rescued safely and the fire was brought under control," said Chief Fire Officer, Mumbai Fire Brigade Prabhat Rahangdale.
However, he added, two males in servant rooms sustained fatal burn injuries and died before help could arrive and they could be rescued. The bodies were sent to St George Hospital for autopsy. Rahanglade said that the fire fighting system in place at the building helped the fire brigade a lot. "Since it was in working condition, unlike most of the buildings in the city, we could control the fire early and contain the major losses to lives and property. The resources could be deployed rapidly due to the excellent condition of the fixed fire fighting system," Rahangdale said.
The actual cause of fire could be ascertained only after thorough investigation of the site, Rahangdale added.
Recently, the Mumbai Fire Brigade started fire safety audits of residential and commercial buildings in the city. "It has been observed that several buildings have flouted the fire safety norms and are at high risk of huge losses to lives and property in case of fire. we have instructed the managing committees of these buildings to comply with all the fire safety norms at the earliest," Rahangdale said.
The investigations on fire safety preparedness, several buildings including malls were found to be at serious fault. After due investigations, Municipal Corporation of Greater Mumbai (MCGM) had issued notices to various buildings and malls, and power supply to some was disconnected.