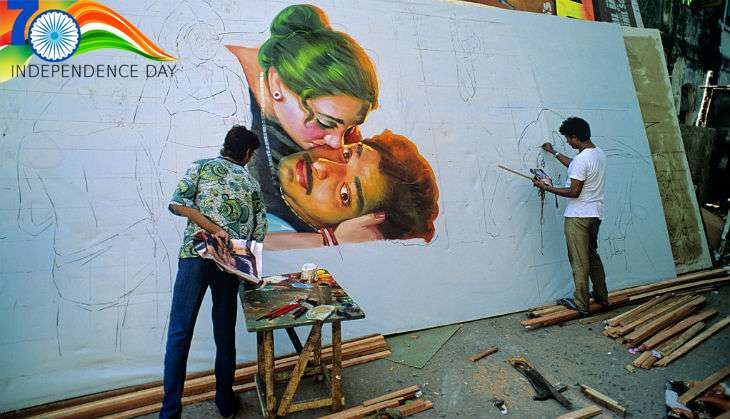 With diversity in culture, religions and ethnicity comes a vast variety of occupations that have been practised for decades.
This Independence Day, Catch looks at some of those professions that have lost their sheen and are barely visible in today's rapidly changing economy. These disappearing trades that this quick-paced world shows no mercy to occupations that can't keep with changing times.
1. Movie poster painters (Extinct)
There was an era of hand-painted movie posters. They came with their own distinctive styles and bright colours and were made to grab your attention.
But with the change in technology and printing, this profession is pretty much extinct and the artistes have moved on to other professions.
S Rehman is Mumbai's last remaining poster painter. Digital proliferation has made hand-painted posters redundant.
According to Rehman, who mentioned while talking to a national television channel last year, Bollywood used to employ 300 such painters and now, even Rehman himself does not get many offers.
These posters have now become a sort of vintage collectors' items for die-hard movie fans who love flicks from the 70s and the 80s.
2 . Godna Art (Endangered)
A form of tattooing where the designs on skin are made for various reasons ranging from the belief that it would prevent diseases and also simply for beautification purposes.
The kind of art was well visible in Gujarat, Rajasthan and Chhattisgarh where women would get their skin tattooed through various times of the year.
The art is now limited to the remote rural areas and is gradually vanishing from the country's landscape.
Vasant Nirgune, researcher and National Tagore Fellow with the Ministry of Culture, says the art form is slowly waning as the youth not inclined towards it.
According to Nirgune, where a decade back there were at least a dozen artistes, now, there is just one Godna artist in over 20 tribal villages in the state of Madhya Pradesh.
3. Telegram operator (Extinct)
It lasted for 163 years and was the harbinger of good and bad news. However, it is now dead and along with it, it has taken the telegram operator.The Telegram was once the fastest means of communication for millions of people, and the telegram even dutifully served the military. The last telegram ever sent in the country is now preserved as a museum.
The telegram service, after a gap of 60 years, was faced with declining revenue and in 2013 had to shut shop after a rift with the Department of Posts on whether it should continue its services.
In 2011, charges for inland telegram services were hiked to Rs 27 per 50 words.
4. Knife sharpeners/grinders (Endangered)
They used to roam around streets of urban and semi-urban cities and almost everyone found them useful. A common sight in 90's, now seems to be mostly extinct barring, as rumours have it, some sightings in the hinterlands .
The spinning whetstone mounted on the cycle wheel was a fascinating sight. Almost everyone in the neighbourhood would get their knives sharpened and it used to be a very useful service back in the day.
.5. Circus performers (Endangered)
Circuses in India are a dying breed with several government regulations forcing them to shut down especially those outlawing the use of animals.
But human performers that represent the few vestiges of circuses still remain. In many festive fairs (melas) in semi-urban cities, daredevil motorcyclist riders, the drunken clown, the cycle that breaks into innumerable pieces when the clown mounts it and the fire-eater who juggles fire, are all still found, if one searches for them. But for how long? No one knows.
6. Mattress fluffers/Dhuniya (Endangered)
Back in the day when cotton mattresses bought from local stores were a hit, mattress fluffers would roam around our colonies and residential areas.Their distinctive style and dexterity with which they split open the mattress and break the cotton lumps on the string is a rare sight now.
People used to love to sleep on a freshly renewed mattress - but with newer, cooler and more 'scientific' mattresses replacing the old, thick, cotton ones - this profession is dying.
7. Video parlours and DVD sellers (Endangered)
Once there were video parlours in every little street of India. Families would rent out movie videos, sometimes a bunch at a time, to watch them over holidays or weekends.
While videos have been dying out with their tapes getting destroyed due to age, much like our old cassettes, the last VCR was made earlier this year when the company shut shop. Video parlours started disappearing long before this, making way for the swankier forms of entertainment. Like DVDs.
Whether you needed old classics or the latest films, the black market was always where you found them.
Pirated DVDs cost less than Rs 50 a piece while the originals cost around Rs 300 and Rs 700 per disc, depending on whether it's an English or a regional movie.
With the advent of legal Netflix and the illegal Torrents, many of these shops - even in the famous Palika Bazaar of New Delhi and other such popular places in urban areas - had to shut shop or switch to selling something else.
8.Cyber cafes (Endangered)
"Less than a decade ago there used to be a waiting list, now only a few people come here and I may even have to shut down this place soon," says an owner of an internet cafe in South Delhi's Saket.
Cyber Cafes dotted every street corner of urban and semi-urban areas across the country, but with the internet becoming readily available in mobile phones, there seems to be no demand for such outlets anymore.
9.Public phone booths (Endangered)
Last year, in a reply to a question tabled in the Lok Sabha, the then Union Minister of Communications and Information Technology had informed the House that there were 5.77 lakh public call booths or public call offices (PCO) left in the country.
In a period of 6 years , the total number of PCOs in the country had declined by 26% from 7.85 lakh in March 2014 to 5.77 lakh in June 2015.
Cheaper handsets and tariffs are the ones to blame for their dip in numbers in this case.
10. Calligraphers (Endangered)
There are less than half a dozen traditional calligraphers in Old Delhi's Urdu Bazaar, the only place in the city where you can find them.
One of them, 62-year-old Mohammad Yakub, can do calligraphy in Urdu, Arabic and Persian.
Technology, especially with the option of getting calligraphic fonts on computer keyboards, calligraphers like Yakub are just not able to find work anymore.
11.Puppeteers (Endangered)
Puppeteers used to don ridiculously colourful outfits and show-off their talents in small towns and villages across India a decade ago. Their numbers have now decreased.
A Catch reporter had visited Kathputli Colony earlier this year where more than 2,000 families of magicians, snake charmers, acrobats, singers, dancers, and especially puppeteers, mostly from the state of Rajasthan reside.
Almost none of them can sustain a livelihood through their talent anymore today. People no longer need this entertainment due to the easy availability of TV and cable connections.
12. Kite makers (Endangered)
The age old tradition of kite flying is also seeing a drastic decrease in numbers with reports showing kite makers complaining of lack of demand even during popular kite flying festivals like Makar Sankranti and Independence Day.
"I can surely vouch for the fact that they are almost missing from the streets of Delhi with the decrease in demand," Delhi-based prominent historian and filmmaker Sohail Hashmi said.
13. Ittar makers (Endangered)
Once a scent worth a thousand sighs, Ittar orAttar an - perfumes made from essential oils - is fading fast from the pulse points and our imagination.
The process involved oils extracted from various botanical sources via steam distillation into a wood base such as sandalwood and then aged over 1 to 10 years.
The painstaking, centuries-old process of making perfumes is now slowly disappearing as it dwindles to small shops around dargahs and touristy places like Charminar in Hyderabad and Jama Masjid in Delhi.
14. Stone sculptors: (Endangered)
India has a rich tradition of sculptors and sculptures. There is still a demand for various replicas of sculptures from popular excavation sites like Mohenjodaro and the popular Chola Bronzes from South India.
But sculptors are now losing their steam with paintings having found a more growing acceptance in posh living rooms.
It was also cheaper to paint because making sculptures required greater financial outlay for purchase of materials and assistants to help with the process
Sculptors, on the other hand, historians note, have been ignored to the fringes of art movements in the last decade.
Various colleges that teach art also show a decreasing interest in sculpting. "I don't think they will be surviving in the next 10-15 years," says Hashmi.
15. Rudaalis (Endangered)
The Rudaalis, mostly from the state of Rajasthan, are impoverished lower-caste women hired as 'professional mourners' for deaths in high-caste households across North India.
Rudaalis, in groups of three, donned black with veils drawn to their chins and were brought in to cry on the behalf of the family. These high-caste families used to find it beneath them to mourn for the dead.
The tradition is now almost non-existent. But, in some fringes where hey are not yet - they definitely should be made extinct.
Edited by Jhinuk Sen