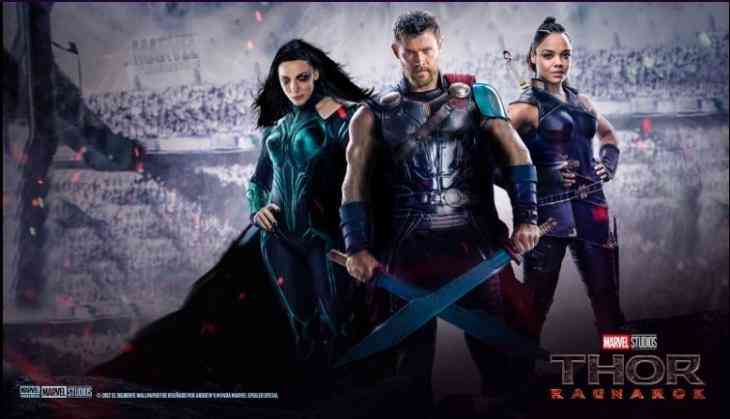 The first pictures from "Thor: Ragnarok" have arrived and it gives a sneak-peek at the key characters - Chris Hemsworth as the titular God of Thunder, Cate Blanchett as Goddess of Death or Hela and Tessa Thompson as Valkyrie.
Thor is very different in this film as his long locks and hammer Mjolnir are gone.
He is now wielding a pair of swords instead.
"It was nice not to have to sit in the makeup chair for that hour each morning," the actor says. "It felt like a rebirth for me as the actor but also as the character."
Hela comes out of her prison and is out for blood in this third movie.
"She's been locked away for millennia getting more and more cross, and then, with a mistake, she gets unleashed and she ain't getting back in that box," explains the actress who learned Brazilian martial art capoeira for the role.
The vengeful queen attacks Thor and sends him to a desolate planet called Sakaar as a gladiator.
"(Sakaar is) basically where every wormhole across the universe dumps out its trash, so you get people from all walks of life with all sorts of incredible abilities and powers," Hemsworth says.
"No one cares what prince or king Thor may have been in another world. Also, his strength is pretty easily matched with those he finds himself amongst," he adds.
In his exile, Thor is forced to face off a familiar face, The Hulk (Mark Ruffalo).
There is also a first look at Jeff Goldblum as Grandmaster.
The Elder wears a colorful gold-blue-red outfit for his first appearance in the Marvel Universe.
The movie slated for November 3. Tom Hiddleston is back as Loki, Idris Elba as Heimdall, and Anthony Hopkins as Odin. It's directed by Taika Waititi.
--PTI