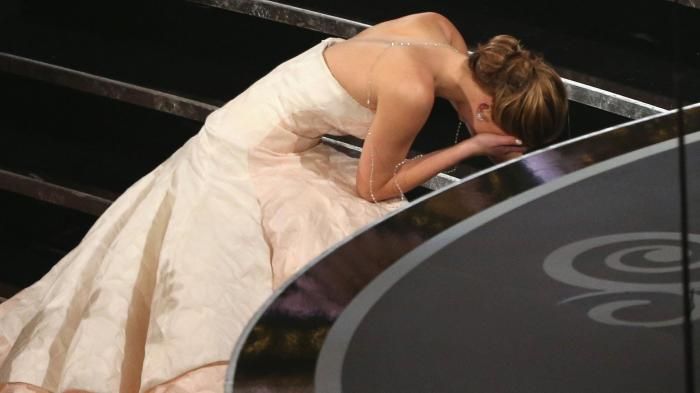 The Academy Awards are a wonderful opportunity to watch the bright shining stars of Hollywood goof-up, take somebody's case and generally give the world plenty to talk about. Since its inception, the Oscars has been a hotbed of glory, controversy, red carpet stunners and fails. Like the films it honours and the actors it awards, the Oscars award ceremony in itself is just as entertaining.
Cuba Gooding jr: When Cuba was receiving an award for best-supporting actor for Jerry Maguire (1997), he couldn't fit in his thank yous under the allotted time. He ended up yelling "EVERYBODY I LAAV YOU" over the end music till he managed to get every single name in.
Also read: What if Bollywood actors hosted the Academy Awards? Top picks for Oscar hosts
Jennifer Lawrence's Humpty Dumpty moment(s)
Jennifer is just like us. She goofs up, she trips over her own feet, her chuckles sound like snorts. This is her walking up to receive the best actress award for Silver Linings Playbook (2013), and falling on her face. Like all her performances, this one was memorable as well.
Also read: 5 brilliant actors apart from Leonardo DiCaprio who've never won an Oscar
At next year's Oscar red carpet, she repeated her performance, giving shutterbugs their story of the day.
Alejandro Inarritu's Oscar acceptance speech: The underwear joke. No, we refuse to repeat it. Just watch.
Also read: Grammy Awards 2016: Bruno Mars, Taylor Swift win trophies, Kendrick Lamar and Lady Gaga win hearts
The 1974 Streaker: At the 46th Academy Awards, host David Niven was shocked into momentary speechlessness as a nude man walked across the stage. Not sure what to do when The Naked Wonder had left the stage, David awkwardly said to a few chuckles, "Isn't it fascinating to think that probably the only laugh that man will ever get in life is by stripping off and showing his shortcomings?"
Also read: BAFTA 2016 highlights: The Revenant wins top honours, Leonardo DiCaprio kisses Maggie Smith
John Travolta and Idina Menzel: The Adele Dazeem and Glom Gazingo Oscar moment is by far the most awkwardly hilarious incident the Academy Awards has had to deal with. Travolta called Idina 'Adele Dazeem' in the 2013 Oscars and in 2015 Oscars, Idina aka Adele got her payback by calling him Glom Gazingo. But what freaked most people out was Travolta's reaction: he hugged her face with his hands.
Also read: Oscars 2016: Let's thank them for the new 'no thank you' in speech clause
The payback: