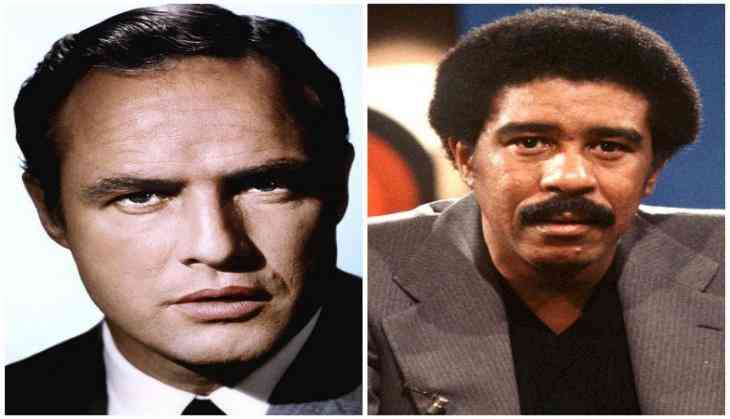 Richard Pryor's widow has revealed that the American stand-up comedian hooked up with Marlon Brando.
Jennifer Lee, who married Pryor twice, once from 1981 to 1982 and the second time in 2001 till the comedian's death in 2005, said that Pryor had a lot of sex in the 70s - with both men and women.
She confirmed the Marlon-Richard hookup, which Quincy Jones, an American record producer, first mentioned in an interview, TMZ.com reported.
Quincy had said, "Brando would f**k anything. He'd f**k a mailbox, James Baldwin. Richard Pryor. Marvin Gaye".
Jennifer noted, "Richard would have no shame about Quincy's comments". She added that Pryor was very open about his bisexuality with friends, and documented it extensively in diaries.
She even commented on the hookup with a sass and said, "It was the '70s! Drugs were still good, especially quaaludes. If you did enough cocaine, you'd f**k a radiator and send it flowers in the morning".
Hey girl: It was the 70's: enough cocaine and good music-one could fuck a radiator and send it flowers in the morning! # noshame https://t.co/Aea0lLDAhG

— Jennifer Lee Pryor (@JenniferLPryor) February 7, 2018
Jennifer also said she would publish comedic legend's diaries later in the year.
Richard Pryor was an American stand-up comedian, actor, and social critic. Pryor was known for uncompromising examinations of racism and topical contemporary issues, which employed colourful vulgarities and profanity, as well as racial epithets.
On the other hand, Marlon Brando was an American actor, a film director, and an activist. Brando is widely known for his Academy Award-winning performances as Terry Malloy in 'On the Waterfront' (1954) and Don Vito Corleone in 'The Godfather' (1972).
--ANI