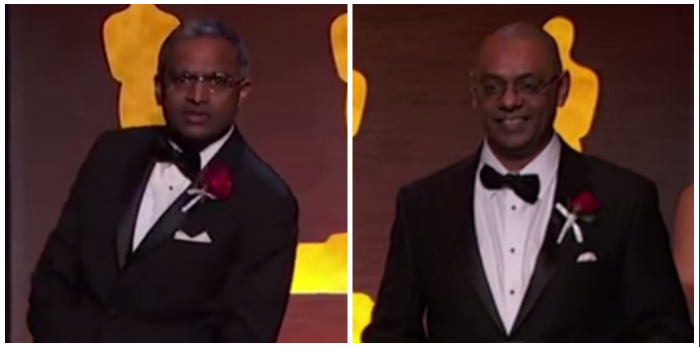 You know that Spotlight, Leonardo DiCaprio and Brie Larson hogged the limelight at the 88th Academy Awards. You know that Bollywood star Priyanka Chopra made waves with her first ever Oscars appearance.
You know that Inside Out won the Oscar for the Best Animated Feature Film. But did you know that Sajan Scaria, who hails from Kerala, was a part of the crew? Sajan and his team reportedly supervised the characterisation for the animated film. Something to cheer about for the countless Indian film aficionados who have spent many a year wistfully watching the Oscars.
There's more good news; two Indian-Americans have also bagged Academy Awards for scientific and technical achievement. That's right! Rahul C Thakkar and Cottalango Leon received the Academy's Technical Achievement Awards - an annual event aimed at celebrating the processes and contributions that enhance the motion picture industry. The two were amongst the winners who were honoured on 13 February at the annual Scientific and Technical Awards held at Beverly Hills.
Rahul C Thakkar
The Mumbaikar is the son of Gujarati theatre actor Chandrakant Thakkar. He has previously worked on the David Letterman show. Thakkar, who also worked with DreamWorks - developing their Pacific Data Images writing code, shared the award with Richard Chuang. Their work has been used in films like Antz, Shrek, and Kung Fu Panda, among many others. (Courtesy: Indiawest.com)
IndiaWest quoted Rahul as saying, "Imagine a YouTube interface that is a million times more powerful so that every animator and film editor can simultaneously review any part of the feature while in production".
Cottalango Leon
Cottalango Leon, who hails from Tamil Nadu, worked with DreamWorks Interactive before joining Sony Pictures Imageworks in 1996, where he is currently the Principal Software Engineer.
The 44-year-old has been honoured for developing a digital 3D film review software that he reportedly devoted years to create. He has worked on a number of popular films, including the
Spiderman
series, the
Men in Black
franchise and
Cloudy with a Chance of Meatballs
, among others.
The Academy's Scientific and Technical Awards
"With their outstanding, innovative work, these technologists, engineers and inventors have further expanded filmmakers' creative opportunities on the big screen," the Chair of the Scientific and Technical Awards Committee Richard Edlund in a statement.
Watch Rahul C Thakkar accept his award - along with Richard Chuang - here:
Catch Cottalango Leon's adorable acceptance speech here:
Here's who won:
1) Michael John Keesling for the design and development of Image Shaker.
2) David McIntosh, Steve Marshall Smith, Mike Branham, and Mike Kirilenko for Aircover Inflatables Airwall
3) Trevor Davies, Thomas Wan, Jon Scott Miller, Jared Smith, and Matthew Robinson for Dolby Laboratories PRM Series Reference Color Monitors.
4) Ronald Mallet and Christoph Bregler, for Industrial Light & Magic Geometry Tracker.
5) Jim Hourihan, Alan Trombla, and Seth Rosenthal for their media player in Tweak Software RV system.
6) Richard Chuang, Rahul Thakkar, Andrew Pilgrim, Stewart Birnam, and Mark Kirk for their work on the DreamWorks Animation Media Review System.
7) Keith Goldfarb, Steve Linn, Brian Green, and Raymond Chih, the developers of workflow tool Rhythm & Hues Global DDR System.
8) J Robert Ray, Cottalango Leon, and Sam Richards, for crafting Sony Pictures Imageworks Itview.
9) Brian McLean and Martin Meunier for their innovative work in stop-motion filmmaking.
10) Jack Greasley, Kiyoyuki Nakagaki, Duncan Hopkins, and Carl Rand for the MARI 3D texture painting system.
- With inputs from Entertainment Weekly