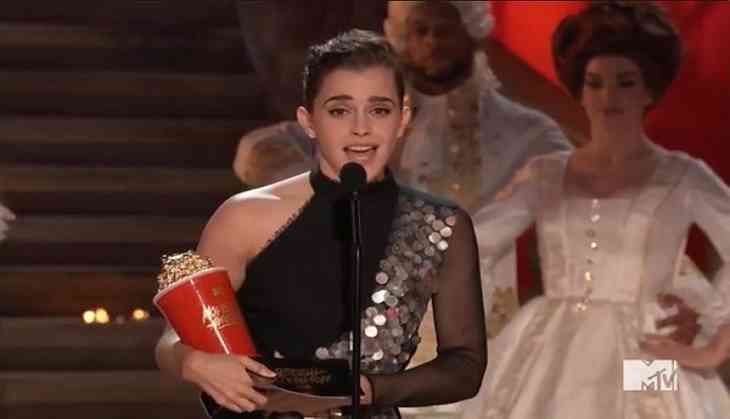 Emma Watson has made history at the 2017 MTV Movie & TV Awards by winning the first-ever gender-neutral acting award.
The 27-year-old star beat out Taraji P. Henson, Daniel Kaluuya, Hugh Jackman and Hailee Steinfeld to take home the award for Best Actor in Film and TV for her performance in the 'Beauty and the Beast.'
And the winner for Best Actor in a Movie is... @EmmaWatson! 🌹 #MTVAwards pic.twitter.com/gQ5QVbC3s8

— MTV (@MTV) May 8, 2017
While accepting the golden popcorn, the 'He For She' founder dedicated her speech to celebrating the MTV Movie & TV Awards' genderless acting categories.
She said, "Firstly, I feel like I have to say something about the award itself. The first acting award in history that doesn't separate nominees by their sex says something about the way we perceive the human experience. MTV's move to create a genderless award for acting will mean something different to everyone, but for me, it indicates that acting is about the ability to put yourself into someone else's shoes. And that doesn't need to be separated into two categories."
Watson also thanked the 'Billions' actress, Asia Kate Dillon, the first non-binary actor to play a non-binary character on TV, who presented her with the trophy. She said, "This is very meaningful to me, both to be winning this award and to be given it to me by you, Asia. Thank you for educating in me in such a patient, inclusive way."
The 'Harry Potter' alum further praised MTV for its decision to combine categories, saying, "Empathy and the ability to use your imagination should have no limits," before thanking fans for celebrating Belle for being such a strong character, and stating that she was proud that the film celebrates "diversity and literacy."
Furthermore, 'Beauty and the Beast' won 'Movie of the Year' title at 2017 MTV Movie & TV Awards.
The Bill Condon-directed adaptation of Disney's beloved 1991 animated classic of the same name earned the honour over the likes of 'The Edge of Seventeen,' 'Logan,' 'Get Out,' and 'Rogue One: A Star Wars Story' at the ceremony.
-ANI
Congrats to #BeautyAndTheBeast for winning Movie of the Year at the #MTVAwards! pic.twitter.com/IKJ58f92ru

— MTV (@MTV) May 8, 2017