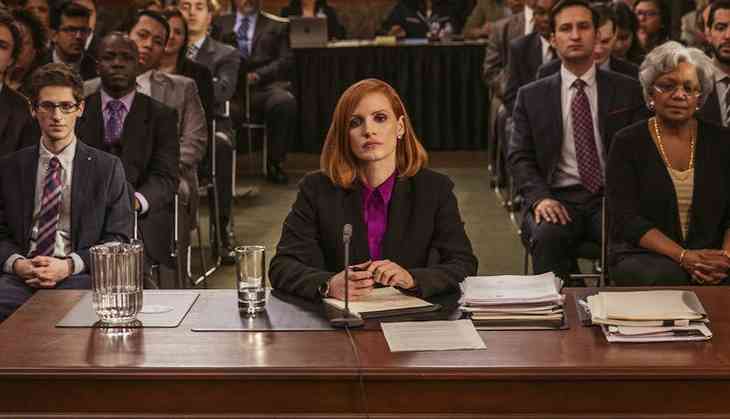 In 2012's Zero Dark Thirty, Jessica Chastain played the female operative that was behind the mission to locate Osama Bin Laden. Five years later, she's playing Elizabeth Sloane, the Washington lobbyist taking on the powerful gun lobby. In both, Chastain plays a character that is obsessive, determined and wants to break from the mould.
Helmed by John Madden, who worked with Chastain before in 2010's The Debt, the movie opens with Sloane peering into the camera and saying, "Lobbying is about foresight. Anticipating your opponent's moves and devising counter-measures. I was hired to win". That sets up the fierce, warrior-like character that Chastain plays to near perfection.
Her role reminds one of movies like Personal Shopper, where Kirsten Stewart takes the script, turns it on its head and makes it her own. Or, going to the small screen, TV shows like Homeland, where Carrie Mathison (played by Claire Danes) is the single most powerful force in the show.
While Sloane talks about anticipating moves so that nothing takes you by surprise, unfortunately, this also applies to the viewer. Chunks of the movie can be anticipated by any seasoned viewer and hence there is that marked lack of surprise that is a requisite for any thriller.
However, the distinct lack of strong, fierce, female-led movies in Hollywood, coupled with a stellar performance from Chastain, propel this movie forward despite its ever worsening script and its predictable ending.
Sloane is the women risking her whole career for a cause she strongly believes in, which not many others would do. Her strong moral compass is underlined from the get go as she dumps a high-paying lobbying position to fight the powerful gun lobby. From that point on she leaves no stone unturned in her quest to win every battle in her path, further building her up as a force to be reckoned with.
Taking up the topic of gun violence, at a time when shootings are more common than ever in US cities, it seems like a classic case of a movie propositioning for Oscar glory. However, it still manages to be largely disappointing. The heavy dialogues are a complete misfire. It trades quality powerful courtroom and boardroom scenes for quantity. There are one too many of them. You'd think with two of Aaron Sorkin's Newsroom cast members – Sam Waterston and Alison Pill, they'd make a Sorkin type impact. Yet, they don't. It lacks those few sparse moments in between the heaviness that is seen in Social Network or Moneyball.
While Madden does well in his depiction of the dull Washington D.C. office, Chastain struts around in heels making the office her own, and the supporting cast does a commendable job of trying to pull the movie together.
Still, the sum of the parts don't seem to add up. It's the problem of forgetting the main purpose and going for the advancement of the lead character that ultimately drags that film just a little bit lower. A ridiculous ending does nothing to help the film either. If nothing else, it is Chastain who single-handedly prevents the film from crashing to the ground.
Rating: 2.75/5