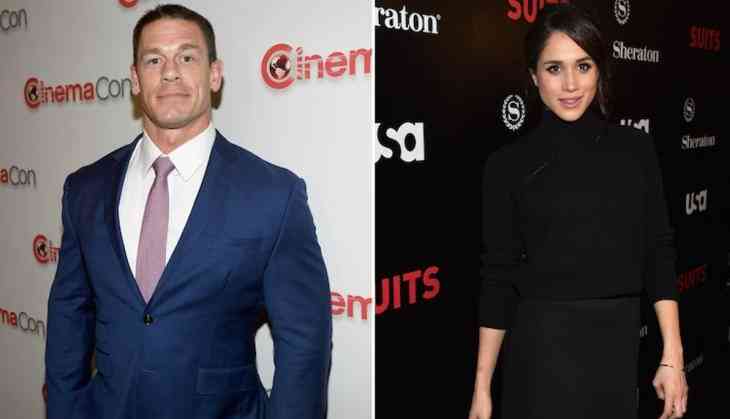 The royal wedding of Prince Harry and Meghan Markle is two days away, at St George's Chapel, Windsor Castle on Saturday. The recent controversy regarding whether Meghan's father Thomas will walk down the aisle with her or not has left everyone confused.

After the Palace confirmed that Meghan's father will not walk down the aisle with daughter Meghan, WWE star John Cena joked that he can walk the actress down the aisle.

Cena spoke about the wedding when he shared co-hosting duties on "Today" with hosts Kathie Lee Gifford and Hoda Kotb on Tuesday, reports people.com.

Thomas confirmed to US website TMZ that he would not go for the wedding amid a row over paparazzi photographs. He then said he would go for his daughter's D-Day, and then again said he cannot due to a planned heart procedure.
Also Read: Royal wedding: Russell Brand boasts about kissing royal bride Meghan Markle in 'Get Him To The Greek'
The hosts spoke to royal correspondent Keir Simmons after news broke that the "Suits" actress' father would not attend her wedding.

Keir asked Cena about the wedding, "Hey John -- this wedding, we're going to have the Royals, we're going to have Diana's family, the Spencers, now we're going to have the Markle family. I think we may need you here, my man, to intervene."

Cena responded: "It seems like there is some drama that is in need of a special guest referee."

Gifford turned to Cena and said, "She is in need of someone to give her away, isn't she? Who better than you?"

"I can hop on a plane, I can get there in a few days," Cena said jokingly.
Also Read: Ahead of Royal Wedding, Meghan Markle's father Thomas undergoes heart surgery