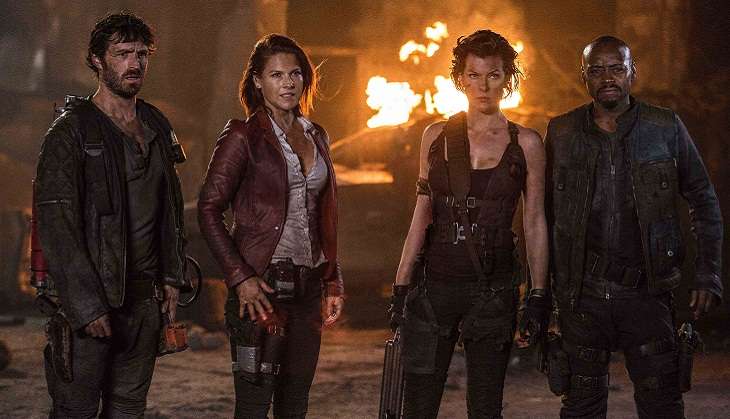 An interview with Ali Larter, who comes back to play Claire Redfield in Resident Evil: The Final Chapter.
Q. How did you find out that they were bringing your character back for this last movie of the Resident Evil franchise?
A. I got a call from Paul, who told me he wanted me to come back in. And it's funny because at the time both Milla Jovovich and I were pregnant. You don't often see two girls with four kids leading action movies...
Q. What was your reaction?
A. I was so excited. And then even more when I read the script, because I loved the way Paul had tied it all together. Then I met with him, and he showed me some sketches and explained how it was going to look. I just love playing Claire Redfield.
Q. What do you like about her?
A. That Claire is sort of a very cool version of what I like in people, as she is very loyal and has your back, and she is incredibly clever and capable of getting herself out of any situation using either her physicality or her mind. Also, she is not crippled by her emotions and is capable of dealing with what is happening in Resident Evil and continue charging forward.
Q. Claire Redfield returns to the franchise in this sixth and final chapter, after having been in the third and fourth films of the series. What is her story?
A. After a helicopter accident in which she was involved, Claire comes into this community - which is like one of the last civilisations left after the zombie apocalypse - that has really given her some hope. So she has found survivors that she has connected with, but that can be dangerous in the world of Resident Evil...
Q. What is the moment she reconnects with Alice like?
A. Alice arrives, and it's really incredible when they first see each other because it's like this rare moment in a franchise were people don't really hug. So Alice and Claire are stunned and excited, while at the same time they sort of wonder if it's real.
Q. And then what happens?
A. Well, things are always tricky in Resident Evil, as they need to figure out who they can or can't trust.
Q. How was the experience of shooting that reuniting scene with Milla Jovovich?
A. It was great. We were in Johannesburg, South Africa, at the Ponte Tower. And it was a very intense day because it is 55 stories high, but open in the middle, with apartments that all go in a circle. And people started to throw trash into the bottom of this real building, so it was wild and sort of covered with debris. It was a really powerful and exciting moment.
Q. So you didn't know you would be coming back to the franchise till Paul W. S. Anderson's call then?
A. That's right because Paul is the mastermind behind it all, and I'm not the kind of person that chases a role; but if you want me and I can do it, then I'll be there for you.
Q. That is probably a good way of avoiding false expectations in the film industry and in life.
A. Yes, because thinking things like, "I wish I could..." can lead to disappointments. I love having been in the movies that I have, and I love my relationship with Milla and Paul. We get along incredibly well.
Q. What would you say you have in common with them?
A. We have a similar work ethic: we show up on time, love what we do and bring our A game. And there is something really special about that, which at the same time is what makes us connect.
Q. So, how does Resident Evil: The Final Chapter compare with the previous films of the series that you have been a part of?
A. I think that this one has the most real look. It's not a shiny, glossy movie; it's intense! So, you can tell that we shot it in South Africa. The light, the wind, the weather and the look of those locations are just unique. And we really ran through quarries and jumped into swamps and cold lakes at night. It's great when you can work in these natural environments, because it does part of the job for you.
Q. And because Paul has pretty much worked with the same team throughout the series, did it feel like returning home to you?
A. Yes, absolutely! It was great to see a lot of the same crew; but also to welcome some new cast members because it is like a family, and we bring them in.
Q. Speaking of the new faces in the franchise, what did an actor like William Levy bring to the movie?
A. William brought some spice, flare and passion to the movie. He is a huge star in Latin America, and it was great to have him on board. And he works hard, is a really cool guy and a dad. We shared some good wine and some wonderful dinners because, like me, he loves to eat.
Q. What about Ruby Rose?
A. It was incredible to have her, as she is so funny and a soldier too. From the day I met Ruby I felt I could trust her. I really enjoyed my time with her.
Q. And what can you say of Japanese actress and artist Rola?
A. I had so much fun with Rola. We devoured lamb chops together! I hope I get to see her again and cook with her, because we really connected on that.
Q. How do all your characters get along in the group?
A. There is also a bit of a game of cards going on to see who is the leader, but as soon as Alice appears you know where Claire's loyalty lies.
Q. But doesn't the common goal of fighting the Umbrella Corporation bring them together?
A. That's what you would think, but then there is the question about the best way to do it. Also, if you are fighting to find a leader you are also fractioning out the people that are together. So, differences of opinion lead to inner fighting.
Q. And in regards to the physical fights, do you try to do your own stunts?
A. I try to do all my stunts anytime I can. My favorite part of it is to learn these choreographies and do the fights. And they have to stop me because I love it! I like physical contact, and I believe that part of the fun of these characters is seeing them get in it.
Q. So what was the energy during the shoot? Is there time for some humor on a Resident Evil set?
A. Oh, when we are shooting we are laughing all the time. There is just not much space for that humor in the actual movies, due to their tone; but Milla is hysterical! I don't know if a lot of people know that...
Q. As we approach the end of the franchise, how do you look back at the whole experience of having been a part of it?
A. I am very proud to have been in three films of the Resident Evil series. And it's exciting that the fans connect with the character of Claire Redfield and reach out to me. I feel really lucky to have been a part of it and just blessed to still get to work in an industry that is so competitive.