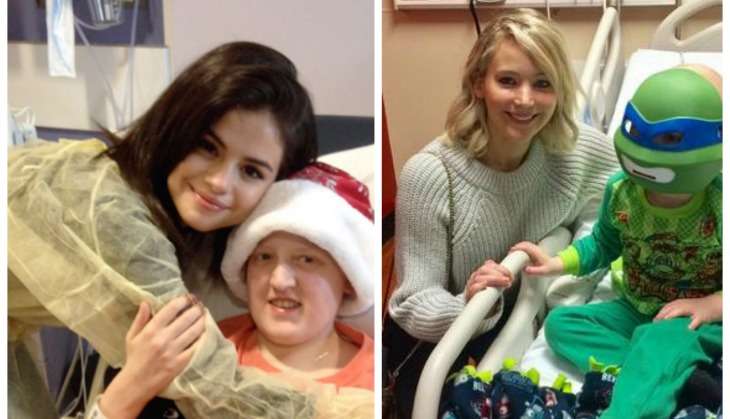 Singer Selena Gomez and Oscar-winning actress Jennifer Lawrence surprised their young fans with a hospital visit.
Gomez surprised young patients at Cook Children's Medical Center in Fort Worth, Texas, while Lawrence helped bring smiles to the youngsters at Norton Children's Hospital in her hometown of Louisville, Kentucky, on Christmas eve, reports aceshowbiz.com.
Both stars took photographs with the patients and the staff.
"Thank you Selena Gomez for stopping by the Child Life Zone this morning to visit with our patients and families who weren't able to be home this Christmas Eve," Cook Children's Medical Center wrote on their Instagram.
I'm so proud to call Jennifer Lawrence my idol 💖

2013 - 2014 - 2015 - 2016 pic.twitter.com/Lt1OTwfBfv

— Elli (@imcrazyforjen) December 24, 2016
Alert: A holiday treat to @NortonChildrens as #Louisville native & movie star Jennifer Lawrence visited made a visit to staff & patients. pic.twitter.com/NYYYYoFzax

— Aaron Ellis (@aaronellis01) December 24, 2016
Reasons to love Jennifer Lawrence: pic.twitter.com/HWjqAt1nKE

— lydia (@districtmeadow) December 24, 2016
Norton Children's Hospital said that Lawrence visits the hospital annually.
"Thank you, Jennifer! You sure do bring a smile to all!" they wrote on Facebook.
The actress donated $2 million to the hospital earlier this year and raised money for the American Heart Association and Jefferson County Public Schools through an early screening of her movie Passengers.
---
IANS