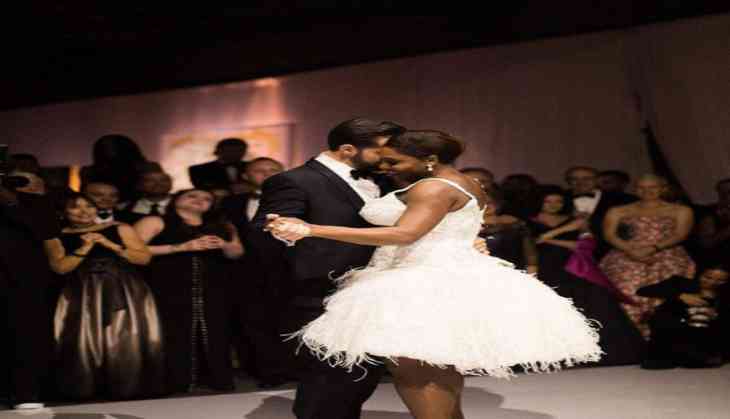 The star studded marriage of former World No 1 Serena Williams with the co-founder of Reddit Alexis Ohanian has become the talk of the town, first because of Kanye avoided the marriage so that he does not have a run with Beyonce and then there were rumours that Kim Kardashian and Beyonce had an Icy moment is the VIP bar section.
The celebrity guests who attended the marriage of Ace Tennis star included Pop singer Beyonce, the reality Television star Kim Kardashian, tennis player, and close friend Caroline Wozniacki, sister and fellow tennis player Venus Williams, actress Eva Longori among others.
The newly wedded Serena Williams and Alexis Ohanian had signed a contract with the Fashion magazine Vogue to shoot pictures of their wedding. The fashion magazine has shared few pictures from the marriage to the website.
The wedding took place at the Contemporary Arts Center and the theme of the marriage was based on beauty and the beast. The guest of the wedding have to go through the tight security check and they were not even allowed to carry the cell phone. So that any picture can not get leak from the wedding. However, on Friday both Serena and Alexis shared the picture from their wedding on the photo-sharing website Instagram.
In his Instagram post the Reddit co-founder wrote, "You are the greatest of all time, not just in sport–I'm talking about as a mother and as a wife. I am so excited to write so many more chapters of our fairy tale together. And my whole life I didn't even realize it, but I was waiting for this moment. And everything that I have done, everything that I am so proud of in my career, and in my life, for the last 34 years, pales in comparison to what we're doing today."
When it comes to Tennis the former World No 1 has not played any match since her win in the Australian Open back in January (she had won the tournament while she was pregnant.)
Also Read: These 7 records held by PV Sindhu will make you fall in love with her all over again