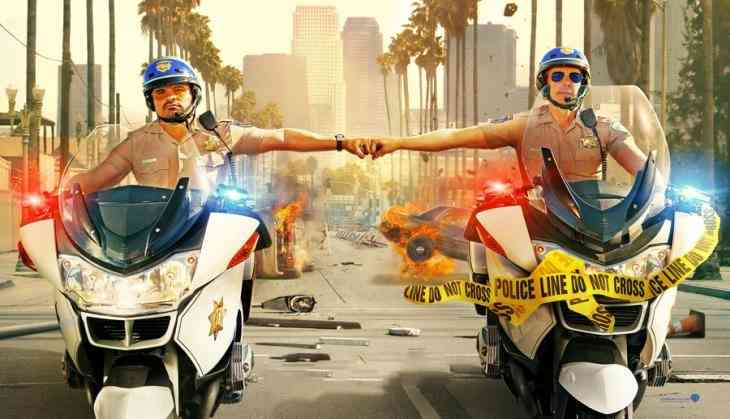 The buddy cop film genre has given us some real entertainers. From Bad Boys to last year's Rock-powered Central Intelligence, it's a formula that, when done right, can be supremely entertaining. CHiPs, the latest offering from Dax Shepard, aims to recreate the genre's magic, but falls well short in an uninspiring effort that, ironically, lacks drive despite its reliance on fast bikes.

The movie gets its name from the initials of the California Highway Police, which the movie is based on. It follows the exploits of two cops – Jon Baker (Shepard) and Frank Poncherello (Michael Pena), as they try and take down a ring of bike-riding renegade cops. This hackneyed premise is only an indication of things to come as the rest of the movie is as cliched as its plot.
Cliche heaven
Right up top, we have Shepard's character, a bumbling former X-Games star, looking to get his life back on track by joining the police. He's paired up with Pena's Poncherello, an under cover FBI agent with emotional baggage from the death of his former partner.

Predictably, they're rather opposed personalities, however, not in the way Hot Fuzz or Central Intelligence used this trope. In those examples, the differences between the two cops was marked. One was tough and brusque, while the other was markedly weaker. This juxtaposition is necessary for the success of this trope, and, unfortunately, is not something the movie seems to have realised.

Neither Pena nor Shepard truly appear to be the dominant force at any point, resulting in conflict that seems both forced as well as wholly unnecessary. This ends up in scenes where the two appear to bicker rather than banter, with jokes sounding more whiny than witty.
Toilet humour
The humour in the film is a relic from an age gone by, with played-out masturbation gags, awkward man-on-man intimacy, and cheap sexual innuendo. In fact, with all the jokes being so painfully outdated and crass, this was the one time I genuinely felt grateful to the CBFC for cutting scenes. Random moments of women bending over in tight clothing so our protagonists could crack poor jokes, that were evident in the trailer, have been cut. This actually does the movie a favour, as the humour is beyond redemption.

With Shepard being whiter than a vanilla milkshake, and Pena's heritage placing him on the wrong side of Donald Trump's wall, we also get our fair share of Spanish jokes at Shepard's expense. None witty, all terrible.
Wasted Actors
No, we're not talking about Shepard and Pena, who are both severely limited actors. Instead, the biggest waste in the entire film was the casting of Daredevil's Vincent D'Onofrio as the film's villain, Ray Kurz.

He is only given fleeting moments in the film, with the director (Shepard) choosing to focus more on the cop duo. This is a travesty as D'Onofrio, as he did in Daredevil as Kingpin, absolutely owns the stage when he's in frame. His delivery and manner, especially given how little he has to work with, is fierce and almost frightening.

Even when he's put in absolutely ridiculous scenarios, D'Onofrio manages to pull his own performance out of the wreckage that is CHiPs.

Then there's the OC's Adam Brody and Shameless' Justin Chatwin who are similarly wasted in roles that last a total of around three minutes each.

All of this results in a film desperately in need of being driven by Shepard and Pena, neither of whom do, leaving CHiPs more hot mess than Hot Fuzz.

Rating: 1.5/5