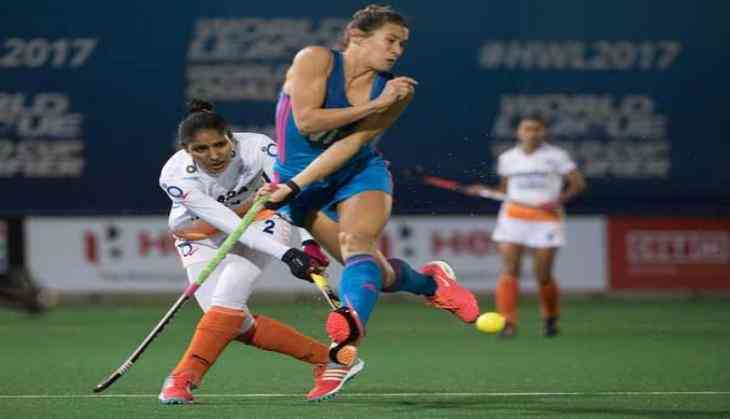 India lost 0-3 to Argentina in their last group stage encounter at the Women's Hockey World League Semi Final on 16 July.
World No.3 Argentina were quick to get off the blocks scoring as early as the second minute of the match.
It was Rocio Sanchez who fetched Argentina an early 1-0 lead. India's goalkeeper Savita was kept busy right from the start and unfortunately for her this goal came off Argentina's second shot on goal.
Though she made a diving effort to save the first attempt, an unmarked Sanchez was quick to pick up the rebound and convert. Soon after India came close to scoring an equalizer when Vandana Katariya, assisted by Namita Toppo tried to deflect the ball into the post but it was blocked away by the Argentine goalkeeper.
Savita made as many as four saves in the first 15 minutes and one of her best saves was padding away a fiercely struck shot by Julieta Jankunas. Argentina also won their first PC in the 6th minute but it was blocked away by first runner Namita Toppo. Maria Granatto scored Argentina's second goal in the 14th minute to go into the first hooter with a strong 2-0 lead.
India played this quarter sensibly, covering their defence and restrict Argentina from entering the striking circle. In the 23rd minute India won a PC but nothing came off the opportunity as Rani's strike was well-saved by the Argentina goalkeeper.
Soon after, in the 25th minute Argentina was awarded a penalty stroke when Sushila fouled while defending a PC awarded to Argentina. The penalty stroke was converted by Noel Barrionuevo and they took a 3-0 lead.
India will next take on England in the Quarter-final on 18 July.
-ANI