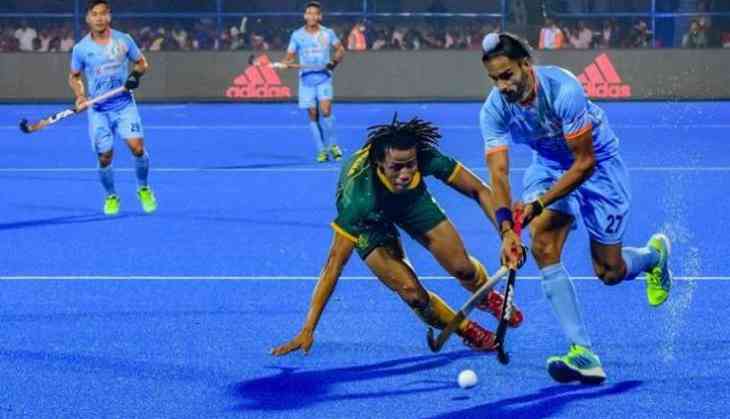 Indian men's hockey team coach Harendra Singh is confident of his side's victory in their upcoming Hockey World Cup quarter-final clash against world number four side, the Netherlands. He said the players are prepared, both mentally and physically, to take up any challenge thrown by the Dutch team at them.
India have never defeated the Netherlands in the history of the Hockey World Cup but the coach refused to ponder about the same and asserted that he is "History is only to read and not to understand."
"Indian team is mentally and physically ready to take every challenge thrown at them by the Netherlands. We will not accept the challenge but solve it," Harendra said. "I am interested in reading the history not understanding it," he added.
Reflecting on their preparations ahead of the quarter-final match, Harendra said that they are not looking to try something different in the game but some minor adjustments. He asked his players to keep three things in mind-- goals, shots on goal, or penalty corner.
"We are not looking to do anything different. There are some minor adjustments. They love to play attacking hockey, so do India. It is an equal contest. In the quarter-final, you can't afford to miss even 25 per cent chances. Keep your focus on three things- goals, shots on goal, or penalty corner- rest does not matter," he said.
The Netherlands have had a poor penalty corner conversion rate in the ongoing tournament. The Indian coach said that they are aware of this "grey area" but are still not willing to take them lightly.
"When we analyse a match, we study grey areas of the opponents. Penalty corners are their grey area. We don't ignore Holland outright. From 1971 to 2018, their base of hockey is penalty corners. We can't ignore that. India is ready to solve that challenge," he said.
Indian skipper Manpreet Singh said that they are aiming to create history and are ready to leave behind the bitter memories of their quarter-final loss against Belgium in 2016 Rio Olympics.
"If you talk about Olympics it was two years ago. We have improved a lot afterwards, especially since Harry sir (Harendra Singh) has come. We are playing attacking hockey. We will not leave anything 50-50," Manpreet said.
India are slated to play their Hockey World Cup quarter-final match against the Netherlands on December 13.
-ANI