Wake up, govt! India's AIDS programme stands on the brink of collapse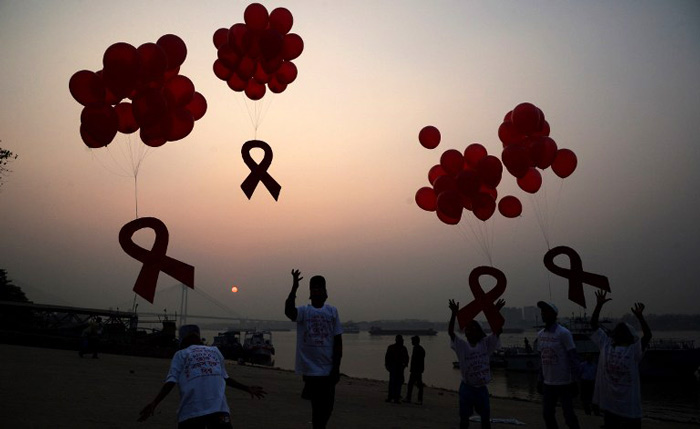 World AIDS Day is observed on 1 December. It's a day when thousands sport the red ribbon brooch, a symbol of solidarity among people living with the disease.
It's also a good day to review where the world, and India, stands when it comes to tackling this endemic.
Also read: PEP treatment saves rape victims from AIDS but it's not mandatory in India
India's HIV/AIDS campaign has been touted as the largest HIV prevention and treatment programme in the world. From providing life saving drugs, contraceptives and increasing awareness to counselling and providing alternatives to the marginalised -- from transgender people to commercial sex workers -- statistics show that it has been the most successful healthcare initiative since polio eradication.
What the numbers say
The National AIDS Control Organisation (NACO) estimated that 2.08 million people were living with HIV in India in 2013 .
According to a UN report, India has the third largest number of people living with HIV in the world. In terms of averages, 4 out of 10 people living with HIV in the Asia-Pacific region are in India.
The UN says India has 2.1 million people living with HIV, the third-largest number in the world
But although the number seems staggering, for a while now, the data has shown a positive trend.
According to NACO data, there has been an overall reduction of 57% in the 'new HIV infections per annum -- from 0.274 million to 0.116 million in 2011.
There has also been a substantial increase in counselling and diagnosis centres, awareness programmes and in the availability of drugs and contraceptives.
Also read: Martin Shkreli sells AIDS medicine. And he's the most hated man online
But according to WHO's global monitoring report, "Tracking Universal Health Coverage", as of 2013, the coverage rate for HIV patients in India was only about 36%. This means only about one-third of patients in the country said they had received treatment.
Reports in the last two years showed a decrease in the availability of drugs and contraceptives. Staff involved in the programme have also reported non-payment.
What is going wrong?
While the disease has no known cure yet, antiretroviral drugs (ART) are used to try and control the HIV infection.
Since 2013, reports have shown a depletion of stocks of these drugs across many centres across the country. In some centres, the drugs were not available for weeks.
The states of Karnataka, Maharashtra, Bihar, Delhi and Mizoram have reported drug shortages.
Also read: Know how Botswana is using diamond revenue to tackle HIV-AIDS
ART treatment requires continuous dosage of drugs. Any disruption could mean the patient could develop resistance to the drug, and would have to move to a different drug, which would invariably be more expensive.
So why is there a drug scarcity? One primary reason is that the government has failed to pay drug suppliers. In February 2015, it came to light that Cipla stopped participating in the supply of antiretroviral drugs, as the government failed to pay its dues.
Another reason for the sudden dip in the availability of drugs, a report shows, is because the health ministry did not make use of a $187 million international grant offered to NACO by the Global Fund to Fight AIDS, Tuberculosis and Malaria (GFATM). An under-secretary in the health ministry, said this was due to "€œsome ego issues between senior officials".
The fund was offered by the Global Fund to Fight AIDS, Tuberculosis and Malaria (GFATM), a multilateral funding agency. The agency wrote a letter to the Health Ministry, accusing them of endangering the lives of millions.
GFATM then wrote a letter to the health ministry, accusing it of endangering the lives of millions.
Lack of funds and facilities
The Union health ministry had earlier promised that the lack of funds will not affect the country's AIDS programme.
But now, having drawn flak from several corners, the government seems to be trying to fix its goof-ups. A health ministry source said funds were now in place, and the issues would be addressed soon.
Also read: With 5000 sex workers at risk, Delhi in danger of an STD outbreak
However, the problem is not limited to the scarcity of drugs -- those who have been working with the programme have also not received adequate remuneration.
Last week, the Karnataka State AIDS Prevention Society declared an indefinite strike due to lack of basic facilities and adequate remuneration.
Officials from the Maharashtra State AIDS Control Society also admitted to the suspension of various health initiatives and interventions, and even stated that there was a staff lay-off in the last four months.
In January, the AIDS control society of Jammu had also held a strike due to delay in payments and lack of facilities.
What activists say
Activists and those who have been associated with NACO state that this has been the situation across the country for some time now.
The lack of ART drugs and diagnostic kits at various ART centres spiked last year, and the government still has to address the situation, says Vikas Ahuja, who retired as president of the Delhi Network of Positive People three months ago. DNPP works to improve the quality of life for those suffering from HIV.
Ahuja warns that the country's AIDS programme is almost on the brink of collapse.
The main issue, activists say, is leaving the job half done. Any infectious disease needs to be continuously monitored and funded, especially something as lethal as AIDS.
NACO has helped bring together various organisations, activists groups, NGOs and even the marginalised, who have been involved in the programme.
Up until June, lack of funding has caused many issues with the programme falling short of its aim," says Leena Menghaney, HIV/AIDS activist and lawyer.
Some activists also state that the programme has gone back by around 10 years, with the government not serious about handling cases of homosexual men.
Some activists state the AIDS-control programme in India has gone back by around 10 years
"The issue is not just of funding. NACO has helped sex workers, transgenders and others who were at risk. The community structure of handling HIV related cases is what helped curb the disease during its initial years," states Tom Thomas of Praxis Institute for participatory practices, an NGO that works with marginalised sections of society.
On World AIDS Day, it's time the government decides to pull up its socks again.
More in Catch:
Can't make sense of the GST debate? Here's what you need to know
Can the Earth afford China's 2-child policy? Mohan Guruswamy explains
Spy. Killer. Gourmand? James Bond's favourite meals in 12 photos
The law's asleep in UP: 2,000 bullets missing, no one notices for four months