India's missing doctors: too many patients, too few doctors at 6 new AIIMS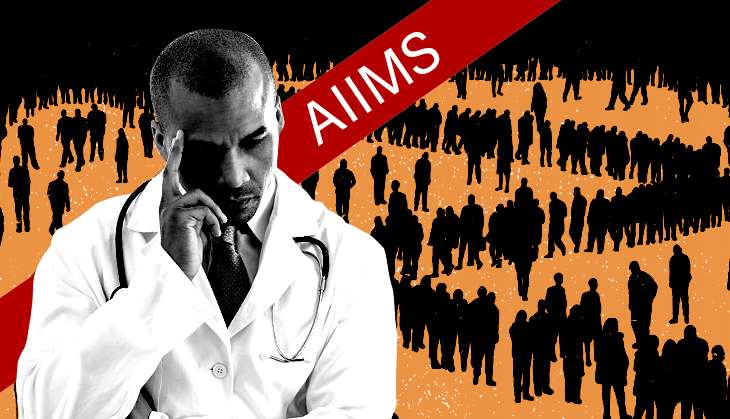 The Union Cabinet has given its approval for setting up an All-India Institute of Medical Sciences (AIIMS) in Bathinda. Keeping the upcoming Punjab assembly elections in mind, dates have already been sought from the Prime Minister's Office to lay the foundation stone.
Keeping political calculations aside, every new AIIMS allows the common man to have access to high standard healthcare facilities.
Also read - AIIMS director Misra in trouble: RS MPs seek privilege motion
However, there is a flipside: the unavailability of doctors, faculties and high attrition rates.
Here are a few numbers to help understand the situation better:
The total number of faculty posts sanctioned at all new AIIMS - Bhopal, Bhubaneswar, Jodhpur, Patna, Raipur and Rishikesh.
Each institute has a sanction of 305 posts.
In all, only 512 have been filled by August 2016.
The highest number of vacancies is reported from AIIMS Bhopal and the lowest in AIIMS Bhubaneswar.
"As high standards have to be maintained in the selection keeping in view the stature of these institutes of national importance, all the advertised positions could not be filled up. However, unfilled vacancies are being advertised again," the government said in the Lok Sabha last week.
Is the total number of senior and junior residents posts sanctioned in these AIIMS.
For each AIIMS, there are supposed to be 327 senior residents and 301 junior residents.
So far, 611 positions have been filled.
The highest vacancy of senior resident doctors is at AIIMS Rishikesh and for junior resident doctors is at AIIMS Bhubaneswar, where only 6 are in place against the required of 301.
"To facilitate expeditious filling up of vacancies, separate Standing Selection Committee (SSCs) have been constituted for each of the aforesaid six AIIMS. Contractual appointment of faculty is also permitted as stop gap arrangement," the government said.
The number of complex surgeries that are performed in each of the six AIIMS every month.
Additionally, about 1,000-1,500 patients visit the Out Patient Department (OPD) of each hospital daily.
Also read - Modi opened AIIMS, Gorakhpur. But how good an idea is that?
In total, 17 states have petitioned the central government for setting up of new AIIMS.
More AIIMS are already on their way: AIIMS Rae Bareli is under construction, pre-investment work has begun for AIIMS Mangalagiri (Andhra Pradesh), and AIIMS Kalyani (West Bengal) and AIIMS Nagpur.
The data shows that there is a massive demand for doctors thanks to a heavy footfall, but the recruitment process is unable to keep up the pace.
The number of faculty members who resigned from AIIMS, New Delhi, between July 2013 and June 2016. All cited personal reasons.
The government provides non-practicing allowance, research allowance, learning resource allowance and regular promotions to stop this attrition rate.
Moreover, there are 329 positions vacant across various levels - professors, lecturers, senior and junior residents - at the reserved category level.
The result of such staff shortage is "high stress" for those who have been hired and a lack of quality healthcare. But thanks to political compulsions, the government has been forced to concede to the demand of states and announce new facilities despite the high number of empty posts.
More in Catch - Professors accuse new AIIMS standing selection committee of being mediocre
Corruption in AIIMS: whistleblower Sanjiv Chaturvedi intensifies fight with JP Nadda