#ChennaiFloods: a brief guide to 6 diseases the city must watch out for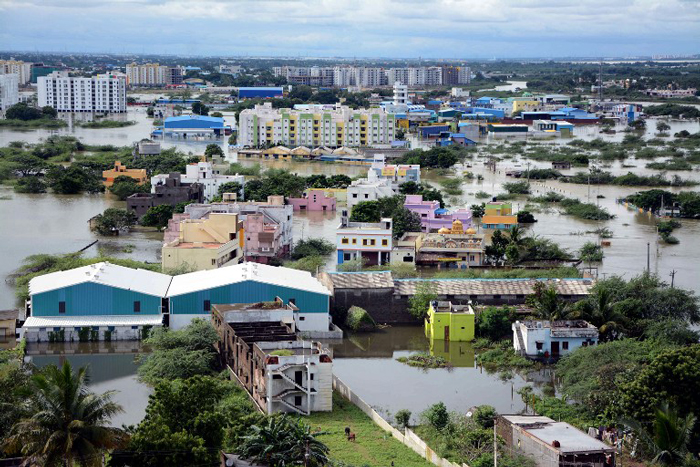 With most hospitals and clinics in Chennai inundated, the only way people can reach doctors is over the phone and through social media.
Doctors are texting and tweeting advice on first aid to the residents in need, even while grappling with patchy cellular networks.
"I have helped more than 20 patients with first aid and advised them about medication. Stocks are running out but this is all that most doctors in the city can do," says Dr TS Subbiah, who has been volunteering since the floods hit the city.
For anyone in need of medical help, here is a list of doctors they can contact immediately.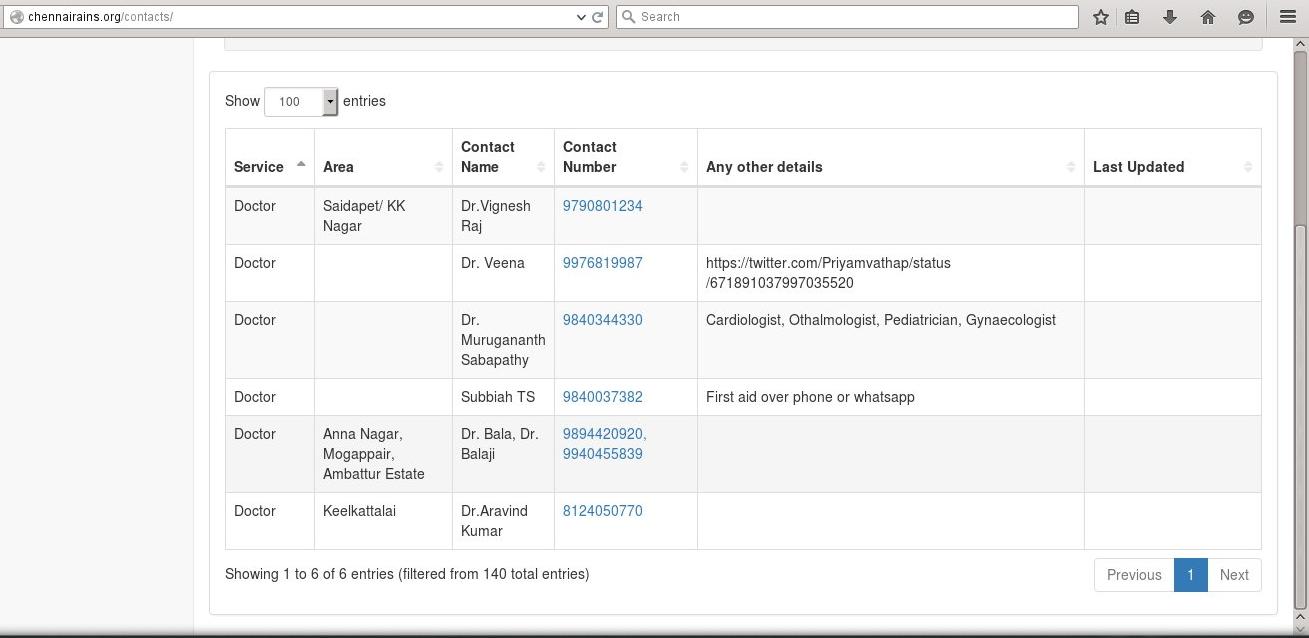 Most hospitals that could be reached said they were filled to capacity. Several also said their ambulance services had been hit.
If the Met's forecast of torrential rains for the next few days holds, the situation is likely to get worse.
It is, therefore, crucial to be aware of diseases one could get and have a clear idea about the symptoms.
Here is a list of diseases that doctors say Chennai's residents should be cautious about.
Although not a disease one hears about often, leptospirosis poses a high risk during calamities such as floods. It's a bacterial infection carried by water contaminated with urine of infected rats, dogs or pigs.
Symptoms can range from mild headache, muscle pain and fever to severe bleeding in the lungs. In some cases, however, there could be no symptoms at all.
LIVE: People tweet out SOS messages as night falls in Chennai
The bacterium enters the body when the skin, especially if bruised or cut, or eyes come in contact with the contaminated water.
If not treated immediately, leptospirosis can cause kidney damage, meningitis (inflammation of the membrane around the brain and spinal cord), respiratory diseases, liver failure, and even death.
During the Mumbai floods in July 2014, there were 21 reported cases of leptospirosis. Of them, 12 died eventually.
The disease is caused by the oral intake of contaminated water. It could be viral or bacterial.
Food is easily contaminated during floods and clean drinking water is difficult to find. So, in such situations, it's recommended to take ORS regularly even if there are no symptoms.
In severe cases, hospital admission may be required as the disease can cause kidney failure. During the Kolkata floods this year, a city hospital admitted over 400 diarrhoea patients on a single day.
Mosquito-borne diseases are difficult to prevent, especially during calamities, but precautionary steps can be taken to keep them at bay. The symptoms of malaria include fever, chills and fatigue.
If left untreated, malaria can quickly become life threatening as it disrupts blood supply to vital organs.
In many parts of the world, including in India, the malaria parasites have developed resistance to a number of medicines. Therefore, Artemisinin-based therapy, a combination of drugs, is often used as the first line of treatment.
Ways to prevent the disease include sleeping under mosquito nets and residual spraying of insecticide.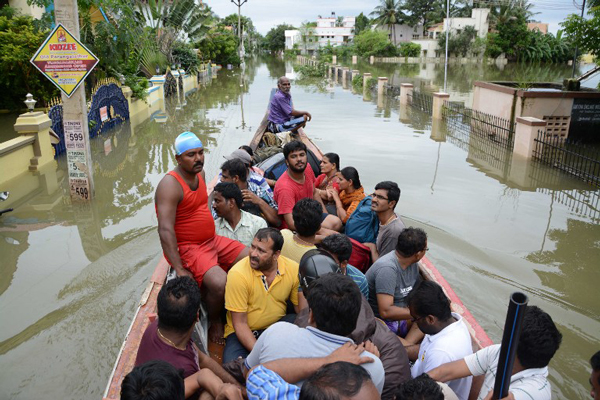 Dengue is also a mosquito-borne disease. With the drainage system in a mess due to the floods, the city could become a breeding ground for mosquitos.
Dengue symptoms range from mild to high fever, severe headache, pain behind the eyes, muscle and joint pain, rashes.
While no vaccine or specific medicine is available to treat dengue, preventive measures include drinking plenty of fluids and controlling the fever with paracetamol.
Also read - #Chennaifloods : A city waiting to be rescued
Severe floods usually kill a lot of animals, leaving hundreds of floating carcasses of animals that are difficult to dispose of. These carcasses become breeding grounds for cholera.
Cholera is an acute intestinal infection caused by ingestion of food or water contaminated with the bacteria.
Ensuring safe drinking water and proper sanitation are critical in preventing it.
Typhoid, a disease that spreads rapidly, is usually caused by eating contaminated food or water. The illness is usually characterised by headache, nausea, prolonged fever, loss of appetite, even diarrhoea.
Mumbai had reported 350 cases of typhoid in the aftermath of the 2014 floods.
Besides these, other diseases Chennai's residents should watch out for include hypothermia, respiratory tract infections and Hepatitis A.
MORE IN CATCH - #Chennaifloods : A city waiting to be rescued
Flood fury: why Uttarakhand, Assam, J&K & Mumbai will be hit again. And what can be done