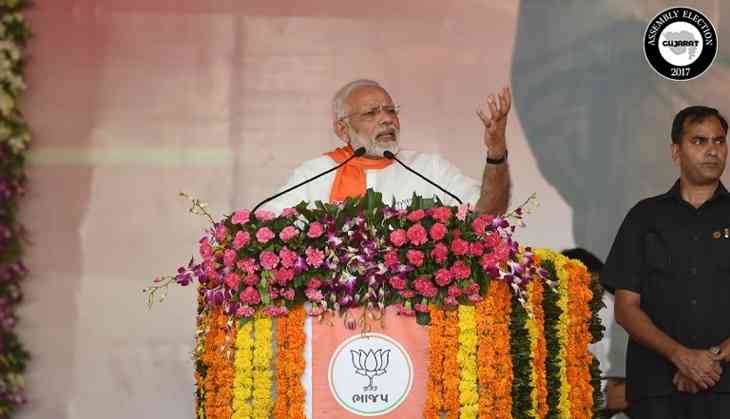 In this election season in Gujarat there clearly is an ongoing tussle between Prime Minister Narendra Modi and Patidar Anamat Andolan Samiti (PAAS) leader Hardik Patel. And in one key area the young Patidar leader is scoring heavily: crowds.
The estimated one lakh people at his rally in Rajkot on Wednesday made it clear who was a bigger crowd-puller in Saurashtra. However, Hardik's biggest success lies in luring the BJP into a competition of crowd sizes.
Taking it as a matter of prestige, BJP is trying to match the size of Hardik Patel's crowd duing Modi's rally in Rajkot on Sunday. As the rally has been scheduled in the evening, that too on a weekend, BJP hopes it will be able to match the crowd Hardik had gathered on Wednesday.
However, even the second leg of Modi's rallies have begun on a disastrous note in Jambusar in Bharuch. According to one ground reporter, not only is the venue full of empty chairs, people are leaving even as Modi is delivering his speech.
गुजरात में BJP प्रधानमंत्री मोदी की चुनावी रैलियों में कुर्सी नहीं भर पा रही है, विधानसभा में 150 कुर्सी कैसे भरेगी?

(जम्बुसर, भरूच की तस्वीर) pic.twitter.com/TbpMlaZPiy

— जैनेन्द्र कुमार (@jainendrakumar) December 3, 2017
Besides Bharuch and Rajkot, Modi is addressing a rally in Surendranagar .
The Sunday rallies are crucuial for the BJP as Modi's rallies earlier this week received a poor response. Modi's campaign began on a poor note with his rally in Bhuj. A reporter on the ground claimed that Modi's arrival at the venue was delayed as the crowds were inadequate.
The rally in Jasdan, Rajkot was an even bigger embarrassment. Reports said 800 out of the 12,000 chairs remained empty.
Videos of the empty chairs went viral on social media.
The rally was supposed to attract crowds from five constituencies: Jasdan, Chotila, Rajkot Rural, Gadhada and Junagadh.
The crowd in his rally in Dhari in Amreli district on the same day is also said to have been poor. In Surat, there was another fiasco, as the venue of his rally was shifted at the last moment from Kamrej, which lies within Surat city, to Kadodara in the outskirts, about 15 km away.
The reason given was was that there were intelligence reports that PAAS activists could stage protests at Kamrej, a Patel-dominated area which is also the hub of the diamond polishing industry. It was one of the major centres of the Patidar protests.
However, another reason was that it would be easier to ensure crowds in Kadodara, which has a large population of migrant workers.
"People wouldn't have come in such large numbers in Kamrej. PAAS people could have created some commotion there," a BJP functionary said.
In his rally in Morbi on Wednesday, the BJP played it safe. The rally was kept within the city. Many middle class voters from the city did attend. But there were questions raised about the crowd at the ceramic industry hub. Some have alleged that ceramic factories were asked to shut down to arrange for crowds for Modi's rally.
Hardik Patel held a rally in Khakhrechi village in Morbi district, about 50 km away from Modi's rally. It was reasonably well attended, despite the venue slightly difficult to reach due to poor roads.
Patel didn't fail to rub it in. "No one is turning up to listen to PM Modi. There were empty chairs. This is what happens when you anger farmers," he said at Morbi.
Of course, the same evening Patel organised a massive show of strength in Chief Minister Vijay Rupani's constituency Rajkot West, sealing the crowd debate.
BJP functionaries, however, try to explain that the crowds at Modi's rallies must not be compared to Hardik.
"Why compare Modi to Hardik? Compare his rallies to the crowds at Rahul Gandhi's rallies. And remember how a huge crowd came for Akhilesh (Yadav) and Rahul Gandhi's roadshow in Uttar Pradesh. What happened after that?" said a BJP leader from Saurashtra.
He has a point. Being a leader of a strongly-knit and assertive caste like Patidars, Hardik Patel is naturally likely to attract larger crowds.
But that still doesn't hide from the fact that the Prime Minister isn't attracting the kind of crowds the BJP would like.
"The rallies are more here. PM is going to towns which aren't even Taluka headquarters. It's more difficult to mobilize crowds there. If rallies are held in cities, people from the city, as well as nearby villages and towns, can come," said a BJP functionary from Rajkot.
After the fiasco on Monday, BJP's central leadership, particularly the in-charges for Gujarat, issued stern instructions to party functionaries to ensure good crowds at all of Modi's rallies. On his part, Modi has also increased the pitch by raising issues like the Somnath temple. But by trying to compete with Hardik, BJP is making a bigger mistake. It's making the election a "Modi vs Hardik" affair, which is precisely what the Patidar leader wants.