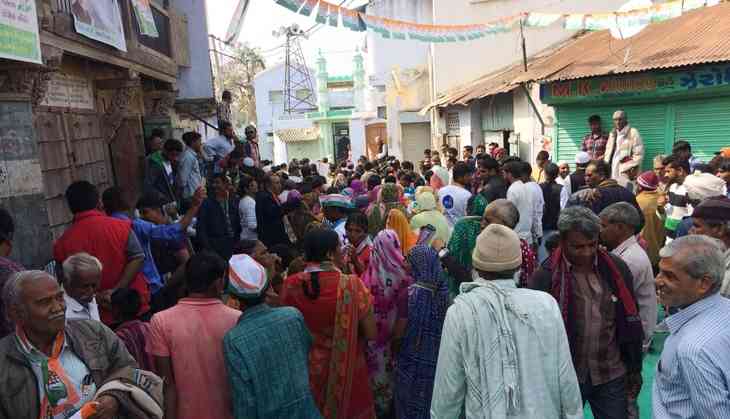 Dasada village, Gujarat. (Sadiq Naqvi/Catch News)
It is just about noon at the bazaar in Dasada village. A public meeting has just ended. "
It was Congress' Naushad Solanki," a local informs. The supporters are in a hurry to catch another such meeting at the highway a few kilometres away. It is the last day for campaigning in this largely rural constituency which goes to polls on 9 November.
"Notebandi and GST have made traders angry," says Yawar Khan, an influential local Muslim, as he ordered for a tea. "Even in the villages, people are affected," he continues, in a mix of English and Hindi.
"I run a mobile shop. The cell phone that used to cost Rs 1,000 has gone up to about Rs 1,150. People are reluctant to buy," he cites as an example.
"Even the price of a paan masala has gone up by Rs 2," Khan says, as Shabbir Bhai, who runs the tea shop, adds "The BJP always brings up religion."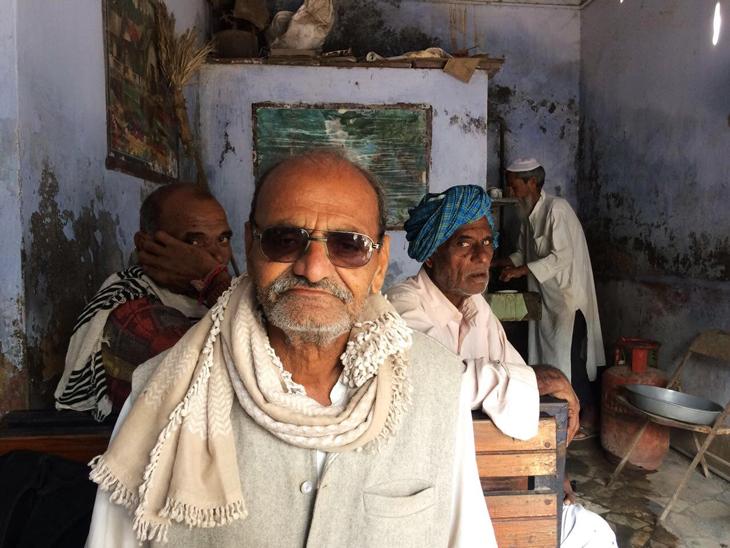 Yawar Khan (Sadiq Naqvi/Catch News)
Solanki faces off with Ramanlal Vora, Speaker of the outgoing Gujarat Assembly, at this constituency reserved for the scheduled castes. It has a sizable number of Thakors, Dalits, Muslims and a fewer number of Patidars and other communities.
Vora is an outsider, but a senior leader who peope comes across as a claimant for a Cabinet berth if the BJP returns to power. Solanki, on the other hand, has the advantage of local rapport.
"Though the constituency is named Dasada, the taluka (block) headquarters are at Patdi," says Khan. "Solanki promised he would fight for this," he adds.
"Look at the streets of the village. Nothing has changed. It is impossible to get a vehicle inside even if there is an emergency," Raman Solanki says pointing to the kaccha roads of the village, filled with slush, leading towards the Dalit quarters.
"With 'Parivartan' at Gandhinagar, everything will change for good," he says. "This government has been around for more than two decades. Even then the problems of employment continue," says Bharat Bhai Solanki in the Dalit quarters. He works as a daily wager on a cotton farm.
"The prices of cotton have not gone up. Our wages too continue to suffer," he says.
"I did a diploma in computers four years ago, but couldn't find a proper job," says Ganpat Solanki. Ganpat works as a computer operator at a government office where he earns Rs 5,000 a month. "The BJP always changes the candidate here and wins. But this time we think a change of party alone can change our situation," he says.
About 40 kilometres away at the Kharagoda village, just where the Little Rann of Kutch starts, locals have the same complaint – nothing has changed.
"Nobody ever comes to listen to our problems," says Chandu ji, who runs a small shop right outside the village, surrounded by mounds of salt. Another villager, who works as a daily wager loading salt, butts in.
"There is no proper path to even the cremation ground. And all of the 600 villagers go to these salt mounds to relieve themselves," he says. "The same salt which you eat," he continues.
"Parivartan could definitely do some good," Chandu ji, intervenes.
BJP has not lost Dasada in the last two polls.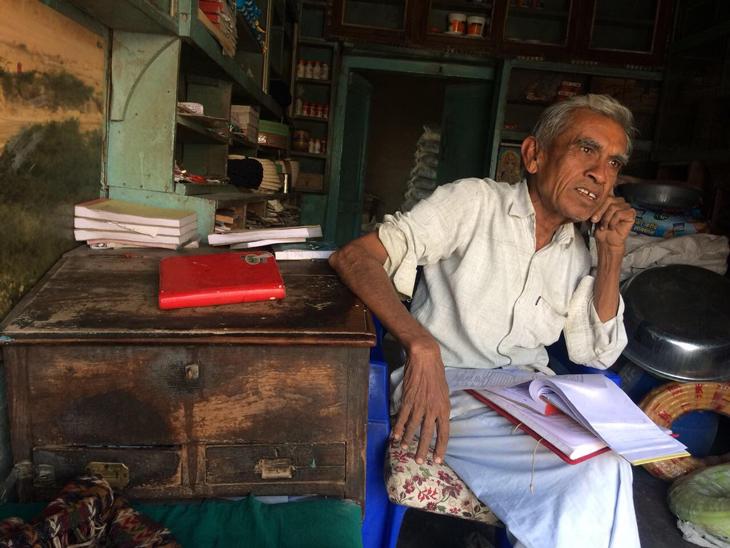 Janak Kumar Thakkar (Sadiq Naqvi/Catch News)
Janak Kumar Thakkar, who runs a hardware store at Patdi Bazaar says the winning streak will continue.
"All talks of parivartan are bunkum. Dasada village is anyway more of Muslims who do not like the BJP," he claimed as he went on explaining why he continues to support the BJP.
Gujarat is different, the elderly shop owner says. "People vote according to their religion," he explained.
"Look at how the BJP has dealt with the terrorists in Kashmir. It is the only party which can keep the country together. Look how Israel defends itself. The BJP is doing the same," he explains.
"What more Vikas do you want. There is 24 hours of power, the government has promised an industrial area soon," says Dinesh Thakor, an electrician.
"Alpesh Thakor may have gone with the Congress but he should know that the community is not with him," Thakor says complaining how Alpesh Thakor has become greedy.
Thakkar, meanwhile, thinks that since Narendra Modi, a Gujarati has become the Prime Minister, the BJP will be able to get enough votes to form the government.
However, in Dasada, too, like the rest of Gujarat, there are fears that the Modi magic is fading and Patidars could play spoiler.
"This election is not so much about Modi as it used to be the last few times. This election it is just confined to rallies," says Ramesh Bhai Panchal, as he waited for a bus at the Dasada bus stop.
"The talk of Vikas wouldn't be enough. Gujarat does not need a political party for development. It has always been developed," he claimed as he explained how social media is playing a big role.
Thakkar agrees. "There is a dent this time. BJP will win but it may not get 150 seats as they claim."
"Our village used to vote BJP every time. This election a lot of people are talking of Congress," says Rahul Bhai from Jarvala Village which has a sizeable population of Patidars.
"The Patidars want to show that they can change the government," says Ganesh Patel, a local businessman.
"But one cannot be sure. Recently, when Narendra Modi came to Surendra Nagar, a matador full of Patidars went for the rally from the village," Rahul Bhai says.
For Ramanlal Vora, it is a tough fight to Gandhi Nagar.