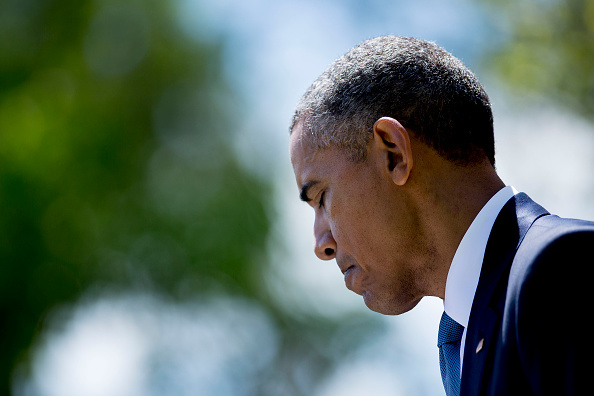 President Barack Obama has urged the Republicans to get on board with the Iran nuclear deal which was signed earlier in July 2015.The deal was achieved after three years of negotiations with an economy stagnant under sanctions and rife with large amounts of propaganda.
In his weekly address, Obama asked his fellow Congress members, under whose vote now the fate of the deal lies, to choose between diplomacy and war.
In his speech, which was telecast live to Iran, Obama said: "As commander-in-chief, I make no apology for keeping this country safe and secure through the hard work of diplomacy over the easy rush to war".
He chose the platform to explain the basic aim of the deal - to have unrestrained surveillance over Iran's nuclear programme. The deal entails that UN-approved inspectors have an overview of the sites of nuclear activity in Iran.
Calling the clause 'unprecedented', Obama stressed on how the opponents of the deal were wishing for a military conflict with Iran.
Obama attacks 'armchair warmongers'
Referring to the majority of Republicans who have made their dissent clear, Obama said that people should try to avoid the 'drumbeat of war'. He said: "Between now and the congressional vote in September, you are going to hear a lot of arguments against this deal backed by tens of millions of dollars of advertising... If the arguments sound familiar, they should. Many of the same people who argued for the war in Iraq are now making the case against the Iran nuclear deal".
Kevin McCarthy and John Boehner, both holding key positions in the Congress, have declared that the agreement is a 'bad deal' and they will go to any lengths to stop it.
The nuclear deal was signed on 14 July. Obama now needs the approval of a two-third majority of Congress. Roughly, he needs 44 votes from Democrats and 13 votes from Republicans.
According to The Guardian, this could be the 'most intense battle' of Obama's tenure. "Those who say we can walk away from this deal and maintain sanctions are selling a fantasy," claimed Obama. "Walk away from this agreement and you will get a better deal: for Iran."
Read more: The Iran Nuclear deal: is it time to celebrate yet?