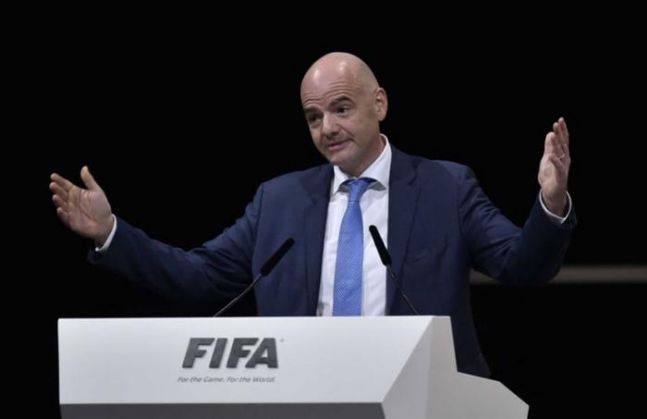 "We will restore the image of FIFA and the respect of FIFA, and everyone in the world will be proud of us. I feel a lot of emotion and have not realised yet what has happened today."
A few moments before newly-elected FIFA president Gianni Infantino uttered these words during his first speech as the individual holding the top post, most people in the auditorium in Zurich heaved a sigh of relief as his name was announced ahead of Asia's candidate, Sheikh Salman bin Ebrahim Al Khalifa.
Europe's candidate Infantino won 115 of the 207 votes, while Sheikh Salman won 88. FIFA's already tarnished reputation, with Sepp Blatter banned from all footballing activity for 10 years over allegations of corruption, could have taken a further hit had Salman (who was the favourite starting out) won the election. A member of the royal family of Bahrain, Sheikh Salman has been under fire from a number of human rights groups for his role in or knowledge of the detention and torture of Bahraini athletes in 2011, at the zenith of a crackdown on anti-government protests.
But more, much more is required from Infantino than to simply be an honest man if he is to restore the image of FIFA like he so emphatically mentioned in his first speech.
Who is Gianni Infantino?
And by the looks of it, FIFA have got a good administrator in Infantino. Holding a dual citizenship from Italy and Switzerland and a degree in law from the University of Fribourg, the 45-year-old has been involved with the UEFA since 2000, holding a variety of positions within the body. Nine years later in 2009, he became general secretary of UEFA, and was one of the main factors behind increasing the number of participating teams in this season's Euros from 16 to 24.
He worked under UEFA president Michel Platini right till the time the latter was sacked from his post over allegations of a 'dishonest payment' made to him by Sepp Blatter, but the hope is that he imbibed none of those dishonest practices from the man he said he had "strong, dear thoughts for right now" in his speech.
What is the current situation in FIFA?
FIFA is a significantly different organisation from the one that Sepp Blatter left behind after he was sacked. Measures have been introduced to not allow the next president to enjoy the kind of autonomy and lack of accountability that Blatter enjoyed.
For starters, the president's salary will be published for the first time. Only the ninth president in FIFA's 112 year history, Infantino will also have a significantly lesser say in the daily management of the body's business affairs.
Increased transparency is the need of the hour for FIFA, and the initial steps seem to have been taken in the right direction.
While it is true that Infantino's rhetoric during the election campaign was all about promising more funds to member organisations of FIFA - not a big departure from the election campaigns of the past, and the one area where most corruption took place - the measures that have been put in place seem to ensure that the only direction that the organisation can go from its current mess is up.
Infantino has also received praise from his peers, who have welcomed his appointment to the top position. Michel D'Hooghe, Executive Committee member from Belgium said, "It is the first time in a long time that I have felt happy about anything to do with FIFA. Infantino is a young, dynamic man who has done a superb job at UEFA." Executive committee member Karen Espelund of Norway said, "We needed someone credible, we needed a clean winner, a clean man, and I believe we have that in Gianni."
What's the mess Infantino needs to clean up?
Gianni Infantino's immediate attentions will be drawn to managing the crisis that FIFA finds itself in at the moment.
Criminal investigations are on in the United States and Switzerland after seven football executives due to attend a FIFA congress were arrested on suspicion of corruption in May 2015 from their hotel rooms in Zurich. Several football officials and other smaller bodies are under the scanner since then, including former presidents and other high officials of national or continental associations.
Authorities in Switzerland are also scanning more than 150 reports of suspicious financial activity linked to awarding the 2018 World Cup to Russia and 2022 World Cup to Qatar, and FIFA sent more documents to US investigators as recently as 26 February to aid in the investigations.
Currently facing a deficit of $108 million suffered in 2015, even key sponsorship deals are on hold until FIFA is perceived to have finally ridden itself of the corrupt monkey on its back.
And Infantino it seems, is relishing that challenge.
"I am not a candidate of Europe. I am a candidate of football, and football is universal. I will work tirelessly to bring football back to FIFA and FIFA back to football, this is what we want to do."
For the sake of football fans around the world, let's hope he means business.