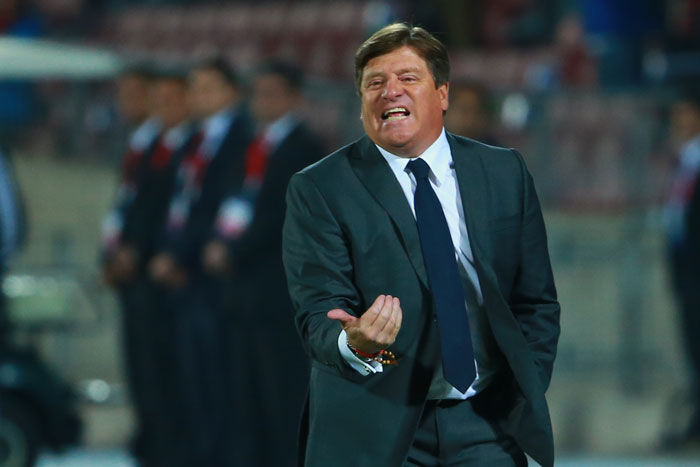 It had all been going well for Miguel Herrera, the manager of the Mexican national football team. Having led his team to the CONCACAF Gold Cup title, he had only just cemented his position in the managerial role. It all changed, however, when he met his arch-critic Christian Martinoli, a Mexican TV commentator, at the airport on his way back home a day later.
How Herrera unravelled at the airport
Martinoli, who works with TV Azteca and has often criticised Miguel Herrera in recent months, was travelling back to Mexico from Philadelphia when he came face to face with the manager. According to Martinoli, the outspoken Herrera did not appreciate the journalist's presence with the team, and threw a punch on his neck. The manager subsequently challenged Martinoli to a fight, saying that the two should settle their differences 'the way it should be'.
According to TV Azteca, former Mexican player Luis Garcia had to intervene to stop Herrera. The airport authorities at Philadelphia, however, have denied any knowledge of the incident.
Later on Tuesday, 28 July, sections of the Mexican press quoted Miguel Herrera as saying that he did not assault Martinoli, although he admitted to having an argument with the journalist.
Miguel Herrera fact-file
A former Mexican international, Herrera has been in football management for over 13 years. In 2013, he took charge of the Mexican national team on an interim basis, becoming the fourth coach of the team in the span of a month. Less than two months later, he was given the job full-time after ensuring the country's qualification to the 2014 World Cup. In the World Cup in Brazil, he took Mexico to round 16, where El Tri were controversially beaten by the Netherlands.
In the 2015 Copa America, Herrera drew criticism from various quarters after Mexico finished bottom of the table in the group stages. However, he redeemed himself after leading the team to the 2015 CONCACAF Gold Cup title on Sunday, 26 July, beating Jamaica 3-1 in the final. That was until the incident at the airport.
On 28 July, the Mexico Football Federation confirmed the sacking of Herrera in a press conference in Mexico City.