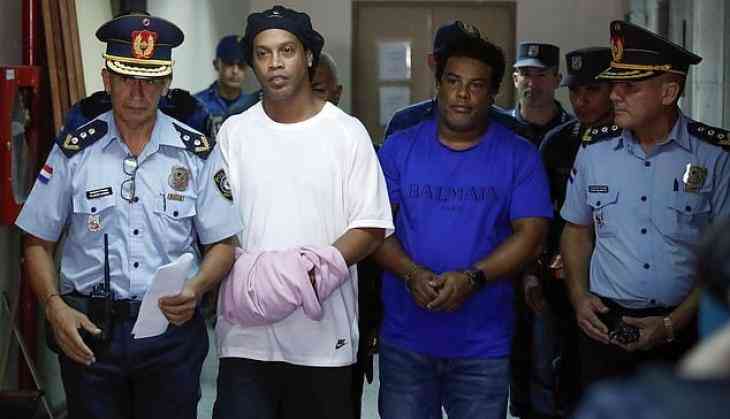 The Brazilian football icon Ronaldinho has been put in jail since 5th March after he and his brother were found with forged documents in their hotel, which claimed they had Paraguayan citizenship.
Ronaldinho's legal representative claims he was given the passport as a novelty present by local sponsors and by a mere chance presented them in place of his Brazilian documents.
The probe is underway, but a request to be detained under house arrest has been rejected, with Judge Clara Ruiz declaring Ronaldinho and his brother as a fight risk.
It is unsure how much longer the 39-year-old will remain in prison, but his friend, Fernando Lugo, reports that it is not too bad for him in there.
While, Ronaldinho is angry about the circumstances, he is sharing a cell with his brother and he is gettig along with other inmates and eating well.
'He is a little sad but always smiling. I think he is angry,' said Fernando.
'He told me, 'how are they going to do this to me in your country? I am never coming back to Paraguay.'
'He is not in need of anything, he is well-attended. He eats asado every day, he likes it.
'It is not like he is shut in his room all day, he speaks with the guys sitting outside.
'What is happening to him is unfair. Why would he do those things? He is not in need.'
Paraguay's Interior Minister, Euclides Acevedo, had claimed that the facility where Ronaldinho is being held is not a prison and stated the building was almost a hotel.
The 39-year-old footballer had been permitted to enjoy himself on the football pitch, playing in a prison football match last Friday.
Ronaldinho had reportedly struggled when he first came to Paraguayan jail, but prison warden says his mood has improved, telling Reuters, 'In broad terms he is doing very well.
'I see he is in good spirits, just like you see him on television, always smiling. 'Since yesterday he looks very well, he talks to his other inmates, he goes out to the patio.'
Also Read: Coronavirus: Spanish football coach Francisco Garcia passes away aged 21
Also Read: Cristiano Ronaldo expresses his desire to star in Hollywood movie after retirement