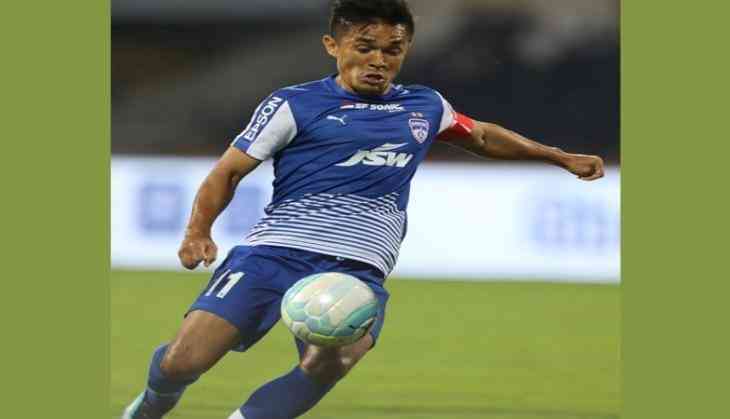 Two-time champions Bengaluru FC will look to strengthen their top position when they square off with Chennayin FC in a top-of-the-table clash in the Indian Super League (ISL) here at the Jawaharlal Nehru Stadium on Tuesday.
Even though both Bengaluru FC and Chennaiyin FC are comfortably settled in the top two positions in the league standing, there still will be a lot to play for when they face each other.
Second-placed Chennaiyin FC are currently four points behind table toppers Bengaluru FC but John Gregory's men have played one game less than their southern rivals.
Chennayin had defeated Bengaluru 2-1 at their home and a win tomorrow will see the Chennai team cut the lead to just one point. But, it will not be easy. Bengaluru FC come into this game with three consecutive wins under their belt. And this time, Bengaluru will look to turn the tables on Chennai.
Mindful of the task at hand, Chennaiyin FC coach John Gregory told reporters that for him, the season actually starts now.
"For me, the season starts tomorrow. This is when you find how good you are.
Everything has just been jostling for positions. It just like practice lap in Formula 1. We are second in the grid and the race actually starts tomorrow. We have five games in 17 days that will determine if we make it to the play-offs," he added.
Talking about the team selection for tomorrow's big game, Gregory said, he has the complete squad to choose from but he'll make that decision only before the game.
"Everyone is fit and healthy for this crucial period. I'm fortunate to have a good medical staff that has taken good care of the players," he added.
Though Chennaiyin FC have the advantage of a 2-1 win over Bengaluru FC in the last game, head coach Albert Roca believes that their loss to Chennai in the previous encounter will have no effect on his players when they face Chennaiyin for the second time in the season.
"I don't think it will play on our mind. Losing to Chennaiyin FC wasn't disastrous. Obviously, we want to win all games. Tomorrow, we need to be brave and try and get all three points," he said.
Bengaluru FC have been enjoying a great debut season in the ISL. Roca's men have adapted to the new league with ease and are looking like title contenders. The Spanish tactician, however, feels it's too early for such claims.
"It's not finished yet. First, we have to finish all our games, perhaps we can talk a little about it and even then we also have to go through playoffs. At the moment it's a pack of six teams looking to get into top four. So the first goal is to be in top four. If we take all three points tomorrow, we'll be close," he concluded.
--ANI