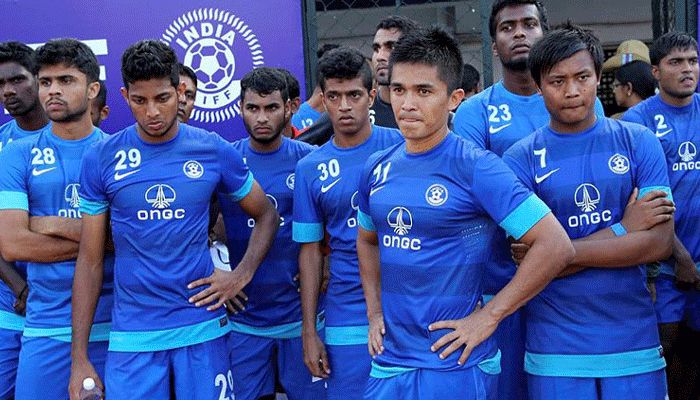 The Indian men's football team slid to the 156 spot in the FIFA World Rankings, after losing to Oman and Guam in the second round of the 2018 FIFA World Cup qualifiers. The Blue Tigers had been placed 141 last month, and the new ranking pushes the team below minnows Guam, who had pulled off stunning victories over Turkmenistan and India. Argentina, meanwhile, climbed to the No. 1 spot, overtaking Germany, which slipped to No. 2.
Best and worst movers
CONCACAF-affiliated Belize are the best movers in this month's ranking after having won consecutive games against the Dominican Republic in the World Cup qualifiers last month. Central African Republic, meanwhile, were the worst movers, falling from 141 to the 170 spot. On the other hand, Afghanistan climbed 17 places to 134, becoming the highest-ranked nation in South Asia.
What next for India?
India will play Iran in September for the second round of World Cup qualifiers. There is unlikely to be any significant movement until then, but with tough games against Turkmenistan and Oman, India could find itself further down in the rankings by the end of the year. Some of the teams ranked above India include Aruba at 135, Barbados at 141 and Curacao at 149.
The top 10
Belgium slipped one spot to number three, behind last year's World Cup finalists Argentina and Germany. Colombia remained in the 4th spot, whereas the Netherlands overtook Brazil for the fifth position pushing it to the sixth slot. Portugal, Romania, England and Wales complete the top ten, with