Rohan Raj
| Updated on: 14 February 2017, 5:42 IST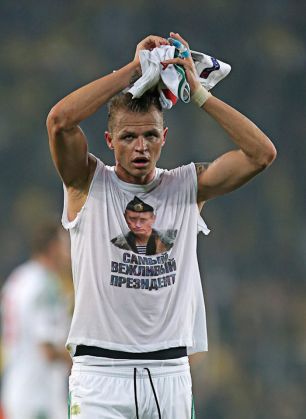 Russia and Turkey are currently engaged in military action in Syria, where a brutal civil war and an international fight against the Islamic State continues. It will not be speculative to say that the two countries are on the brink of war while supporting opposing sides in Syria.
Also read: Asia Cup gets a taste of slam-bang T20 action
Though both Russia and Turkey have not engaged in direct warfare with each other, they are attacking rebels which the other country supports. Last November, Turkey even shot down a Russian military jet claiming it violated its air space. To sum it up, it's all very serious.
Amid the increasing global worries regarding the ongoing exchanges between the two countries, the last thing you would expect is a Russian footballer espousing his political views through his T-shirt after a UEFA Europa League clash in Turkey.
Perturbed after his side's 0-2 loss to Istanbul's Fenerbahce SK, Lokomotiv Moscow defender Dmitri Tarasov raised more than just a few eyebrows by removing his shirt to unveil the portrait of Russian president Vladimir Putin underneath. The portrait on his vest also carried the words, "The most polite president".
The visitors lost the game in the first-leg of Europe's second-tier club competition after the defensive midfielder Josef de Souza scored two goals to become the unlikely goal-scoring hero of the Turkish side.
Disciplinary action for Tarasov
UEFA has opened disciplinary proceedings against Tarasov for his on-field antics after the match against Fenerbahce SK at Sukru Saracoglu stadium in Istanbul. In his defence, the 28-year-old said: "This is my president. I respect him and decided to show that I am ready to support him wherever I am. I wrote on this T-shirt everything that I wanted to say."
Political statements are not allowed by UEFA during any competitive fixture. Following his antics, Tarasov could be banned for a minimum of 10 matches and his club Lokomotiv is also likely to face sanctions.
Outrage over the 'stupid gesture'
The executive committee member of the Russian Football Union, Igor Lebedev, slammed Tarasov for his actions. "You can only say thank you for such a stupid gesture. I respect him as a footballer but this kind of action is unforgivable for a person of this level. Patriotism is not shown on T-shirts or in pictures," he said.
Lokomotiv were also left red-faced by Tarasov's actions that were deemed "inexcusable" on their website. "Unfortunately, the club's staff were unable to prevent this incident as the footballer had not informed anyone of his plans. What Dmitri did was inappropriate and damages the club's and his own reputation," the club said.
Security concerns over 2nd leg
Tarasov's pro-Putin gesture seems to have been instigated after an incident that occurred ahead of the Europa League clash on 16 February. Turkish football fans attacked a bus that was carrying 150 Russian fans who arrived in Istanbul to support their side Lokomotiv Moscow for the high-profile fixture.
The Turkish fans started throwing rocks at the bus that stopped near the Sukru Saracoglu stadium. The Russian fans were immediately taken under armed protection. Though no one was hurt, the police were forced to handcuff some of the raging fans.
The incident puts the second leg between Lokomotiv and Fenerbahce SK, to be played on 25 February in Moscow, at risk. With Fenerbahce and their fans gearing up to travel to the hostile territory, the recent developments surely call for adequate security measures.
Crackdown on politically-motivated statements
Tarasov's incident isn't the first time the football field has been used as a platform to highlight political propaganda. In July 2015, UEFA fined Barcelona 30,000 euros after their Champions League final win over Juventus during which the club's supporters displayed banners calling for Catalonia to gain independence from Spain.
In 2013, Celtic was fined 50,000 euros following a Champions League clash against AC Milan at which the Glasgow club's fans unveiled a flag showing the image of Scottish national hero William Wallace and Irish Republican hunger striker Bobby Sands.
Russia vs Turkey
Over the recent days and weeks, the Syrian armed forces of President Bashar al-Assad, backed by Russian airstrikes, have closed off vital supply routes of ISIS and opposition fighters. The Syrian army has come within 25 km (15 miles) of the Turkish border and aims to seal it off altogether.
Turkey has responded to those advances over the weekend by shelling the opposition army positions inside Syria and openly talking about a ground incursion alongside forces from Saudi Arabia. To make matters worse, the Turkish F16s also shot down the Russian SU-24 bombers last November.
Russian bombing has transformed the five-year-old Syrian civil war in recent weeks, turning the momentum decisively in favour of Moscow's ally, President Bashar al-Assad.