Weather forecast July 4: Delhi to witness light rain shower today, partly cloudy sky in NCR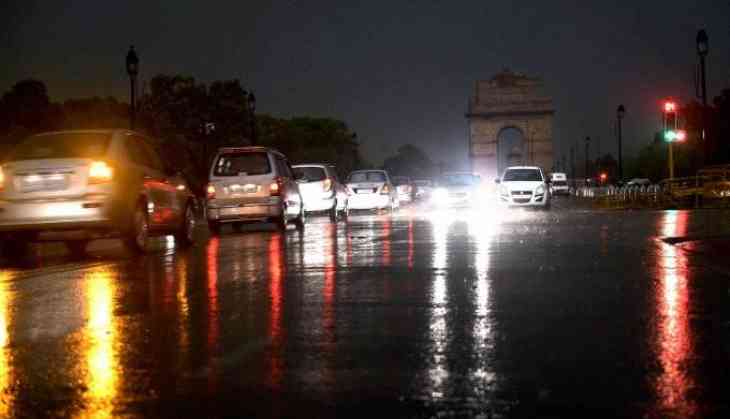 It was a relief for the people living in Delhi NCR because of heavy rainfall on Monday evening and now the rain has lashed parts of the national capital on Wednesday morning.
Rain provided relief from the rising temperatures reaching up to 44 degree Celsius. Temperatures dropped to a relieving 23 degree Celsius after the rain.
According to the report by Skymetweather, the national capital witnessed moderate to heavy rainfall on Tuesday night. The maximum temperature will be 34 degrees Celcius while the minimum will be 27.
Also Read: "Him & I" song couple, Halsey and G-Eazy part ways after 1 year of dating
Rainfall may intensify during the later parts of the day. As the sky remains overcast during early hours of the day, light showers are expected through Wednesday. The humidity levels will be around 73 %. Skymetweather titled it as a good monsoon owing to the higher levels of rainfall recorded in the first few days.
Palam Observatory recorded rains of 36.2 mm while the Safdarjung Observatory also registered 25 mm of rains in the last 24 hours, from 08:30 am on Monday, as per the report.
Also Read: Justin Bieber gives a peck on Hailey Baldwin's forehead in new PDA photos
"Monsoon trough has shifted towards the foothills of Himalayas and now, southwesterly winds from the Arabian Sea are merging with dry northwesterly winds prevailing over parts of Haryana and Delhi," as per the report by Skymetweather.
As per the weather expert, The India Meteorological Department (IMD) said that 'Partly cloudy with light rain likely to occur' on Wednesday. So it has been a relief for the people battling with the hot and humid weather for several months.
"As the dry northwesterly winds would continue to prevail over Delhi and NCR, the weather of the national capital and its adjoining boundaries may become dry," the Skymetweather said further clarifying that the chances of spot showers cannot be completely ruled out.
Also Read: Top 5 songs from American pop star Nick Jonas
Also Read: Eiza Gonzalez shows boyfriend Josh Duhamel getting undressed on Instagram