The world's having a meltdown, and these 10 cities are proof
Records, they're supposed to be good things. Making them, breaking them.
Unfortunately the ones we're setting these days as a planet are anything but. We've just had six temperature record breaking months in a row with the latest of them all, March, not breaking as much as shattering them.
March 2016 was the hottest March in history, going back 136 years!
It was a mindboggling 1.28*C above average across the planet. As
Slate's Phil Plait puts it, its not just El Nino that is the obvious culprit. "Most likely there is a confluence of events going on to produce this huge spike in temperature-latent heat in the Pacific waters, wind patterns distributing it, and more." He adds, "El Niño might produce a spike, but that spike is sitting on top of an upward trend, the physical manifestation of human induced global warming, driven mostly by our dumping 40 billion tons of carbon dioxide into the air every year."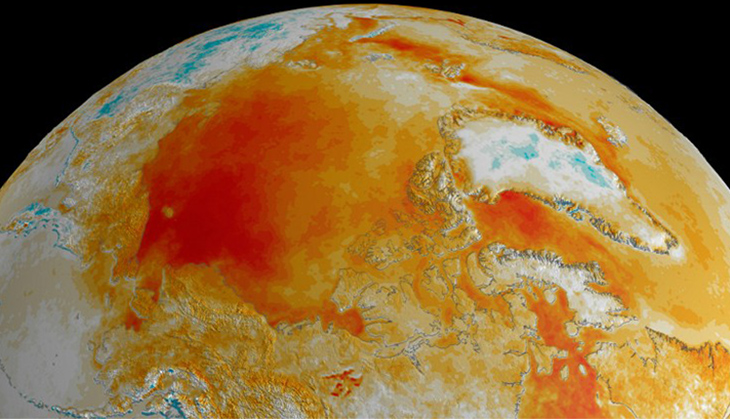 Photo: NASA/AFP

Not everywhere is as hot as everywhere else, naturally - but the scale of the problem is alarming everywhere. Here's 11 cities bearing the brunt of mankind's mess:
1. Telangana
Photo: AFP

Let's start with the city most affected with the heat in India. Latest figures have come in and, as of Monday, 18 April, the heatwave has claimed over a hundred lives. Over the past week, the maximum temperature has exceeded normal by at least three degrees, if not more. In fact Hyderabad witnessed record high temperatures for April. This happened when the mercury touched 43*C, the highest April temperature in four decades.

The Telangana government has launched a wesbite for heatwave predictions that compiles data from 885 automatic weather stations.

It was so hot that a woman in Telangana turned an internet meme into reality when she cooked an egg on the floor of her home.
WATCH: A woman cooks eggs on floor at her residence in Karimnagar (Telangana) as heat wave intensifies in statehttps://t.co/B77BHyNHZY

— ANI (@ANI_news) April 15, 2016
2. Greenland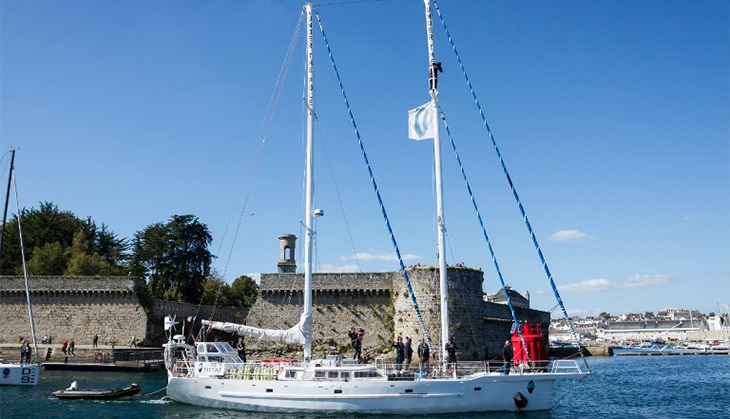 Photo: Lucas Santucci/AFP

You wouldn't expect Greenland to be in the midst of a heatwave, but 2016 is proving to be no ordinary year. If it was a cold start on the East Coast of United States, it was the complete opposite in Greenland, a place more than 2,000 miles away.

April 11 saw Boston have a high temperature of 15.56*C. Kangerlussaq, Greenland, the logistical hub for scientific research on the island, saw a record high temperature of 17.8*C. It was the warmest April on record. The annual ice melt season kicked into high gear a whole month earlier than ever before.

This early start to the melting season came as a surprise to all. A Slate headline read, "Greenland's Ice Sheet Is Melting So Fast Right Now, Scientists Thought It Was an Error".
3. Seattle
Seattleites have never experienced three straight days of 80*F (26.6*C) heat in April until 2016. Like, never.
In fact, Monday, 18 April, saw the thermometer hit 89*F (31.67*C). It was the warmest day ever recorded in Seattle in April. The previous record was 85*F (29.45*C) in 1976. The average high in Seattle during this time of the year is a way milder 59*F (15*C). The West Coast usually has mild weather all around - no proper summer and no proper winter - so this season is baffling even the oldest residents.
4. Edmonton
Two years can make an astonishing difference to the weather, as residents of Edmonton, Canada found out the harsh way. 18 April 2014 may have warranted a jacket and more. 18 April, 2016, on the other hand, required nothing more than a t-shirt and shorts. This Monday Edmonton hit 25.5*C. This mean the city unofficially broke its 106-year-old record from 1910 when it last hit 25°C.
Back in 2014, the city saw a spring snowstorm that brought with it five centimetres of snow.
5. Singapore
At 36.7*C on 13 April, Singapore recorded its highest temperature in 10 years. As of mid-April, the average temperature for the month was 29.4*C, which is 1.4*C above the norm. Even with rain expected, the maximum temperature could stay around 36*C for the next few days.
March was little better - the driest and second warmest on record for the island country. Eighteen days in March had temperatures above 34*C. And records so far show that 2015 was the hottest year in Singapore's history according to the inaugural Annual Climate Assessment Report released by the Meteorological Service Singapore (MSS). That record may not have long to live.
6. Bengaluru
Bengaluru is a frying pan as it touched 40*C for the first time in its history. On 12 April, the city recorded 40.9*C according to the data collected by Karnataka State Natural Disaster Monitoring Centre (KSNDMC). The all-important 40*C mark was breached around 2:30 pm according to reports.
Here's what one citizen, Mayank Bajpai, thought about the 'achievement':
"Yes!!!! We did it finally. Many congratulations to everyone for achieving this milestone of 40 degrees for the first time in the history of this city!!! Time to celebrate this wonderful feat by buying another, bigger SUV, cutting down the next tree you see and buying an apartment in the lap of nature after the builder has cut hundreds of trees to provide you that paradise you can finally call home for an easy EMI deal so hard to refuse. Let us also spread some dust around to show how much we care. Unfortunately plastic is banned now, but we can still print some flexes with our friends, relatives, and their friends in one montage and tell ourselves what a great job we have done."
7. Chandigarh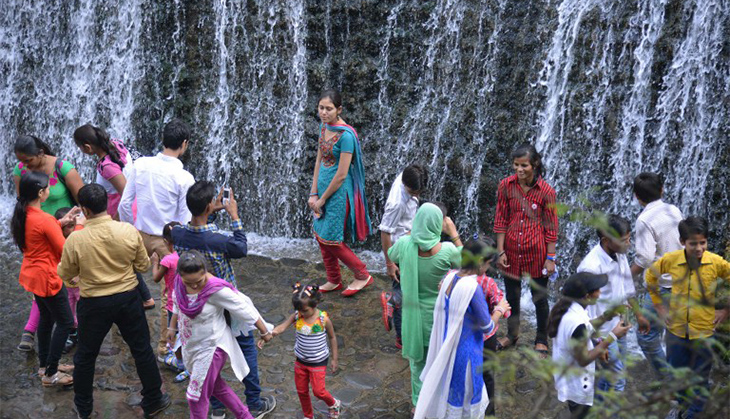 Photo: Narinder Nanu/AFP

At 40.6*C on Sunday, 17 April, Chandigarh is among a number of cities in Northern India to have already crossed the 40*C mark. The recorded temperature is the highest not only for 2016 but also in the past five years. The highest in the past 10 years has been 43.2*C set in the April of 2010. For April though, this is unusual, as temperatures flirt with the 40* mark but never usually touch it.
8. Delhi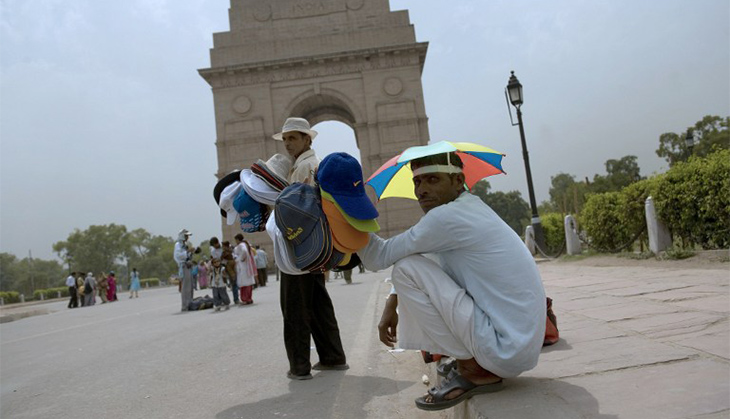 Photo: Manpreet Romana/AFP

When there are weather records to be set, Delhi never disappoints. On Thursday, 14 April, Delhi hit the 41*C mark - and then just a day later, breached 44*C - that's six degrees above normal for this time of year. Already, in the first week of April, many parts of the National Capital Region hit their highest temperatures in the last 10 years.This heatwave is being attributed to the absence of pre-monsoon showers.
9. Kolkata
Kolkata sweated it out with its hottest day in April in the last 10 years. Monday the 11th saw the mercury touch 41.3*C. All schools were forced to shut due to the relentless heat. The temperature surpassed the previous record of 41.2*C recorded in 2009 and 2014. Back in 1980 was the last time it was this hot, when the mercury touched 41.7*C.
The all-time record for the month of April is 43.3*C, recorded on 25 April 1954 - a record Kolkata would do a lot not to break anytime soon. 
"Daily life is becoming increasingly difficult to lead in Kolkata. We can still go and sit in our air conditioned rooms during work. But there are thousands suffering on the streets, not down to the heat but the humidity. One just needs to step out once to get completely drenched in sweat. It is increasing every year, and it's evident that Kolkata is facing the initial wrath of global warming," says Suromitro, a journalist based in the city.
10. Odisha
The capital of Odisha, Bhubaneswar, created history as it blew away its 30-year-old record by touching 45.7*C on Monday, 11 April. It's the highest ever temperature in the month of April; the previous record was 45*C set on 23 April, 1985.
Sonepur, a distrit in Odisha, touched 46*C on 18 April. 16 towns, if not more, recorded temperatures above 40*C. Schools have been forced to shut till 26 April due to not just the heat wave but also a water crisis in the state.
11. Other cities
Downtown Los Angeles set a record when it reached 90*F (32.23*C) on Tuesday, 16 February. The average high was in the 60s (15-20*C).
Where is Feb? Warm #BayArea weather led to more record highs today. Cooler, near normal temps Wed through late week. pic.twitter.com/8XgEQGvZHZ

— NWS Bay Area (@NWSBayArea) February 17, 2016
In Ventura County, Camarillo, the temperatures hit 92*F (33.34*C).
As the trend grows, and the heat gets more and more unbearable, the only thing that seems certain is that these records are not here to stay - they're likely to be broken by the next wave of disaster very soon.
Edited by Payal Puri