The heartwarming story of 3 school boys who run a website to save tigers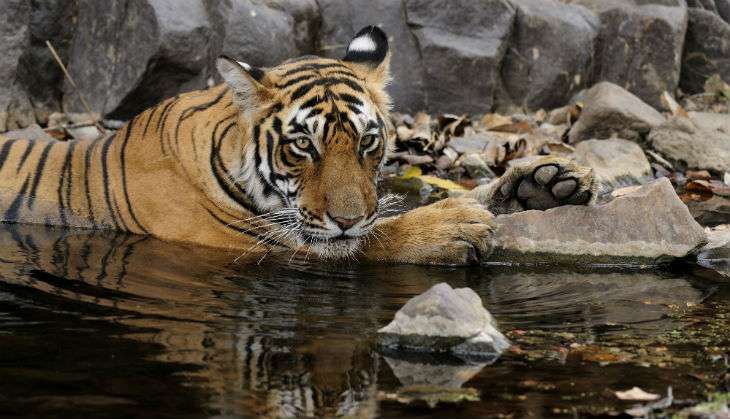 "We wanted to save tigers, so we made a website". The logic is as simple as that. But when you learn that the people behind this much needed endeavour aren't adults - but little boys - you have to fight the irresistible urge to hug them.
Three summers ago, Aadarsh Kumar and Shubham Love, then aged 12, decided to do their bit to save tigers. Kumar and Lov are batchmates, neighbours and best buddies. Taken in by their zest, Aadarsh's little brother, Arjun, who was 9 at the time, also decided to join in.
While the older boys set up the website to spread the word on the importance of saving tigers amongst schoolmates, teachers and neighbours, Arjun embellished the website with the very basics.
Also read - World Environment Day: tiger numbers on the rise, but so are threats
"The tiger looks like a big cat. It has a long tail. Its strong body is brownish with black stripes on it. Its padded feet have sharp claws. Its four teeth, two in the upper jaw and two in the lower jaw are sharper and stronger than the rest."
A little awkward, sure, but it's straight from the heart of a 9-year-old.
After a little nudging, the boys tell Catch their story.
"Some years ago, while watching TV we learned that tigers are an endangered species and we all need to do our bit to save them. Gradually we became interested in this issue and started reading up about it in newspapers and on the Internet," says Shubham.
"We launched a blog on tigers soon after - collecting tiger trivia and tiger pictures. When we started registering hits on the blog, we decided to launch a dedicated website. But we didn't have funds for that. So we went door-to-door in our neighbourhood educating people on the importance of saving tigers and collecting donations to launch our website. We collected around Rs 1,700 in our neighbourhood and pledged to contribute whatever we earn from the website for the welfare of tigers," says Aadarsh.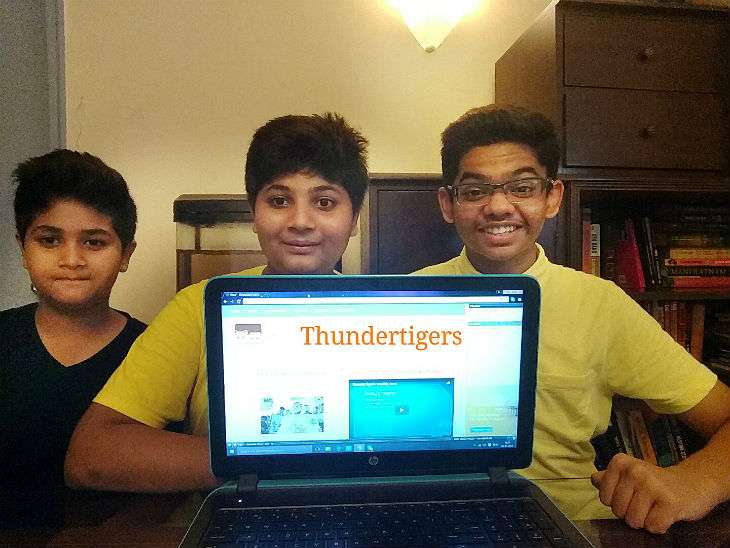 Arjun, Aadarsh and Shubham.
Thunder Tigers
Ever since they launched their website - with a little help from Shubham's older cousin to tide over the technical issues - it has kept track of tigers. Their count, their deaths, news related to their poaching, and, of course, an exotic picture gallery.
On their homepage is a link that explains their initiative. The boys want to help increase the tiger population. For that they want to create awareness amongst people to not kill tigers.
"But we need your help! Because you would help us spread awareness. You just have to tell everyone about our initiative and the website. By this tigers would be saved. Please help. Join us in this initiative" - reads a note on thundertigers.weebly.com.
Also read - International Tiger Day: Ranthambore and its majestic cats
The boys painstakingly explain how tiger habitats have been taken over by humans. How their habitats have been destroyed, degraded and fragmented by human activities, including the clearing of forests for agriculture, timber and development activities such as the building of roads.
"Fewer tigers can survive in small, scattered islands of habitat, which lead to a higher risk of inbreeding and make tigers more vulnerable to poaching," reads a post on the website.
Myth busting and educating people
The boys have also listed silly myths associated with the various body parts of tigers and how they are commercialised.
According to their research, a tiger's eyebrows are used to protect people from the evil eye. The skin of the forehead is believed to bring prosperity and good luck. Tiger's whiskers are said to protect from malicious curses. The tail is used for magic, the teeth to make lockets that guarantee safety, and the skin to protect humans from other animals.
Tiger bones, they say, is a sign of wealth, paw soles are used in magic rituals, and claws are converted into beautiful pendants.
Also read - Tiger tourism is an amazing experience. It just needs proper monitoring
To introduce an element of fun, there's also a tiger quiz for visitors both to see whether you've learned anything as well as to remind you there's so much you still may not know about the big cats.
There's also a visitors' poll to see if their site is having the effect they hoped it would.
What next for Thunder Tigers
Apart from the monthly meetings they hold to discuss tiger-related news and issues, the boys are now trying to take their initiative to another level.
"The pressure of studies is building up and we need to make our initiative more focussed. We want to talk about saving other animals as well - not just the endangered animals, but also the ones we live amongst - cows who in the absence of green patches chew on plastic, donkeys who are made to work till they collapse, birds that are disappearing from our horizon, stray dogs and cats who are important for our ecology."
India could surely do with more such 14-year-olds -- those whose hearts bleed, not just for tigers, but for all animals.