#DroughtDiary: Farm loans rise in Maharashtra; water supply schemes fail in Gujarat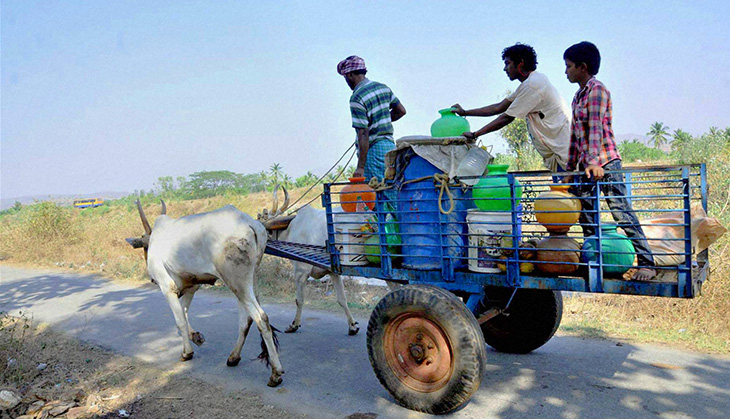 Local newspapers often tell stories that fall outside the national media\'s attention. As a severe drought grips large parts of India, Catch curates important, interesting and ignored stories from the hinterland.
01
Vidarbha: Farm loans rise as Maharashtra govt pushes unfeasible tech on farmers
The Vidarbha region in Maharashtra is infamous for farmers committing suicide because of pressures to repay farm loans. The region is also under a heat wave and drought. Now, it has emerged that lakhs of farm loans are unpaid because the government pushed a technology on them that was almost known to not work - shade nets and polyhouses.
This technology, which had seen some success in western Maharashtra, was strongly pushed in Vidarbha by the State's agriculture department, reports Marathi daily Loksatta. Except that it works only when temperatures range between 18-20 degrees Celsius and there is ample water supply.
Both conditions don't apply in Vidarbha; temperatures range from 30-45 degrees and there's a well-known shortage of water. As a result, farmers who had to borrow money to set up this technology, are seeing neither output nor income according to the report. The average borrowing in the region has also gone up from Rs 15 lakh to 22 lakh.
02
Gujarat: Govt water supply scheme fails, 80 villages near Ahmedabad face scarcity
80 villages across Mandal, Detroj and Viramgam blocks of Ahmedabad district are facing a water crisis as the government water supply scheme has failed to actually deliver water. The villages are satisfying their water demand through borewells.
But in 15 villages, the pumps burnt out because of overuse of the borewells. They have requested the Zilla Parishad (the elected district body) to replace the pumps, but the Parishad is unable to as it does not have enough funds, according to a report in the Gujarati daily Gujarat Samachar. The report adds that in many villages the state government has fraudulently got certificates signed from villagers, saying that they have received water from the scheme and are satisfied with it.
Also read: #DroughtDiary: Breweries water supply cut in half, mid-day meals and 1.5-feet deep wells
03
Jharkhand: Farmer commits suicide after a 700 feet borewell fails
In a tragic incident in Jharkhand's Giridih district, a young farmer committed suicide after a 700 feet deep borewell failed to yield water. The borewell was for a handpump and the farmer, Dilip, was upset that it did not yield water even though one usually strikes water at an average 250-300 feet in the region, the farmer's father told Bhaskar.
The drilling happened at night. Upset with its failure, Dilip walked to a nearby well and jumped in it. His body was discovered by a few women the next morning as they went to fetch water from that well. This was the only well in the village, besides two other handpumps.
Also read: #DroughtDiary: Of bird excreta in tanks and MS Dhoni's swimming pool
04
Madhya Pradesh: Govt to link Parvati and Ajnar rivers to quench Bhopal's thirst
The Madhya Pradesh government plans to spend Rs 350 crore to link Parvati and Ajnar rivers to supply water to Bhopal. The Parvati-Ajnar-Kolar link will follow the Sip-Kolar river linking project. This includes a 13 km canal from Ajnar to Kolar river, followed by a 27 km long underground tunnel.
The water resources department already has a proposal ready, but it will begin preparing a detailed project report after 30 April and finish it by September, reports Patrika. The government expects the link to be functional in about four years from now.
Edited by Anna Verghese
Also read: #DroughtDiary: Marathwada reservoirs at 3% of capacity, 11-year-old dies while fetching water