#DroughtDiary: Chhattisgarh forgets to repair canals, drought relief in Ahmednagar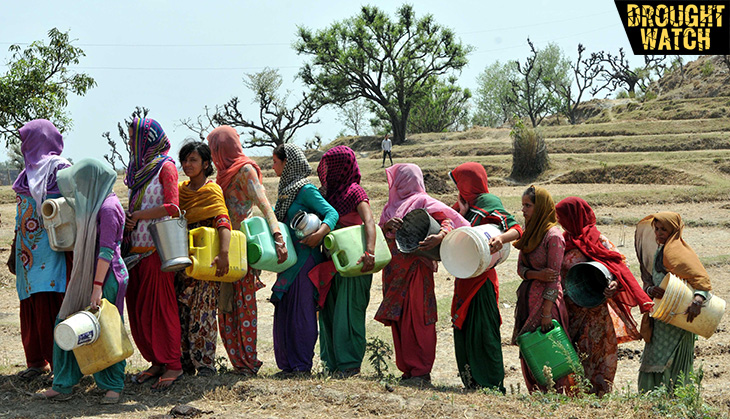 Local newspapers often tell stories that fall outside the national media's attention. As a severe drought grips large parts of India, Catch curates important, interesting and ignored stories from the hinterland.
Chhattisgarh: Plan to fill up lakes with dam water fails as officials forget to repair canals
The Chhattisgarh administration was left red faced after a plan to fill up lakes in a drought-hit area in Mahasamund district failed miserably, Patrika reports. The water was to be released from Kodar dam to benefit 50 villages, but the government forgot to repair the canals which had broken in many parts.
As a result, most of the water split away. The plan was to release 150 cusecs of water to fill up 150 lakes for 50 villages. But the canals were broken, had trees growing out of them, and had also silted up in places. In fact, the government had even sanctioned around Rs 3 lakh for repairs, and even set up 12 committees to oversee the works.
Also read - Disaster map: how the spreading drought has ravaged India
Marathwada: Drought relief announced in 953 Ahmednagar villages as winter crop fails
In Maharashtra's Ahmednagar, the district administration has announced drought relief measures in 953 villages after the winter rabi crop failed, according to a report in Marathi daily Lokmat. In these villages, more than 50% of the crop was found to have failed.
More than half the summer kharif crop had failed in 581 villages. Based on visual observation, a scarcity situation was declared in 408 villages in March. But no drought relief work was taken up. The relief measures were finally announced on 28 April - these include water supply from tankers, tax exemption, 33% discount on electricity bills, and exemption from school examination fees for their children.
Gujarat: Saurashtra town starts getting water every 7 days even when dams have water
Residents of Veraval town in Gujarat's Gir-Somnath district are getting water once in 7 days despite nearby reservoirs having adequate water, reports Gujarati daily Gujarat Samachar. Because of a lax municipal administration, there is no proper management of water and as a result water that would come once in 3 or 4 days now comes in 7, the report adds.
Officials of the Hiran dam have reportedly written to the municipality that there is enough water for three months, and there is continuous supply from the Mahi river, but the municipal administration is not supplying the water to residents, the report adds.
Also read - #DroughtDiary: Breweries water supply cut in half, mid-day meals and 1.5-feet deep wells
Jharkhand: MLAs unable to pay for water projects until after the monsoon
Members of legislative assembly in Jharkhand are of little use in the state's crippling drought, which has been officially declared in all the but two districts in the state. According to a report in Dainik Jagran, MLAs are unable to release funds for water related programmes, until the accounts related to their expenditure in 2015-16 are settled with the state administration. Because of this, they are unable to commission new work until the monsoon, although there is a dire need in the summer.
Those already in progress have come to a halt. The accounts will be settled only by September, and fresh funds can be released only by November. The report quotes Biranchi Narayan, MLA from Bokaro, saying that some legislators are planning to meet the state's chief minister to raise the issue.
More in Catch - #DroughtDiary: Farm loans rise in Maharashtra; water supply schemes fail in Gujarat
#DroughtDiary: Of bird excreta in tanks and MS Dhoni's swimming pool