As we debated nationalism, our Rabi crop fell flat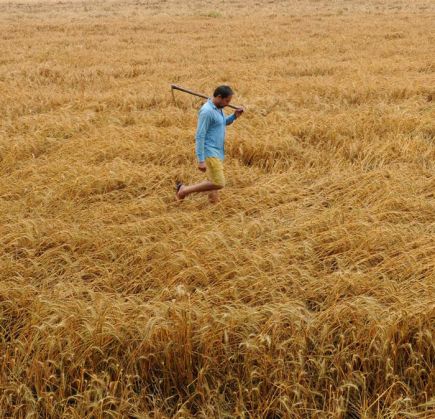 The latest
Unseasonal rains have wreaked havoc across half the country
The remaining half is reeling under a drought
Winter crops across Punjab, Haryana, Rajasthan, Uttar Pradesh, Madhya Pradesh and Maharashtra stand destroyed
What has the govt done
Is promoting crop insurance as a silver bullet, although it excludes 80% farmers
Failed to communicate weather patterns to farmers
Failed to assess the damage
More in the story
How does the govt assess damage
Why crop insurance scheme will not help agrarian crisis
A 500% change isn't something you come across often, least of all at your workplace. But half of India's working population-the farming community-is getting used to it the hard way.
Rains, which support nearly all farming related activities in India, have been wreaking a havoc across the country.
Rainfall across India in March has been 300-500% higher and often were accompanied by hailstorms. As a result, winter crops across six Indian states - Punjab, Haryana, Rajasthan, Uttar Pradesh, Madhya Pradesh and Maharashtra-stand destroyed.
Also read - Victory for farmers: Why the govt was forced to backtrack on GM mustard
Winter crops are sown after the monsoons and harvested in April. But between 1 March and 9 March, 15 of 36 weather subdivisions in India received excessive (20% above normal) rainfall. Rajasthan and Maharashtra's Marathwada, Vidarbha regions received 325-581% above normal rainfall. Only two subdivisions in India received "normal" rainfall.
Rain and the accompanying hail has damaged upto 60% standing winter crops across the country, according to several estimates, although, an official assesment is yet to be mage.
Meanwhile, the remaining half of India received too little rainfall-Karnataka has already declared a crop failure worth Rs 7,200 crore because of a drought like situation.
Winter crops across six Indian states-Punjab, Haryana, Rajasthan, Uttar Pradesh, Madhya Pradesh and Maharashtra-stand destroyed
While the government maintains that the situation isn't bad because much of the winter crops were sowed later than usual owing to last year's drought, up to 60% wheat and mustard, the main winter crops, have been destroyed across the country.
Here's how the government can mitigate the impending disaster and how the government has fared on those counts, according to experts.
Prediction and communication: While the government has done a fair job of predicting rainfall, the information hasn't reached the farmers. Warnings were issued only on government-run Kisan channel. This is barely enough, says Akshay Deoras, an independent weather forecaster who provides the information to farmers in Maharashtra. The government has a system to send weather updates by SMS, but Deoras said that each state has less than 20 lakh farmers enrolled. "What is the benefit of having good predictions if it isn't reaching the farmers?" Deoras asks. This is something that the government can work on immediately. He cites the example of Maharashtra, which conducted a special drive last year, enrolling 39 lakh farmers in just nine months.

Insurance: Can crop insurance help farmers affected by such unseasonal rainfall? No.

Prime Minister Narendra Modi's much touted crop insurance scheme comes into force only beginning the next Kharif season. Besides, there are still several unresolved concerns in crop insurance. For example, whether a farmer is eligible for an insurance payout still depends on the local officials assessing damages. Besides, it is only available to farmers who take loans from banks. This criterion excludes small and marginal farmers, form 80% of all Indian farmers. Critics say that insurance isn't the solution for such crises. "Adequate and immediate crop loss compensation is the need of the hour to save lives of farmers, [but] the Central Government is pushing crop insurance as the silver bullet for saving farmers," says a statement by the Swaraj Abhiyan.
Assessment: The process is fraught with corruption. Currently, local officials record damages on the fields, but such assesments are understated and prone to corruption. A lengthy bureaucratic process follows, and it takes at least four months for the money to be finally disbursed. Reforms have been proposed but haven't yet been taken up, says Sudhir Panwar, member, Uttar Pradesh State Planning Commission. He said that there has been talk of foolproof solutions like using satellite imagery, or having officials declare their assessments at in-camera village meetings but "no new process has yet evolved.".
Can crop insurance help farmers affected such unseasonal rainfall? No
Compensation: Compensation for crop damages is quite low in India. After the 2015 wheat crop failure, even farmers whose entire crop was damaged got compensation that covered only 28-67% of their costs, according to calculations by Centre for Science and Environment. The government says more than being compensations the amount disbursed to farmers is a relief amount. It is never meant to fully cover losses.
"What is the benefit of having good weather predictions if it isn't reaching the farmers?"
Food Security: Risk of starvation accompanies agrarian crises, but several states have failed in ensuring that cheap foodgrain is made available in such times. Following the 2015 monsoon failure, several states were compelled to provide cheap foodgrains under the National Food Security Act by the Supreme Court. In February, the Court pulled up various state governments and the Centre for not ensuring the implementation. The case is coming up for hearing again on 30 March.
According to forecasts, more thunderstorms are expected in the coming weeks. Is the government listening?
Edited by Cyril Sam
More in Catch - Pics don't lie: would you rather preserve these beauties or build Mopa airport?
Forget Green Revolution. Punjab's farmers are now killing themselves
A farmer's wake-up call to India: try to understand why we die