World premiere of Vikramaditya Motwane's Trapped bores on Day 6 of MAMI
Up at 8AM for the final time of this MAMI experience to make bookings for day 7, there was more than a hint of wistfulness. Soon I'd be back in smoggy Delhi, working the 9-5 grind and watching the news instead of movies. My melancholy was exacerbated when I didn't manage my first choice movie for day 7 - Manchester by the Sea (the closing film). Realising I'd be going standby, I resolved instead to focus on what day 6 had to offer.
After 5 days of navigating MAMI, you'd think I'd have got the hang of things, but, as it turns out, Mumbai traffic means you're always racing against time. Well, at least if you're like me and prefer to Uber it than take the local. Turns out it wouldn't have mattered because at the penultimate turn there was chaos. No one was obeying traffic lights and there were no cops in sight. Seeing no other way out, I decided to dash to the theatre, a fifteen-minute walk with Google Maps as my navigator.
Also read - MAMI Day 5: Things to Come wins the day as The Untamed disappoints
Luckily, I found an auto on the way and made it just as the introduction to the film, Uday Shankar's restored classic Kalpana, was going on. After sitting down for the national anthem, it was time for the 1948 work of art to light up on the big screen.
Kalpana
Unlike yesterday's Donkey In a Brahmin Village, this one was fantastically restored. It's a dance drama and has been written and directed by Uday Shankar - a dancer himself. It's also his only film and, some would say, a cult classic.
One of India's earliest indie films, it stars both Shankar as well as his wife Amala, and marked the acting debut of a then 14-year-old Padmini. The tale is narrated through dance and is quite relevant even to this day. The film is about a young dancer and his dreams of opening up his own dance academy, a plot that mirrors Shankar's own life.
One of the best scenes in the film is when, at the end of the dance troupe's performance, the financier asks the director for money. The director doesn't bow down to his financier and, as the movie goes on, we learn that all he wants is for his art to be alive and thriving. The dancing has a charm to it, the choreography even more.
Also read - MAMI Day 4: A mixed bag with Maroon, Multiple Maniacs and The Wailing
The newly restored version is about an hour longer than what was earlier available on VHS tapes and though the dancing might seem to be in excess, the whole film comes together and even though it isn't a film for the masses, a lot of film enthusiasts will be intrigued.
After a dance-heavy movie, my next movie for the day was Lis Rhodes' immersive experience Light Music.
Light Music
The theatre was packed to the brim. Thankfully it was split into two batches. Screening two 16mm projections across each other is one thing. Screening them in a theatre is another. This installation is more suited for a museum. In fact, it was part of the Tate Modern in London for a couple of months in 2012.
I'll let their description do the talking, "Formed from two projections facing one another on opposite screens, Light Music is Rhodes' response to what she perceived as the lack of attention paid to women composers in European music.
"She composed a 'score' comprised of drawings that form abstract patterns of black and white lines on-screen. The drawings are printed onto the optical edge of the filmstrip. As the bands of light and dark pass through the projector they are 'read' as audio, creating an intense soundtrack, forming a direct, indexical relationship between the sonic and the visual. What one hears is the aural equivalent to the flickering patterns on the screens".
A ten-hour film!
After a quick break, I walked in to catch a few scenes of the 10-and-a-half-hour movie by Lav Diaz, Evolution of a Filipino Family. This one is about the collapse and hopefully, revival of a farming clan. It's meant to symbolize the history of the nation in the 70s and 80s. Broken into two parts and playing over the final two days of MAMI, this one is a slow burner.
It really is something only for die-hard movie enthusiasts and those "international cinephiles at the most daring fests and showcases". A good 25 people were sat in PVR's Gold Class for this one. I am most probably going to enter the hall tomorrow, near the end, to see who is left. If only it had played all in one day, I would have gone. Playing over two days means I miss one too many movies, and I wasn't willing to take the risk.
When The Two Worlds Collide
Next, I went in for the much-talked about feature length documentary When The Two Worlds Collide. The documentary is about "an indigenous environmental activist takes on the large businesses that are destroying the Amazon". It takes you right to the frontlines, "between powerful, opposing Peruvian leaders who will stop at nothing to keep their respective goals intact".
It may have been shot over several years, may be unbiased filmmaking, and may even tell a powerful story, but there were many walkouts, people sleeping, and, on the whole, just doesn't keep your interest going. I'd been told that "as a journalist, you'd really like it." I didn't like it. Many others didn't too.
I'm usually against the idea of not completing a movie, but food breaks are at a premium when you're cinema-hopping, so I decided to step out.
Breaking free from the shackles of boredom and one decidedly underwhelming frankie later, I entered the venue for the world premiere of Vikramaditya Motwane's latest Trapped.
Also read - MAMI Day 3: Cinema Travellers, Aquarius, After the Storm and more traffic
Trapped
Starring Rajkumar Rao, the plot is simple - the lead actor is looking for a new place to stay because he is about to get married. Little does he know that on his first night staying there on his own, he gets trapped inside and can't escape.
Despite the standing ovation (for Rajkumar Rao and not Vikramaditya Motwane), the movie wasn't particularly good. It's a formulaic survival drama movie and very predictable. I'll give the movie marks for concept and direction because it really does give you a feel of Bombay. Beyond that, nothing.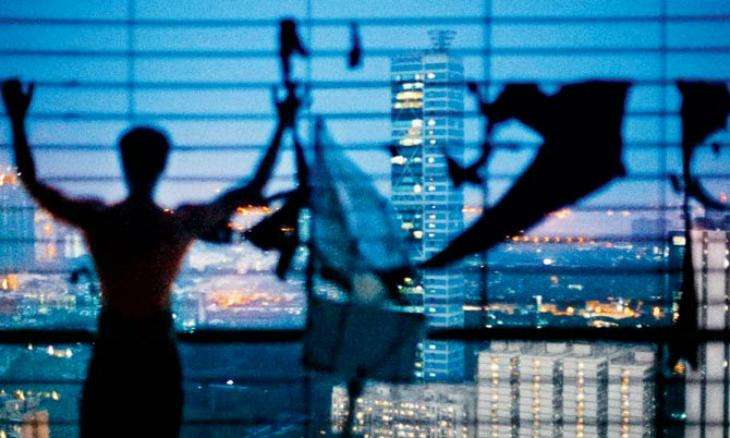 A still from Trapped.
An unconvincing and unemotional lead lets the film down as does the director not wanting to push the boundaries of the genre. It was a film inspired by the director's fear of rats, clearly not enough to inspire the movie buff in me.
Instead, I felt like I was 'trapped' inside the venue (which may or may not be a compliment to the film). 127 Hours and Cast Away were the other two movies being discussed in the same breath, but those two are much better films than Trapped. Trapped will be a film festival hit but commercially it probably won't do well. While the initial reviews were positive, I think in hindsight the movie will be seen as a dud.
It's good that the Mumbai Film Festival is managing to get premieres of director's who have just finished their film and/or aren't confident about the movie. This one though, was a letdown. Some say that Trapped is better than Death in a Gunj but I disagree completely.
I've now seen well over 20 movies as I head into the last and final day of MAMI. This has been a very good festival and as lots of people including some from the film circle said, "one of the best organised MAMI's ever". It is one I will not forget even though I missed out on some of the movies I really would have liked to have caught on the big screen. On to the final day!