Soorma movie review: A sports biopic that is designed to please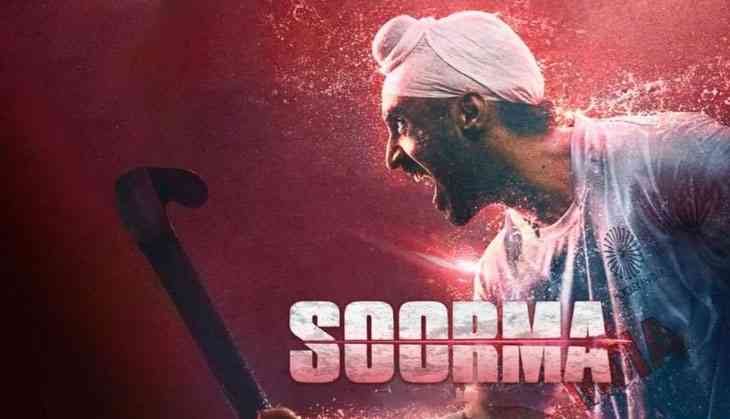 Soorma is a predictable film, the kind whose ticket people buy because they know it will make them feel good – a 'good man' from a humble background makes the country proud through sporting excellence. You have seen it many a time but won't mind another good bout.
That works for director Shaad Ali. Soorma may turn out to be that hit that he hasn't had since Bunty Aur Babli (2005) – Jhoom Barabar Jhoom, Kill Dil and OK Jaanu did not really set the cash registers ringing.
This time he played safe, perhaps too safe. Soorma tracks the rise of Arjuna awardee Sandip Singh, his battle with disability and his return to Indian hockey. A 131-minute runtime is enough to trace this curve. But Ali spends too long in building his Punjab / Haryana milieu and in building his characters – almost the entire first half.
The result: the big crisis point – an accidental gunshot that paralyses the protagonist – and his struggle to claw back get squeezed. The script (Ali, Suyash Trivedi and Siva Ananth) should have been more evenly paced.
That apart, the screenplay is designed to please: it lets the audience find enough time to empathise with the protagonist and the characters around him, enjoy the thrill of field hockey and wait for the victory of India and an Indian hero. The dialogues are a mix of Punjabi and Hindi.
Nothing new in that though. A gamut of sports films in Hindi have done this since Chak De India broke new ground in 2007. Like most of them, Soorma maintains a certain quality of production. The hockey sequences look real, albeit mostly close-ups. Notably, the key characters look at ease holding their sticks.
Such films need deft handling of the camera, and Chirantan Das doesn't disappoint. Farooq Hundekar's editing is in line with the scripting pattern. Sharmishta Roy's production design makes for convincing middle-class households. Shankar-Ehsan-Loy's score matches the tempo, but perhaps, would not have a great recall.
Diljit Dosanjh does a good job as Sandip – mostly as good as the script lets him be but at times bringing in a lot to the table, especially in his on-field body language as the man who hit the fastest drag flick. Angad Bedi's performance as his older brother Bikramjeet can be seen as a demand for bigger parts. Vijay Raaz effortlessly succeeds as Sandip's saucy coach – a little too saucy at times, but again a problem in the writing. The rest of the cast, including Satish Kaushik and Kulbhushan Kharbanda, throw in able support.
Tapsee Pannu, as Harpreet – Sandip's muse, perhaps turns in the most stellar performance. She is making a habit of it actually and no one is complaining. Her character is both the narrator and, in a way, a foil to the protagonist.
Shaad Ali succeeds in helming the project to its desired conclusion – leaving the audience upbeat. As he did in Bunty Aur Babli in 2005. That was a long time ago. Perhaps he could have aimed for some more goals.