So much TV, so little time: 5 (and more) series to look forward to in early 2017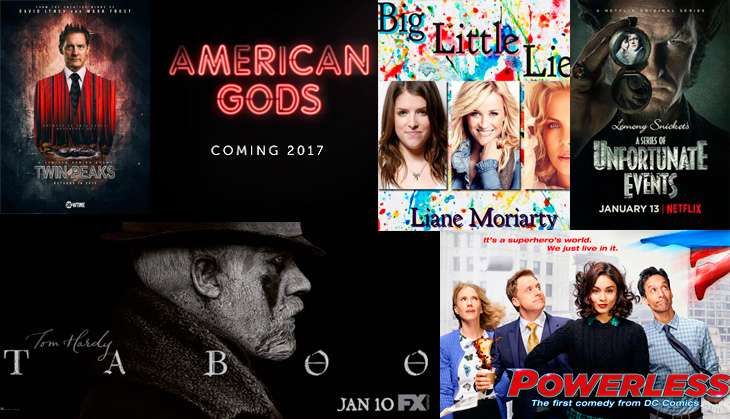 We've all got our fingers crossed with the hope that 2017 doesn't resemble 2016 in any way - except for on television.
Luckily, TV looks like it's going to keep up its winning streak by giving us a whole new crop of fabulous series.
This list of shows we're looking forward to in the upcoming year doesn't include staples such as Sherlock, Stranger Things, Game of Thrones, American Horror Story and others that we are bound to watch no matter what.
Also read - The 11 best TV shows of 2016: television's 'golden age' packs a suckerpunch
A few others not included are those that released right at the end of 2016 - Netflix's The OA and Guillermo del Toro's Trollhunters. But they still deserve a watch.
1. Taboo (7 January, BBC1)
Last year, BBC1 gave us the wildly successful The Night Manager starring Tom Hiddleston.
This year, they're back with another mini-series with another Tom - Tom Hardy - in what is possibly one of 2017's most anticipated TV shows all thanks to a few naked images of the actor on the sets of Taboo.
But it has a whole lot more under the hood - the eight-episode miniseries is penned by Hardy's Locke writer/director Steven Knight (Eastern Promises, Peaky Blinders), and is based on an idea from Hardy and - wait for it - his father, Chips Hardy.
Hardy plays James Keziah Delaney, who returns to 1814 London after 10 years in Africa to discover that he has been left a very odd legacy by his father. He decides to go after those who have wronged him, but then finds himself up against traders of the East India Company, as well as being caught up in a dangerous game between warring nations Britain and America.
It's produced by Ridley Scott and co-stars House of Cards' Michael Kelly, Game of Thrones' Oona Chaplin and Jonathan Pryce.
So luckily, it's not long before we can get our weekly fix of Tom Hardy.
2. A Series Of Unfortunate Events (13 January, Netflix)
Based on the Lemony Snicket children's novels, A Series Of Unfortunate Events is a Netflix original following the unlucky but resourceful Baudelaire children and the wicked master of disguise, Count Olaf.
We're already acquainted with the story thanks to the 2014 movie starring Jim Carrey, and this time it's Neil Patrick Harris who's been cast as the evil Count Olaf. He's joined by Patrick Warburton as Lemony Snicket, Joan Cusack as Justice Strauss, Malina Weissman as Violet Baudelaire and Louis Hynes and Klaus Baudelaire.
The eight-part family drama is executive produced by Emmy-winner Barry Sonnenfeld (Men in Black, The Addams Family) and will likely take a similar approach to the movie with dark comedy forming its backbone. So expect fabulously weird performances, elaborate costumes and a completely Gothic setting.
3. Big Little Lies (19 February, HBO)
HBO's limited comedy-drama series, based off Liane Moriarty's best-selling book, follows three mothers whose seemingly perfect lives begin to unravel to the point of deceit and murder.
The dark comedy managed to snag an all-star cast - we're talking Nicole Kidman, Reese Witherspoon, Alexander Skarsgard, Adam Scott, Laura Dern, Zoe Kravitz and Shailene Woodley.
For those who have yet to read the book, it's been described as "possibly the funniest book about murder and domestic abuse" ever, one where the characters "love and laugh, rub each other up the wrong way, extend the hand of friendship, spread gossip, resolve to do better, cry and keep secrets - just like real people".
4. American Gods (Starz)
Neil Gaiman's 2001 novel American Gods is slated as the successor of the big book-to-small-screen hit that George RR Martin's Game of Thrones has been.
The series, a mixture of Americana, fantasy, ancient and modern mythology, centres on Ricky Whittle's mysterious Shadow Moon, who's released from prison only to be drawn into a battle between the old and the new gods.
Starring alongside Whittle is Ian McShane as Norse god Odin, and Emily Browning as Shadow's wife, whose death in a car accident leads to his early release. The first season will adapt the first third of the novel, and Bryan Fuller is the showrunner now that his brilliant Hannibal has exited the scene. Other creators behind the project include co-showrunner Michael Green and fellow Hannibal alum David Slade.
Gaiman is reportedly incredibly happy with the way the show has turned out, which means we have nothing to worry about when it comes to this adaptation.
5. Twin Peaks (Showtime)
One of the most anticipated TV shows of 2017 may sound familiar. Twin Peaks is coming back more than 25 years after FBI Agent Dale Cooper initially started investigating the murder of Laura Palmer.
The iconic murder-mystery series created in 1989 by David Lynch and Michael Frost will pick up where it left off, but much further in the future. The fact that the surreal series, which was one of the most important and influential things to happen to modern television in 1990, is returning is a fan victory (when will Firefly return?) of sorts considering how weird and all immersive the original is.
Returning cast members include Kyle MacLachlan, David Duchovny, Miguel Ferrer, Sherilyn Fenn and Alicia Witt. But that's not all: Monica Bellucci, Michael Cera, David Koechner, Jennifer Jason Leigh, Tim Roth and Naomi Watts will all be putting put in an appearance.
So is it a good idea to watch the first two seasons again (it's currently streaming on Netflix)? Yes.
Other notables (because we can't help ourselves):
Z: The Beginning of Everything (Amazon, 27 January)
F Scott Fitzgerald's life was a colourful one; clear to see from his books. But his wife Zelda lived an extraordinary life too, and this Amazon offering focuses on her early years and romance with Fitzgerald, and their superstar status in society. A lush period drama set in the Jazz Age, it stars Christina Ricci as Zelda, a brilliant but troubled soul who helped define an era.
Powerless (NBC)
There are a tonne of superhero shows, but Powerless looks quite different from the bunch. For one, it's a sitcom set in the DC Comics Universe. Second, it's based in ordinary corporate America - in a subsidiary of Wayne Enterprises whose staff deal with the fallout of super-powered conflicts. The cast includes Vanessa Hudgens (High School Musical), Alan Tudyk (Firefly) and Danny Pudi (Community).
Legion (FX)
Another entry into the superhero world is Legion, an extension of Fox's X-Men franchise, based on the Marvel comics. This one, coming from Noah Hawley, the creator of Fargo, will centre around David Haller, a schizophrenic yet powerful telepathic and telekinetic mutant who may or may not be Professor X's son.
Dan Stevens of Downton Abbey will play the lead role of Haller, along with Aubrey Plaza (Parks & Recreation) and Fargo alumni Rachel Keller and Jean Smart. It's set to premiere in February.
Riverdale (The CW)
Premiering on 26 January, the show is a darker take on Archie and his gang: Betty, Veronica, Jughead and Reggie. Meant to be a Twin Peaks-like surrealist drama, the trailer makes it look like a cross between The Vampire Diaries, Gossip Girl and Pretty Little Liars.
The show is being spearheaded by Roberto Aguirre-Sacasa, the current Chief Creative Officer at Archie Comics, who has been behind the renaissance there which has allowed the series to tell more diverse stories. It stars KJ Apa, Cole Sprouse and Camila Mendes as America's favourite teens.
Iron Fist (Netflix)
Marvel and Netflix have done a solid job of working together - Jessica Jones and Luke Cage beat all expectations. Iron Fist, which follows Danny Rand (Finn Jones), a rich kid who returns home to New York after being missing for years with expert Kung fu skills and the ability to call on mystical powers, will be their next foray together and will likely carve out its own corner in Marvel's ever expanding cinematic universe.
It debuts 17 March.
Star Trek: Discovery (CBS)
The Star Trek movies starring Chris Pine have seen their fair share of success, which is why CBS probably thought it was the right time to revive the series. Developed by Bryan Fuller again, the 13-episode series will reportedly tell the story of "an incident in Star Trek history that's been talked about but never been explored".
Sharp Objects (HBO)
Based on the novel by Gone Girl author Gillian Flynn, the eight episode season will tell the story the story of Chicago reporter Camille Preaker (Amy Adams) who, fresh from a short stay in the psych ward, returns to her hometown to cover the murders of two teenage girls.
Dallas Buyers Club director Jean-Marc Vallée has been roped in to bring the dark book to life.
More in Catch - Monster guide: 21 new TV shows you shouldn't miss in 2016
Monster guide II: 25 new TV shows to start obsessing over