Oscars 2018: Sea creature romance film Shape of Water takes top honours in a ceremony devoid of any drama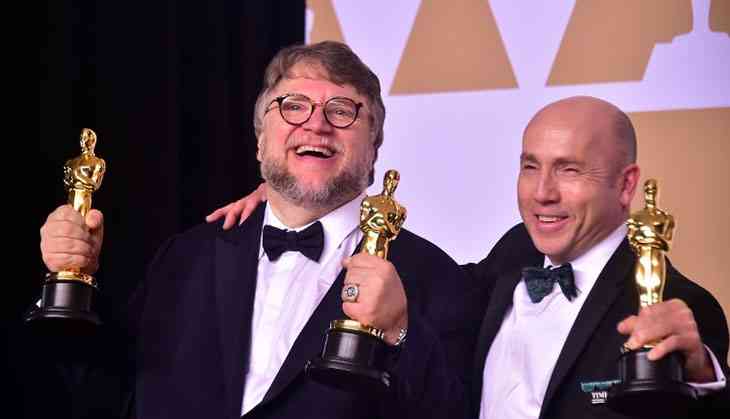 The sea creature romance film by Mexican filmmaker Guillermo del Toro, The Shape of Water, took home the top prize at the 2018 Academy Awards. In a ceremony largely devoid of controversy and upsets, The Shape of Water came out on top with 4 – Best Picture, Best Director, Best Production Design and Best Original Score – Academy awards.
The movie about a cleaning lady falling in love with a sea creature won del Toro his first Best Director Oscar. Del Toro is the fourth Mexican filmmaker to take home the Best Director award in five years. "I am an immigrant," del Toro said. "The greatest thing our art does and our industry does is to erase the lines in the sand. We should continue doing that when the world tells us to make them deeper."
The nearly four-hour telecast, as always, overran the time allotted, but a lot of the discussions steered towards immigrants, cultural divides and females in the film industry.
This was a far cry from last year when the groundbreaking black film, Moonlight, upstaged overwhelming favourite musical La La Land to bag the top honour for Barry Jenkins & Co. Even in 2016, the Academy went with Spotlight, a movie that very few predicted to beat The Revenant.
There were a number of firsts though during the ceremony and some major achievements.
1. Jordan Peele, director of the breakout hit Get Out, became the first ever black person to win the Best Original Screenplay Oscar. Peele beat out the screenwriters of Lady Bird, The Big Sick, The Shape of Water, and Three Billboards.
I just won an Oscar. WTF?!?

— Jordan Peele (@JordanPeele) March 5, 2018
During his speech, Peele said that he stopped writing the film "about twenty times".
2. James Ivory became the oldest ever Oscar winner. At 89 years of age, Ivory bagged the Oscar for Best Adapted Screenplay for his work on adapting the impassioned gay romance novel, Call Me By Your Name. Ivory wore a shirt emblazoned with the face of Timothée Chalame, star of the movie.
3. Roger A. Deakins finally stopped his losing streak. After 13 previous nominations, Deakins won on his 14th nomination in the Best Cinematography category for his work in Blade Runner 2049.
my oscars mood is james ivory's shirt pic.twitter.com/hBTxvFJnod

— ellie (@eleanorbate) March 4, 2018
4. Icarus, the documentary that is a deep insight into Russia's doping program, earned streaming service Netflix its second ever Oscar. It first won last year in the Documentary Short Subject film The White Helmets.
"We dedicate this award to Dr. Grigory Rodchenkov, our fearless whistleblower, who now lives in great danger," filmmaker Bryan Fogel said. "We hope 'Icarus' is a wake-up call -- yes, about Russia, but more importantly, about telling the truth."
5. Lady Bird walked away with zero Academy awards. In what was Greta Gerwig's breakout film and her directorial debut, Lady Bird, a film about a mother-daughter relationship failed to pick up any awards, upsetting a lot of viewers across the world.
6. All the singers were off-key. Yes, you read that right. Tweeters and viewers across the world were upset that even Sufjan Stevens couldn't produce a good performance when he sang Mystery of Love from Call Me By Your Name.
Is it me, or was that guy totally off key singing #RememberMe? #Oscars

— Nishi Hundan (@NishiHundan1) March 5, 2018
It's a real shame, "Remember Me" is such a beautiful song. Wish it's beauty could be replicated live at the #Oscars stage. The performance was so off key :/

— A Humming Heart (@AHummingHeart) March 5, 2018
How is everyone singing at the #oscars off key :'(

— Ritwik Sarkar (@ritwikjsarkar) March 5, 2018
Worst performance ever at #Oscar, Gael Garcia Bernal. I mean, I love the guy but painfully off key and w e a k.

— Ann Kirschner (@annkirschner) March 5, 2018
Little to no upsets
The Oscars for 2018 were devoid of any drama, or as others call it, upsets. Shape of Water was the frontrunner for the major Oscars – despite Three Billboards Outside Ebbing, Missouri's BAFTA win – and Frances McDormand, Gary Oldman, Sam Rockwell and Allison Janney were locked in for the acting Oscars.
The only upsets you could say was in the Best Documentary Feature – Icarus beat out Faces Places – category.
Me Too movement
The Me Too movement got some coverage when Ashley Judd, Annabella Sciorra & Salma Hayek, all three being Weinstein's accusers, got on to stage to introduce a series of interviews. These interviews were about diversity (more woman and people of colour on screen) and the Time's Up movement.
"The changes we are witnessing are being driven by the powerful sound of new voices, different voices, of our voices, who are joining together in a mighty chorus that is finally saying Time's Up," Judd said.
"This year many spoke their truth and the journey ahead is long, but slowly a new path has emerged," Sciorra said.
#Oscars devotes a segment to voices of #MeToo, Time's Up movements https://t.co/ZoxVFVWulT pic.twitter.com/Dt7u1t7ssu

— Hollywood Reporter (@THR) March 5, 2018
Near the end of the show, it was Frances McDormand who gave a fitting acceptance speech. She accepted the award for Best Actress for her role in Three Billboards Outside Ebbing, Missouri. This was her second Oscar after winning for Fargo.
"I'm hyperventilating a little bit," McDormand began her acceptance speech. "If I fall over, pick me up because I've got some things to say."
McDormand urged all her fellow female nominees to stand up and urged the producers to write them checks. "And now I want to get some perspective," she said. "If I may be so honored as to have all the female nominees nominated in every category stand with me in this room tonight. Meryl, if you do, everyone else will.
"Look around ladies and gentlemen, because we all have stories to tell and projects we need financed," she said. "Don't talk to us about it at the parties, invite us into your office in a couple days or you can come to ours, whichever suits you best, and we'll tell you all about them."
Dreamers
All them dreamers out there can thank Lupita Nyong'o and Kumail Nanjiani as they addressed one of the biggest issues of our times, immigrants.
"Like everyone in this room and everyone watching at home we are dreamers," said Nyong'o. "We grew up dreaming of one day working in the movies. Dreams are the foundation of Hollywood, and dreams are the foundation of America."
Nanjiani then added: "To all the Dreamers out there, we stand with you."
Jet ski
Before the night ended, Jimmy Kimmel had to give out the jet ski and a trip to Lake Havasu in Arizona to one lucky winner. It was a prize for the shortest acceptance speech of the night.
"I will be timing you. I have a stopwatch," Kimmel said.
The winner was none other than Phantom Thread costume designer Mark Bridges. His speech clocked in at around 30 seconds.
Here are the list of Oscar winners:
Best Picture: The Shape Of Water
Best Director: Guillermo del Toro, The Shape of Water
Best Actress: Frances McDormand, Three Billboards Outside Ebbing, Missouri
Best Actor: Gary Oldman, Darkest Hour
Best Supporting Actor: Sam Rockwell, Three Billboards Outside Ebbing, Missouri
Best Supporting Actress: Allison Janney, I, Tonya
Best Original Screenplay: Jordan Peele, Get Out
Best Adapted Screenplay: James Ivory, Call Me By Your Name
Best Animated Feature Film: Coco
Best Foreign Language Film: A Fantastic Woman
Best Documentary — Feature: Icarus
Best Documentary — Short Subject: Heaven Is a Traffic Jam on the 405
Best Live Action Short Film: The Silent Child
Best Animated Short Film: Dear Basketball
Best Original Score: Alexandre Desplat, The Shape Of Water
Best Makeup and Hairstyling: Kazuhiro Tsuji, David Malinowski and Lucy Sibbick, Darkest Hour
Best Costume Design: Mark Bridges, Phantom Thread
Best Sound Editing: Richard King and Alex Gibson, Dunkirk
Best Sound Mixing: Mark Weingarten, Gregg Landaker and Gary A. Rizzo, Dunkirk
Best Production Design: Paul Denham Austerberry, Shane Vieau and Jeff Melvin, The Shape Of Water
Best Visual Effects: John Nelson, Gerd Nefzer, Paul Lambert and Richard R. Hoover, Blade Runner 2049
Best Film Editing: Lee Smith, Dunkirk