Oscars 2017 – Trump, diversity and a goof up; Moonlight wins Best Picture over La La Land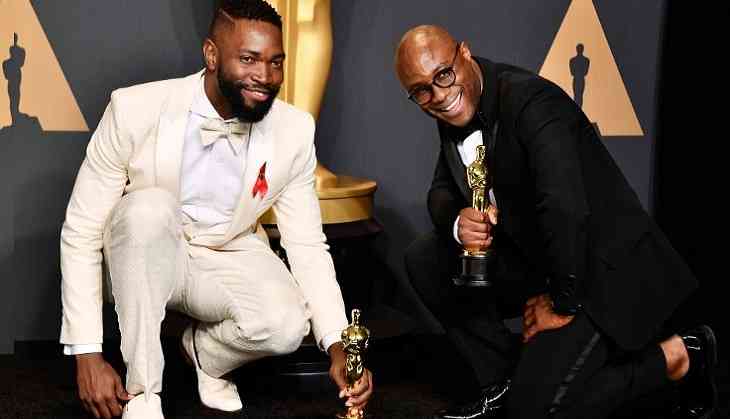 (FRAZER HARRISON / GETTY IMAGES NORTH AMERICA / AFP)
The whole world was shocked as Faye Dunaway and Warren Beatty, stars of 1967's Bonnie and Clyde, read out La La Land as Best Picture. It took a few minutes before they realised that the actual Best Picture winner was Barry Jenkins' Moonlight.
The La La Land winners were gracious enough to announce Moonlight as winners and hand over the golden statues to their friends. This was a huge upset for them, made even more shocking by the mix-up.
"This is not a joke, Moonlight has won best picture, " Justin Horowitz said to a confused audience. "Moonlight. Best picture."
"I blame myself," Jimmy Kimmel told the crowd. The gaffe barely felt appropriate despite it being a night full of Trump-bashing and many silly moments.
Team Moonlight was as shaken up as everyone else. Perhaps more so. "Very clearly, even in my dreams this could not be true," Jenkins said after accepting the award. "But to hell with dreams! I'm done with it. This is true."
Backstage, Best Actress winner Emma Stone had this to say: "I also was holding my Best Actress in a Leading Role card that entire time. So whatever story that was, I had that card. So I'm not sure what happened and I really wanted to talk to you guys first."
Here's what Barry Jenkins had to say backstage:
OK and now here's Barry Jenkins' reaction backstage: pic.twitter.com/0hYotOVzAI

— Marc (@MarcSnetiker) February 27, 2017
Unsurprisingly, this mix-up broke the internet, with people comparing it to the US Presidential elections that took place in November of 2016. Except here, diversity trumped popular culture.
Someone needs to explain how this happened. And right now. #Oscars

— Gerrick D. Kennedy (@GerrickKennedy) February 27, 2017
Did they count all the votes from Michigan yet?

— Meredith Blake (@MeredithBlake) February 27, 2017
GET THIS BEFUDDLED MAN OFF THE STAGE.

— R. Eric Thomas (@oureric) February 27, 2017
OMG BLACK JESUS

— Vann R. Newkirk II (@fivefifths) February 27, 2017
After its debut at the Telluride Film Festival last fall, Barry Jenkins' Moonlight became a darling of film critics, and later the Oscar voters. The movie is about growing up in America as a young queer black man in Miami.
Another pathbreaking win was Mahershala Ali's, who not only was the first awardee of the night, but also the first Muslim actor to win an Oscar. Ali won Best Supporting Actor for his performance as Juan – Chiron's mentor - in Moonlight. Moonlight also won Best Adapted Screenplay and Best Picture.
Leading the night with 14 nominations (tying the record), 21st century musical, La La Land, returned home with just six awards – Best Production Design, Best Cinematography, Best Score, Best Original Song, Best Actress and Best Director – being upset in Best Film Editing, Best Original Screenplay and Best Picture. The night was devoid of any other major upsets.
Host Jimmy Kimmel prepped his monologue and many other moments of the night with political jabs at United States President Donald Trump. "Thank you, President Trump," Kimmel said in his opening monologue. "Remember last year when it seemed like the Oscars were racist? That's gone, thanks to him." Kimmel even tweeted to Trump, who unsurprisingly didn't respond.
Asghar Farhadi, the Iranian director of The Salesman, winner of Best Foreign Film Oscar, said in a statement read out on stage that the reason he boycotted the Oscars was because he was in solidarity with those affected by President Trump's 'Muslim travel ban'. "Dividing the world into the 'us and enemies' categories creates fear," said Farhadi.
Farhadi wasn't the only one boycotting/not allowed into the United States. Documentary The White Helmets' Syrian cinematographer, Khaled Khateeb, was also barred entry into the USA according to the Associated Press. The film is about volunteer rescue workers in war-torn Syria.
The Salesman and The White Helmets were the first Oscar wins for Amazon and Netflix respectively. Amazon's Manchester By The Sea" also won Best Supporting Actor for Casey Affleck and Best Original Screenplay for Kenneth Lonergan.
In the acting awards, other than Ali, there was another diversity win in the Best Supporting Actress category. Viola Davis bagged the award for her flawless performance in Fences. With this win, Davis became the first black woman to win an Emmy, Tony and the Academy Award for the same role. Ali and Davis were two of the six black actors nominated. This is a far cry from two years ago when people of colour were completely snubbed. That year, #OscarsSoWhite trended. This year it was #OscarsSoRight.
Ali and Davis were two of the six black actors nominated. This is a far cry from two years ago when people of colour were completely snubbed. Within two years, we've fortunately gone from #OscarsSoWhite to #OscarsSoRight.
Here are some facts from this year's Oscars
Mahershala Ali became the first Muslim to win an acting award
Sound mixer Kevin O'Connell won after a record 21 nominations. 21st time lucky. He won for his work in Mel Gibson's World War II drama Hacksaw Ridge.
Viola Davis became the first black woman to receive the triple crown of actor – Emmy, Tony and Oscar.
Damien Chazelle, at 32 years of age, is the youngest ever Best Director winner.
O.J.: Made in America is the longest film to ever – 467-minutes long - win an Academy Award. It won Best Documentary Feature.
Made for only $1.5 million, Moonlight is the lowest-budgeted film to win Best Picture, adjusted for inflation.
Full list of winners at the 89th Academy Awards
Actor in a Supporting Role: Mahershala Ali, Moonlight
Makeup and Hairstyling: Suicide Squad
Costume Design: Fantastic Beasts and Where to Find Them
Documentary Feature: O.J.: Made In America
Sound Editing: Arrival
Sound Mixing: Hacksaw Ridge
Actress in a Supporting Role: Viola Davis, Fences
Foreign Language Film: The Salesman, Iran
Short Film (Animated): Piper
Animated Feature Film: Zootopia
Production Design: La La Land
Visual Effects: The Jungle Book
Film Editing: Hacksaw Ridge
Documentary Short: The White Helmets
Live Action Short: Sing
Cinematography: La La Land
Music (Original Score): La La Land
Music (Original Song): "City of Stars" from La La Land
Writing (Original Screenplay): Manchester by the Sea
Writing (Adapted Screenplay): Moonlight
Best Director: Damien Chazelle, La La Land
Actor in a Leading Role: Casey Affleck, Manchester by the Sea
Actress in a Leading Role: Emma Stone, La La Land
Best Picture: Moonlight