Forget Akshay Kumar, even Karan Johar is no match for Twinkle Khanna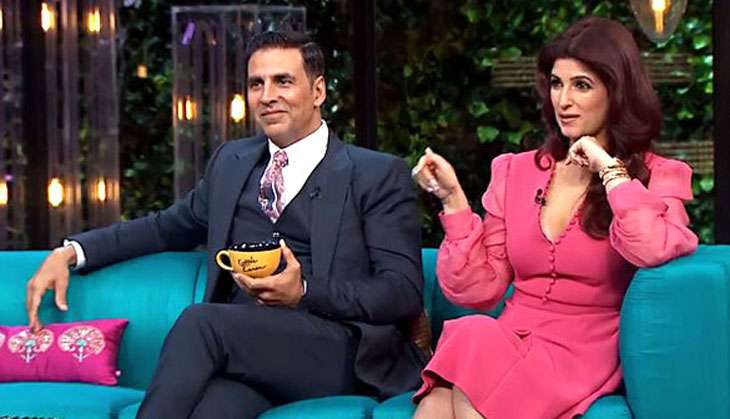 All the nice Malayali IPS officers we kept inviting over for tea and Marie biscuits, she rejected. And then she had to go and marry this Javed!
That line from Twinkle Khanna's just-released book The Legend of Lakshmi Prasad pierced my thoughts as I was watching the much-hyped second episode of this season's Koffee with Karan with star guests Akshay Kumar and Twinkle Khanna.
Host Karan Johar introduced this Bollywood couple with his signature effervescence - never mind the bags under his eyes and his puffed face, a clear fallout from the Fawad Khan fiasco, if I may.
"What do you when you have the most viable star and the most intelligent mind in business in the same room? What do you when you know they are both married to each other? And what a marriage it is - a rock solid marriage!"
"From lovers to spouses to best friends - theirs is this truly enviable journey. They are poles apart. He is diplomatic, she is opinionated. He is the lull, she is the storm. But the one thing they have in common is that they are exceptionally gorgeous."
The camera zoomed in on the couple, who walked in hand-in-hand, and Karan's voice reached a crescendo - for this is the couple's first-ever appearance on TV together.
We soon learn they have been married for 15 years, that the 15-day fling that Twinkle decided to have with Akshay on rebound eventually ended in marriage, and that Akshay thinks he is sipping tea from that famous 'Koffee' mug.
Of course, most of this information is courtesy Twinkle. Because when her better half takes a break from flashing his teeth what gets delivered can only qualify as paranoid babbling.
Even his one-month practice to surprise his wife with "their song" - 'Strangers in the Night' - falls flat.
Twinkle Twinkle Literati Star: How Twinkle Khanna blossomed into a serious writer

The Dyslexic Star
If you don't believe us, here's a little sample from yesterday's show:
Twinkle to Karan: (you) Go to jail for 377 days only...
Karan: (laughs)
Akshay: Why 377?
Karan: It's okay Akshay...(as if to a child)
Twinkle: Section 377!
Akshay: *Nods his head* (still looking unsure).
Karan to Akshay: What happens if a man hits on Twinkle?
Akshay: I will hit him back at same spot.
Karan to Akshay: What's the most romantic thing you have done?
Akshay: I never did my own homework, but did it for a girl I liked in school. *Turns to Twinkle* This is when I was in school...
Twinkle: I figured. You wouldn't be doing homework now.
Twinkle: That's the only thing we have in common - sleeping at 9 pm.
Karan: I know you once had me over for dinner and Akshay's eyes were drooping by 9:30 PM. I ran away (laughs).
Akshay: No. I dropped you till out (sic)
Akshay to Karan: *Out of the blue* Tell me something - is it wrong to watch some sport (on TV)? She gets upset about it.
Twinkle: *Looks incredulous*.
Karan: This is a textbook problem.
The Twinkling Star
Twinkle got into this relationship with her eyes wide open. She says as much on the show: "So no one can say that I didn't know what I was getting into."
The relationship, Twinkle reveals, started off as a fling.
"I had come out of a long-term relationship and I decided for the first time in my life that I am going to have a fling..."
She was in Calgary shooting for a film with Akshay, she had run out on books and there was no TV to watch. She was bored.
"There he was, 6 feet of chocolate ice-cream...So I decided I am going to have a fling with him, and it would last 15 days, that was my plan."
However, it lasted beyond 15 days. Twinkle's mother Dimple Kapadia disapproved of her relationship. She told Twinkle that there was a rumour that Akshay was "gay".
"She didn't agree. She said you will have to live together for one year and then we will see...So we lived together for a year."
Twinkle listed the pros and cons of marrying Akshay - 8 advantages and 2 disadvantages. She dodged the question of what the 2 cons were - but the fact is she is living with those.
Opposites Attract?
What the mind had always dreaded has been confirmed in the first 5 minutes of the 50-minute show. It is clear who the real star is in this marriage.
Twinkle, in fact, turns out to be smarter than Karan too, who delights in stumping his guests.
Karan: Is there no scope for a third person in this marriage?
Twinkle: (looking at Karan) You are there. Come, the other man. Fulfill your fantasies, Karan.
Karan: Rate the Khans for their sex appeal - Aamir, Shah Rukh, Salman.
Twinkle: Why don't you add Fawad Khan and then rate them.
Karan: *Narrates an incident when he ran away from boarding school on Twinkle's suggestion, was caught and then made to stand in school assembly*
Twinkle: *Referring to the Fawad Khan episode* Doesn't this happen to you often...you are made to stand, and made an example of?
Karan: *Trying to remember* No, not really.
Twinkle: Like, recently.
Karan: Ah!
Earlier this year scientists found that the theory that opposites attract is a myth. So why is she still twinkling in Akshay's life?
Twinkle drops some hints:
* I like this tall, strong, don't talk too much (type of people)...
* I really like him, he is an amazing guy, but you have to have practical reasons to marry him.
* She chose him because he is well-settled
* Is focussed
* That he buys her diamonds (in jest)
* That he has a 'tijori' full of money (in jest)
Towards the end of the show Karan asks Twinkle about her book. "They are stories of belonging, belonging to an idea, belonging briefly to someone else, and actually belonging truly to yourself," she says.
That gives away Twinkle. And that gives me hope.
Dear Zindagi: Shah Rukh Khan - Alia Bhatt film is about discovering joys of an imperfect life