Fathers, daughters & women in men's sport: Dangal is refreshingly free of cliches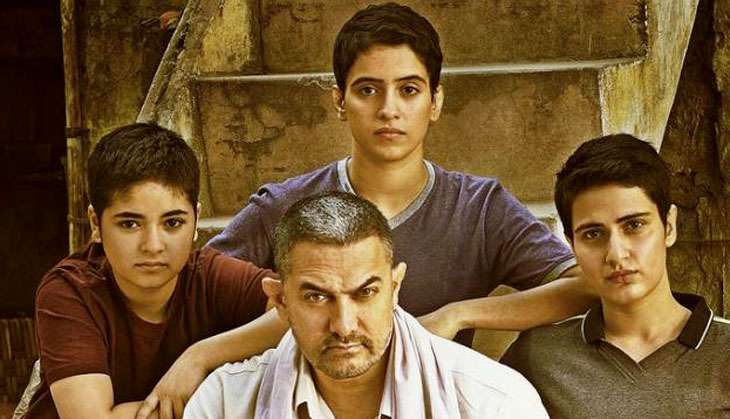 Like his previous release PK, Aamir Khan's latest movie Dangal has also triggered an interesting debate. People are asking whether the film really needed the dose of nationalism to drive home its message? Is wrestling a right career for women? Is it necessary for women to beat their male counterparts in fight to show their strength?
This point being missed amid this discussion is that sports movies are a separate genre. The gender issues, as well as emotions like nationalism and self-sacrifice, are essential ingredients of such films.
Horror movies are meant to rake up the sensation of fear among viewers as melodramatic movies evoke tears. Likewise, sports movies aim to reinforce the belief that nothing is impossible in life and dreams can be realised through hard work.
Questions of dreams & will
Wrestling runs through the blood of Mahavir Singh Phogat (Aamir Khan). It is his first love as well as the only hobby. However, providing bread-and-butter for the family is considered any person's foremost social duty. Phogat also sacrifices his dreams for the same purpose.
People debating the Indian society often highlight its oppressive nature towards women. But, they tend to overlook the price paid by ordinary men in Indian culture to fulfil their family responsibilities.
The story of Dangal falls short of revealing whether Mahavir wanted to marry or not. He forfeits his wrestling ambitions for the sake of the family. However, Phogat hopes his son would turn out to be a wrestling prodigy, giving him a chance to realise his dreams without making any further compromises.
But, as the fate would have it, he is blessed with four girls instead. Mahavir finds his aspirations shattered. Not because he holds any bias against girls or wants to prove his manhood by becoming a father of a son. He is dejected because wrestling as a sport for women is beyond his thinking.
After all, wrestling is not gymnastics or tennis. It is a physical sport, even violent to an extent. Yet, Mahavir yearns to give his daughters a chance, once he finds they have a flair for the sport. He is willing to forsake all his desire to see his daughters succeed. Is it only because he wants to use his children to see his unrealised dreams come true?
Movies of this genre portray sports as a passion that takes shape during the early age. The protagonists of these films are clear from the beginning about their aim. They are never in doubt as to which sport is their strength. Many such movies show the central character as struggling against social injustices and overcoming his or her inner weaknesses.
Woman in a man's sport
The theme and characters of Dangal lie somewhere between that of the movie Bend it like Beckham (2002, Gurinder Chadha) and Mary Kom (Omung Kumar, 2014). All these films are about women who excel in male-dominated sports.
Dangal resonates with Bend it like Beckham in emphasising the need for women to fight against stereotypes of the patriarchal society. The only difference is that the deeds of Dangal girls are not decided by themselves.
To win a gold medal in wrestling was not the ambition of Phogat girls in the beginning, but that of their father. The daughters of Mahavir are expected to come good on a larger responsibility than merely training to be a good housewife.
Is pressurising girls to make a career in wrestling any different than forcing them to marry? Mahavir never asks his daughters at any stage whether they like wrestling or not. He is only shown to discipline them. How cruel yet true!
There is no scope for romanticisation of an early desire to succeed in the protagonists as the movie is based on reality. This is unlike Mary Kom that keeps the passion for the sports as the central emotion in the celebrated boxer's life from the early stage. Although a biopic like Dangal, Mary Kom lacks the same realism.
The main character of Mary Kom knows from childhood that she wants to become a boxer. Her family, as well as the village, have no qualms in accepting her aspiration. The initial hesitation of her father is easily overcome.
Nobody raises a hue-and-cry when Mary Kom shaves her head. The film is a saga of winning over one's own shortcomings. Yet, it is hardly believable. It seems unreal that a young and beautiful girl from a small village is interested in as cruel a game as boxing.
Yet, hardly any viewer was intrigued by this question. As not many were astounded to find that the character of Chhota Ali in the movie Kai Po Che (2013, Abhishek Kapoor) was more interested in playing marbles than cricket. He was, in fact, forced to take up the gentleman's game.
However, the issue of women's rights crops up when Mahavir imposes a similar will on his daughters to train for wrestling. Notwithstanding that this was perhaps the most realistic part of the story.
Mahavir is deliberately portrayed as a strict father to surprise the viewers. He believes in what he is doing. Like viewers, the elder daughter Geeta also doubt Mahavir's knowledge about the sport when she takes admission in a sports academy for professional training.
The academy coach turns out to be a thorough professional. Geeta even manages to beat her father after learning the nuances of wrestling with him. But, soon it comes out that self-confidence is even more vital to success than professional training. A self-confidence that is borne out of love and trust in relationships.
Geeta's new coach lacks this attribute as he does not believe that Indian wrestlers can compete at the global level. This is the reason he focuses on teaching defensive techniques to Geeta instead of imparting aggressive skills to her.
In contrast, Mahavir reposes faith in Geeta's winning abilities. Not merely because she is his daughter, but also because she is talented. Both share a bond that goes far beyond the professional realm and touches an emotional plane.
Father figure
Apart from depicting Mahavir as a strong character, Dangal also portrays his benign side. The scenes like Mahavir's first meeting with the new coach and that of Geeta's victory or when he pleads to the academy officials to let his daughters stay as well as the climax scene when he locks himself in a room as he is overwhelmed to watch his daughter winning gold show the tender emotions of a father's heart. In the end, Mahavir comes out as a character that one cannot help but sympathise with.
Every old person can find a metaphor of a hero in Aamir Khan's role. He is a man who has lost his past glory to the ever changing tides of time.
Dangal is essentially an entertainment film. It succeeds in engaging viewers till the end despite its rather long duration. Unlike the blockbuster Sultan (2016, Ali Abbas Zafar), Dangal also goes on to clarify the rules of wrestling so that the viewers are able to get deeply involved in the bouts of the main protagonist, all of which are well-filmed.
The characters played by Salman Khan and Anushka Sharma in Sultan don't have sweat much to win their fights. But, In Dangal , the viewer is given a better glimpse of tactics and training required to get over an opponent in the wrestling ring.
Dangal remains restricted to the sport. There is little scope for romance or politics in the movie. Though, the sports authorities are mildly criticised, but not to the extent of Mary Kom. The movie also touches upon the issue of financial constraints faced by sportspersons in India. Yet, it is the Indian coach who believes in winning that is at the centre of narration.
Interestingly, Dangal does not concentrate on the aspect of competition, which is an inalienable part of any sport. Whereas, Chak De India ( 2007, Shimit Amin) thrives on this emotion. The girls training at the wrestling academy are not jealous of each other in Dangal. Mahavir's daughters don't share this feeling among themselves either.
There was no need for preaching about women emancipation in the movie. Yet, at least two scenes are dedicated to the same probably keeping in mind the overseas audience.
Thankfully, Dangal is free of jingoism and any religious fervour as is the case with many sports movies. Still, it was a smart move to insert the Muslim character of poultry vendor.
It is true that nationalism is required in films based on the sports theme. However, Dangal is refreshingly free from these cliches.
(The author is a famous Indologist from Poland. She is a film critic and writes for many popular Indian magazines and blogs. She is a PhD from Poland's Jagiellonian University on the topic The courtesan figure in Indian popular cinema: Tradition, Stereotype, Manipulation. Currently, she teaches at the European Study Institute, Manipal University, Karnataka.)